Eryn Travis, Ph.D.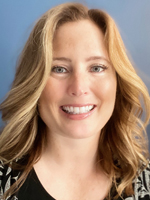 Assistant Professor
E-mail:
Eryn Travis
Office: Wayne Hall 227
Phone: 610-620-3848
Office Hours: Monday/Wednesday/Friday, 9:00-9:50am; Tuesday, 10:00am-12:30pm on Zoom by appointment only
Zoom Link: https://wcupa.zoom.us/my/etravis
Zoom Password: 956665
Eryn Travis is a former public relations professional who is now a faculty member in the Department of Communication and Media at West Chester University, where she has taught for the past ten years. Travis has fifteen years of experience in political and marketing communication. She served as the Communications Director and Media Relations Director for the American Association of Airport Executives (AAAE) and as Managing Producer and host for Aviation News Today, AAAE's cable television newscast. In this position she supervised production staff, hosted the 30-minute program, and secured VIP guests including members of Congress, Administration officials and aviation industry leaders. Ms. Travis also served as an aide to Congressman Michael N. Castle in his Washington, D.C. office. She holds an M.A. in Communication Studies from West Chester University and a B.A. in Journalism from the University of Maryland at College Park and completed a doctoral degree in Communication, Media and Instructional Technology from the Indiana University of Pennsylvania.
Ms. Travis currently teaches courses in public relations and public speaking. Recent publications and research projects include: 1) a new textbook titled Public Relations Theory, which was co-authored with WCU faculty member Dr. Ed Lordan; 2) an investigation of supportive communication and caregivers which was published in Sage's Qualitative Health Research; and 3) a review of how U.S. media covered the U.S. Women's National Team during its journey to a historic 4th FIFA World Cup title. Ms. Travis is currently researching crisis communication and COVID-19 as part of her dissertation.