Stephanie Brown, Ph.D.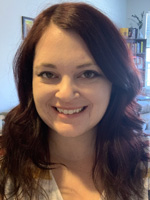 Visiting Assistant Professor of Media and Culture
E-mail:
Stephanie Brown, Ph.D.
Virtual Office Hours: 9-11:30 T/R
Join office hours
Schedule an appointment
Before heading east, Dr. Brown taught at Saint Louis University after finishing her doctorate at the University of Illinois, Urbana-Champaign where she wrote her dissertation on gender, power, and authenticity in stand-up comedy. She has taught courses on media literacy and technology, film theory, television studies, popular culture, and gender and women's studies. In addition to her research and teaching, she produces segments for The Journal of Cinema and Media Studies' Aca-Media podcast, serves on the steering committee of the SCMS Comedy and Humor Studies Scholarly Interest Group, and occasionally performs stand-up comedy. Before returning for her Ph.D, she earned an M.A. in Television, Radio, and Film from Syracuse University, worked for the New York Television Festival and for VOX, a voice-over talent agency in Los Angeles.
Back to top of page.