Dr. McCool Publishes Second Children's Book Aimed at Empowering Black Children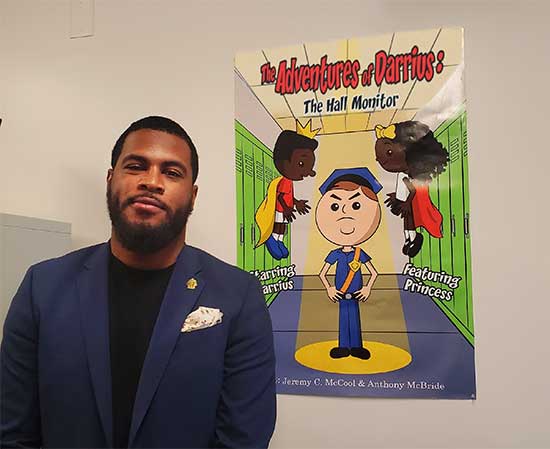 New faculty member, Dr. Jeremy McCool, teaches many classes in the Department of Communication & Media, including Radio Production and Digital Storytelling. Outside of teaching, Dr. McCool has spent the past several years writing books that focus on educating and empowering Black children with co-author Dr. Anthony McBride of Western Illinois University.
The Adventures of Darrius: The Hall Monitor was published in December of 2021 and is the second book in the McCool and McBride series, following Princess and The Power of Melanin, published in late 2018. Their latest book tells the story of, "strong, courageous, and wise," Darrius, who, after being bullied by the school hall monitor, discovers he has the superpower of self-confidence. "It's really a book that just encourages kids to stand up for themselves and also build self-confidence," Dr. McCool says. "It's tackling the concept of the abuse of power, as well as self-love." Dr. McCool stressed the importance of both children and adults being able to understand and relate to the story by tackling real-life challenges and issues. Kids are in a critical stage of shaping into who they are, while adults are often stuck in their ways. However, McCool says that both college students and elementary school students have a desire to be entertained, which is something that he keeps in mind as he teaches.
Since publishing their first book in 2018, the authors have received several positive messages from parents who have used the books to educate their children and help them through tough times. Dr. McCool explained how they made the concepts easy for children to understand and remember, using rhyming schemes similar to Dr. Seuss books. Looking back on the positive feedback he has received, Dr. McCool says, "It's crazy that this book is going to be a part of their childhood."
Some WCU students may have the goal of writing a book themselves but just aren't sure how to get there. "I am a huge advocate for media entrepreneurship," McCool explains. It's important for aspiring authors to remember that today the media industry has very few gatekeepers. For example, McCool and McBride self-published Princess and The Power of Melanin. "You can literally write the book yourself, publish it online, and have it available on Amazon tomorrow." His biggest pieces of creative advice: Believe in your idea and follow through.