Jessica Ohnikian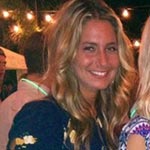 Class of 2013
Global Education Sales Coordinator, John Wiley & Sons
Publishing
I grew up with a mother in the medical field and an entrepreneur father in retail, so my choice to study English in college came as a surprise to my parents. But it was also completely understandable; I'd always been drawn to the creative side of life.
When I got to college, my father would ever-so-subtly ask me what I wanted to study. When I answered "English," he'd reply, "Well how about finance? What about business?" It took a lot of effort on my end to convince my parents that I was making the right choice and that I would succeed after college in an English-related field.
Fast forward to four years later. It was time for graduation. (Believe people when they tell you that college goes by quickly, because it does!) I started applying for jobs, and I got a callback for a sales position at Penguin Random House. Four interviews later, I landed my first job out of college (July 2013) as a Distribution Clients Sales Assistant! My parents were extremely proud of me, to say the least, and were enthralled that my first job would be in the Big Apple at such a powerhouse of a publishing company.
About ten months into my position (May 2014), I began to feel antsy as an assistant and wanted to move up. Even though I was doing great work for my boss, it was too early for me to get promoted. So I went out and started applying for coordinator-level sales positions at other publishing companies. I heard back from John Wiley & Sons, Inc., and, six interviews later, I was offered the position of a Sales Coordinator in Global Education. Amazingly enough, I reported back to my boss at Penguin with the salary that Wiley was offering me, and she immediately called HR and offered me an even higher salary. My ultimate decision to go with Wiley was heart-wrenching (because I loved Penguin), but having those two offers also felt like a huge compliment. My parents taught me never to settle and encouraged me to move around while I was young to see where I might belong. "Just keep swimming," as Dory would say.
Publishing has been wonderful to me over the past year, and I plan on continuing my career in this industry as long as I can. I'll also be going back to school this fall to earn my Master's degree and will continue my education in English until I receive my doctorate someday.
West Chester University's English program instilled in me the drive and motivation to succeed after college. In order to achieve anything in life, you've got to work hard for it. That's definitely something I did while I was at WCU. I pursued internships, assisted authors, and free-lanced and networked while I was there. If I could give you one piece of advice, in fact, it would be to start interning as early as possible, even after your first year. It's important to move steadily toward graduation, develop a clear idea of what you want to do, and use your college summers wisely. (And don't forget to have fun, of course!)
Back to top of page.