Student Opportunities
This page showcases the many exciting opportunities—clubs, activities, publications, research projects, scholarships, internships, awards, and more—available to English majors at WCU. These activities can help you expand your learning experience beyond the classroom, develop valuable career skills, express yourself in new ways, and collaborate with others who share your passions. Get involved! For information about opportunities available to our M.A. graduate students, please visit our Graduate School page.
Activities and Clubs
Undergraduate Research
Our students work frequently with individual faculty members on research and creative projects. Here are some of the research opportunities available to you as an English major:
West Chester Center for Book History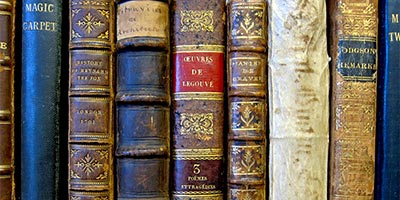 West Chester Center for Book History is dedicated to providing a multidimensional, interdisciplinary forum for the history and study of the written word.
PA Literary and Cultural Heritage Map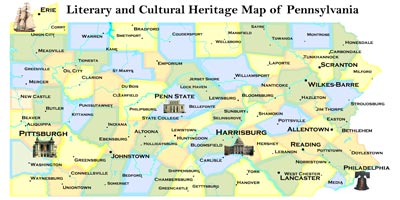 The Literary and Cultural Heritage Map of Pennsylvania is a graphic display of the literary history of our Commonwealth.
The English Department is proud to offer several awards and scholarships in recognition of the outstanding achievements of our students. Honorees are announced at various times throughout the fall and spring semesters and are usually recognized at both the English Department's year-end student reception & awards ceremony and the College of Arts & Humanities annual Student Recognition Ceremony. Recipients are chosen by English Department faculty. View the complete list of English student awards, scholarships, and past winners.
The English Department encourages all of its B.A. majors to pursue internships. The advantages are numerous: internships enable you to apply your reading and writing skills to real workplace situations, make informed decisions about your career plans, and build valuable contacts. Our students have completed an exciting array of internships—in journalism, publishing, broadcasting, marketing, public relations, social media, and more—both on and off campus. Read More about English Department internships.
As readers and thinkers with a strong affinity for the workings of language and culture, English majors are often naturally drawn to the experience of living and learning in another country. Our students have studied abroad in England, Ireland, Latin America, and many other places around the world. If you're interested in studying abroad, we urge you to start by consulting with your academic advisor and also making time to visit WCU's Global Engagement Office.
The English Department supports efforts to live and learn sustainably. We offer several courses focused on sustainability and environmentalism, including:
WRH 310: Written Rhetoric: Power, Politics, & Environmental Writing
ENG 305: Environmental/Experiential Writing: Taking Action
The English Department offers courses also frequently emphasize environmental themes:
ENG 400 Research Seminars
WRT 220: Critical Writing
English faculty active in sustainability efforts include Professors Buckelew, Burns, Lalicker, Patriarca, Rademaekers, and Wanko. To learn more about sustainability initiatives taking place at WCU and beyond, please contact those faculty members or WCU's Sustainability Advisory Council.