Amy Festa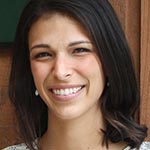 Class of 2011
Marketing & Communications Coordinator, United States Tennis Association (USTA) Middle States
Marketing and Advertising
When I chose to become an English major at West Chester University, I was often asked the question, "What are you going to do with that?" My answer was simple: "Whatever I want."
I arrived at WCU with a passion for writing but no clear plan for the future. The English major appealed to me for many reasons. For starters, I knew I could excel in the major. But more than that, I knew the major would open doors for me—more doors than I could possibly imagine—because English prepares you for many career paths, not just one.
One revelation I had as an English major was that the world urgently needs good writers. This insight was initially overwhelming to me, because I wasn't sure what my specific contribution as a writer might be. But as I continued to navigate through the major, I gained a deeper awareness of my own strengths and passions as a writer. My many English courses enabled me to define more precisely where and how I might excel as someone who works with words.
Still, when I graduated from WCU in December 2011, I faced a struggle common to many college graduates: Would I be able to use my degree? And, if so, for what?
After graduation, I took any job that would afford me the title of "writer." I did everything from writing item descriptions for an eBay site, to creating newsletters for a startup non-profit, to creating a product catalog for a dental supplier. But it wasn't until I saw an opening for a Marketing and Communications Coordinator at the United States Tennis Association's Middle States office that I knew I'd discovered a career opportunity ideally suited to my skills and interests.
In my job at the USTA, I use my English skills every day, in a variety of ways. I contribute stories to the Middle States magazine, NetPLAY, which is delivered to more than 30,000 members bi-annually. I use conscious rhetorical strategies to promote various USTA programs. And I communicate and interact professionally with my colleagues and customers.
Now that I've transitioned into a career, I've never been more grateful to WCU's English Department for the assets it has given me. The English major equipped me with the skills I needed to succeed as a professional. And my English professors helped me tremendously, too; their conscientious efforts to ensure that I reached my highest potential as a writer and thinker have proven invaluable to me.
When I interviewed with the USTA, one of my interviewers asked, "If you could go back and choose your college and major again, what would you choose?" My answer then was the same one I'd give every time: I would go to West Chester University and major in English.
Back to top of page.