Ashley Patriarca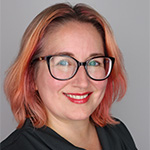 Associate Professor; First Year Writing Director
Main Hall 506
APatriarca@wcupa.edu
AshleyPatriarca.com
She/Her
Education
Ph.D., Virginia Polytechnic Institute and State University
M.A., The University of North Carolina at Charlotte
B.A., The University of Alabama at Birmingham
Interests
International Business Writing
Crisis Communication
Organizational Use of Social Media
Risk Communication
Grant Writing
Usability
Visual Rhetoric
Selected Publications
Applied Rhetoric as Disciplinary Umbrella: Community, Connections, and Identity. With Jennifer R. Veltsos, Matthew R. Sharp, Jacob D. Rawlins, & Rebecca Pope-Ruark. In Melonçon, L., & Schreiber, J., eds., Assembling Critical Components: A Framework for Sustaining Technical and Professional Communication (2022). WAC Clearinghouse. https://wac.colostate.edu/docs/books/assembling/chapter7.pdf
"It Felt Like Something the World Needed to See": Organizational Social Media and the Collective Memory. In K. M. Getchell and P. J. Lentz, Rhetorical Theory and Praxis in the Business Communication Classroom (2017). New York: Routledge.
"Evolving Concepts of Risk: Influences on Safety Communication in a High-Hazard, Intercultural Industry." connexions: international professional communication journal, 5.2 (2017): https://connexionsj.files.wordpress.com/2017/11/2017_resa_patriarca.pdf
"Beyond Compliance: Participatory Translation of Safety Communication for Latino Construction Workers." With Carlos Evia. Journal of Business and Technical Communication 26.3 (2012): 340-367.