January 6, 2014
$1.49 Million Gift Benefits West Chester University English and Music Students
West Chester University recently received a gift of $1.49 million from the estate of alumni and lifelong educators Herbert and Gloria Mitchell, who died in 2008 and 2011, respectively. The second largest gift in the University's history, the funds will support scholarships for students in English and music.
"Herbert and Gloria turned their chosen profession into lifelong avocations," says West Chester University President, Greg R. Weisenstein. "We are very grateful that their legacy will be continued and remembered through each WCU student who benefits from their generous scholarships."
The Mitchells attended West Chester State Teacher's College in the late 30's. Herbert received his undergraduate degree in secondary education, and among his many extracurricular activities, was a member of the football team and the baseball manager. Following his graduation in 1942 and service in the navy as a lieutenant, he pursued a lifelong career teaching English.
Gloria (Hedley) Mitchell also graduated in 1942 from West Chester State Teacher's College from the Music Education department and served in the Navy Reserves until 1956. For close to three decades, she taught at the elementary school level and was the Baltimore County Schools' librarian. In her retirement, she donated over 1,500 hours to the Baltimore County public library.
According to Richard Przywara, the Foundation's Executive Director, the Mitchells bequeathed 100 % of their estate to fund these scholarships.
"This gift will continue the Mitchells' legacy of teaching and inspiring the next generation of WCU students," says Przywara..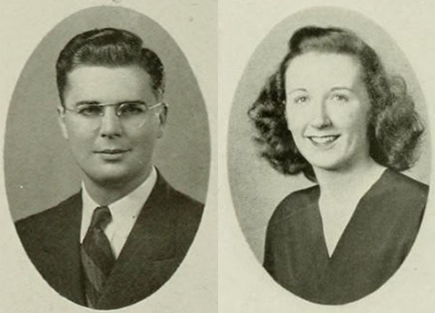 Herbert and Gloria (Hedley) Mitchell
Image credit: 1942 Serpentine WCU Yearbook
Back to top of page.