First Inaugural English Department Book Club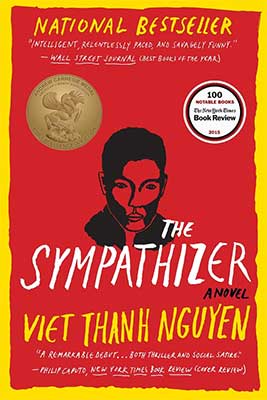 (Summary taken from Goodreads)
Read the New York Times' review.
Attention: Due to low interest, this event is on hold. Book Club will not meet on Saturday, 10/22. If you are interested in future events, please contact Sarah Paylor at spaylor@wcupa.edu .
Coming to campus for Homecoming, Saturday, October 22nd, but have no plans for the afternoon? Join English Faculty, Current Students, & other Alumni for our First Inaugural Book Club Event from 3:00 - 5:00 pm, in the Philips Autograph Library, for some enriching and engaging discussions.
We have selected the 2016 Pulitzer Prize winning novel The Sympathizer by Viet Thanh Nguyen as our first text. The first 15 alumni and the first 15 students who respond and commit to attending the event will receive a FREE COPY of the text! Please RSVP to Sarah Paylor at spaylor@wcupa.edu. If you do not live close to campus, we can mail you your copy.
The event will be centered on an engaging discussion regarding the text. In addition, students will have the opportunity to network with area alumni and department faculty members. Light refreshments will be served.
(Copies are first come, first served and anticipate that the recipient is committed to having read the novel and being present at the actual event.)
About the Book
The winner of the 2016 Pulitzer Prize for Fiction, as well as five other awards, The Sympathizer is the breakthrough novel of the year. With the pace and suspense of a thriller and prose that has been compared to Graham Greene and Saul Bellow, The Sympathizer is a sweeping epic of love and betrayal. The narrator, a communist double agent, is a "man of two minds," a half-French, half-Vietnamese army captain who arranges to come to America after the Fall of Saigon, and while building a new life with other Vietnamese refugees in Los Angeles is secretly reporting back to his communist superiors in Vietnam. The Sympathizer is a blistering exploration of identity and America, a gripping espionage novel, and a powerful story of love and friendship.
Back to top of page.