Chris Timmins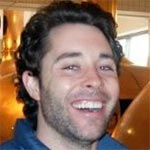 Class of 2005
Sales Account Executive, Salon Media Group
2006 Recipient, John Feely Hopkins Short Story Award
Marketing and Advertising
West Chester University is an English major's dream. From the challenging coursework and supportive faculty, to working at the annual poetry conference and building chapbooks at Aralia Press, I had every opportunity to dive into the written word.
Once out in the mythical "real world," I tapped into the skills I'd honed as an English major: critical thought, close reading, and cogent writing. Simply put, this world needs effective communicators, and I believe language is the most necessary resource for cultivating successful working relationships. This holds true in my marketing and advertising career, where I've written compelling proposals for clients from Citibank toThe New York Times, effectively worked through inevitable miscommunication, and read more closely into my clients' needs. Developing a thesis is much like articulating a project's direction. There's no handbook for how the corporate world operates. You have to learn firsthand, but knowing how to manage multiple deadlines to deliver well-written and thorough assignments translates to any industry.
After graduating from WCU, I found something greater than employability. My English studies pushed me to find my own foothold (however small) in the literary world by completing an MFA in fiction writing and by working as an editor of a literary magazine. Linguistics, Post-Modernism, Feminist Poetry—you name it; the entire WCU English program broadened my worldview, instilled a deep love of the English language, and equipped me to handle larger projects in the working world.
Back to top of page.