Former Creative Writing & Journalism Minor Wins Emmys for PBS Documentary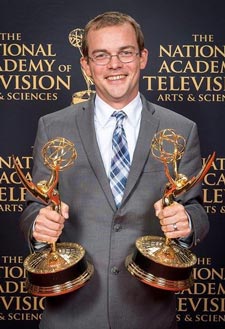 Jonathan Richard Jones, who graduated from WCU in 1999 with Minors in Creative Writing and Journalism, has been putting his writing and reporting skills to impressive use. On September 28, 2015, Jonathan won two News & Documentary Emmy Awards for his investigative research and reporting on Firestone and the Warlord, a gripping 2014 PBS Frontline documentary about the secret relationship between the Firestone Tire & Rubber Company and Liberian dictator Charles Taylor. The film was recognized in the categories of Outstanding Research and Outstanding Investigative Journalism (Long-Form).
According to ProPublica, the independent news organization that co-produced Firestone and the Warlord with Frontline, the documentary "involved an intrepid reporting effort that encompassed more than 200 interviews with current and former Firestone employees, members of Taylor's inner circle, as well as former U.S. diplomats, West African peacekeepers, Liberian government officials, humanitarian aid workers, and leaders of warring factions in the Liberian civil war. The reporting was also informed by hundreds of records, including declassified diplomatic cables, once-sealed court documents, and signed formal agreements showing the specific nature of deals that Firestone struck with Taylor." In awarding the Emmys to Jonathan and his colleagues at ProPublica and Frontline, the National Academy of Television Arts & Sciences praised their investigation for opening "a revelatory window into how Firestone conducted business during the brutal Liberian civil war."
Congratulations, Jonathan, for doing such impressive and important work. Your former professors in the English Department are very proud of you!
Relevant Links