Kim (McGrath) Haemmerle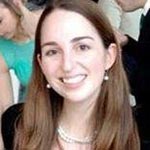 Class of 2008
Talent Acquisition/Research, eBay Enterprise
Market Research
I always find it humorous when people ask, "What can you do with an English degree?" I think the question should really be "What can't you do with an English degree?" As an English major at WCU, I honed skills that enable me to write effectively, read critically, research strategically, and think analytically. I use these skills on a daily basis, and each one has proven to be an invaluable asset in the professional working world, whether I was a proofreader, a recruiter, or a research analyst. I look back at my time in the English department with so many good memories.
My fondest memory was the day my advisor suggested that I intern at the Francis Harvey Green Library. I had no idea it would have such a profound impact on my future choices. I was the first student to ever intern at the library, so naturally I was a bit nervous; my fears were put to rest the moment I met my internship supervisor, Adele. In less than five months, she guided me through a program of shadowing multiple librarians, working on a variety of projects, and writing a library newsletter. I knew I loved the library, but with graduation approaching, I needed some time in the "real world" before I could make the decision to go to graduate school.
Since 2008, I've had a number of different jobs, each one acting as a stepping-stone to the next. I started as a proofreader, a quintessential English major job. It was BORING (my apologies if you are a proofreader!) Within six months, I was looking for a change, and I took on the challenge of . . . recruiting. I never thought that I would love it as much as I did, but I was hooked. During that time, I also decided I was ready to go back to school. In two years, I completed my MLIS graduate degree at the University of Pittsburgh. After graduation, I accepted a job as a prospect research analyst at Villanova University. (Note: prospect research is a really cool job if you love to do research, specifically on people.) My original intention was to attend VU for a second graduate degree and eventually move into a reference librarian role. But before I could apply, eBay came calling.
My job at eBay is the perfect combination of talent acquisition and research. I am the company's first research analyst, and I provide our recruiting group with labor and talent market intelligence. My research includes site strategies, data trends, and competitive information, all of which help guide eBay's sourcing and recruiting efforts to save time and money. Every day, I use the skills I honed as an English major: I am writing (a lot of) emails, speaking with people from all walks of life, analyzing mountains of information, and creating research presentations. I am successful in this role, and those that preceded it, because of the core skills from my days as an English major.
Back to top of page.