Laquana Cooke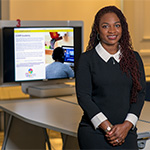 Associate Professor; Director of iCamp Media Academy icampwcu.org
Main Hall 115
LCooke2@wcupa.edu
Education
Ph.D., Rensselaer Polytechnic Institute
M.A., New York University
B.S., New Jersey Institute of Technology
B.A., Rutgers University (Newark)
Interests
Generative STEM Education
Digital Rhetoric
Critical Literacy and Pedagogy
Digital-Based Learning
Games Studies
Design Research
Game Design
Usability Studies
Selected Publications
Cooke, Laquana and Andy Famiglietti. "iCamp – Expanding the Reach of DH Pedagogy." In What We Teach When We Teach DH: Digital Humanities in the Classroom. Edited by Matthew Gold and Lauren Klein. University of Minnesota Press. In Press
Yanira Rodríguez, Sophia Sunshine Vilceus, Laquana Cooke, Emily Aguiló-Peréz, Sherri Craig, Jason Vanfosson, Tim Dougherty, Ben Kuebrich, and Michael Burns, " Foolery, Refusal and Possibility: On Labor Relationalities At Predominantly White Institutions," Journal of Multimodal Rhetorics, 4.2 (2021).
Ron Eglash, Audrey Bennett, Laquana Cooke, William Babbitt, and Michael Lachney. "Counter-hegemonic Computing: Computer Science Education for Value Emancipation," ACM Transactions on Computing Education (TOCE) 21.4 (2021): 1-30
Cooke, Laquana, Lisa Dusenberry, and Joy Robinson. "Gaming Design Thinking: Wicked Problems, Sufficient Solutions, and the Possibility Space of Games." Technical Communication Quarterly (2020): 1-14.
Cooke, Laquana. "NBA 2K14 for STEM." In Learning, education & games vol. 3: 100 games to use in the classroom and beyond, edited by Schrier, Karen. Pittsburgh, PA: ETC Press (Carnegie Mellon).
Cooke, Laquana, Jordan Schugar, Heather Schugar, Christian Penny, and Hayley Bruning,"Can Everyone Code?: Preparing Teachers to Teach Computer Languages as a Literacy." Participatory Literacy Practices for P-12 Classrooms in the Digital Age. IGI Global, 2020. 163-183.
Lauzon, R. C., & Cooke, L. (2017). Counter-buffing: A Visual Criticism of Guerrilla Advertising. Changing English, 24(2), 162-174.
Cooke, Laquana. "Metatuning: A pedagogical framework for a generative STEM education in game design-based learning." 2016 IEEE Integrated STEM Education Conference (ISEC). IEEE, 2016, pp. 207-214.
Drazan, John F., Laquana Cooke, and Ron Eglash. "Harmonious integration: Tuning STEM education with generative justice." 2016 IEEE Integrated STEM Education Conference (ISEC). IEEE, 2016, pp. 58-64.
Cooke, Laquana. and Hubbell, Gaines. "Working out memory with a Medal of Honor complex." GameStudies the international journal of computer game research, 15.2 (2015).
Courses Taught
CLS 350 Computer Applications in the Humanities
DHM 210: Intro to Gaming
DHM 220 Foundations of Game Design & Development
DHM 280 Intro to Digital Humanities
DHM 405 Digital Humanities Practicum
ENG 320 Writing & Computers
ENG 400 Research Seminar
WRT 120 Effective Writing I
WRT 200 Critical Writing and Research
WRT 204 Critical Writing: Approaches to Pop Culture
YES 301: Seminar in Youth-Led Media & Inquiry