Matt Thomas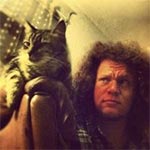 Class of 2004
Manager, Content & Social Strategy, The Neat Company
Marketing and Advertising
I went to college to become an English teacher. Well—that's not true. I went to college to get a computer science degree, but I soon realized that I was really bad at calculus. Plus I never really had a clear idea what I'd do with a comp-sci degree anyhow. So I ended up earning a BSEd in English and teaching high school for a few years. I'd always been passionate about reading and writing, and I was working on a minor in creative writing anyway, and teaching seemed to be a good gig, what with the summers off and all. Plenty of time to work on my best-seller, you know?
So I got out of school and started teaching, and you know what? It's not bad. It's really not bad. It's a whole lot of work though. My routine became something like "get up at six in the morning, teach from seven to three, come home and grade/make lesson plans until seven, eat, finish any grading/planning and then watch television or something mindless until passing out at nine." Summers weren't much better—you're not teaching, but you're taking classes and prepping for the next year. I was definitely not getting my novel done this way.
So I ended up getting out of teaching and taking a job as a marketing copywriter with a home shopping company I may or may not be able to mention by name. I wasn't trying to leave teaching at the time; I was just trying to get a job closer to my new home. At first I thought copywriting would be a temporary stop while I worked my way towards teaching at the college level. Eight or nine years later, I'm still working in marketing, with no plans to leave. And I still haven't written that novel.
The thing about an English degree is that it's incredibly versatile. It's a sign that you're a good communicator, a critical thinker, and most likely a bit of a creative as well. It's the sort of thing that you can parlay into a number of careers—I've gone from teaching to copywriting to managing corporate website content and social media strategy. And I'm just one story. I truly believe that a degree in English prepares you for just about anything. Except maybe calculus. Stay away from that.
I'm really proud to be an alumni of the WCU English program, and I'm amazed at the number of connections that I continue to remain, well, connected with. I wouldn't trade my experience at WCU for anything. A degree in English helped me find a career that I truly enjoy—maybe not the one I expected to have, but one that fits me perfectly.
Back to top of page.