Poetry by the Sea Celebrates Third Successful Year and Looks to a Bright Future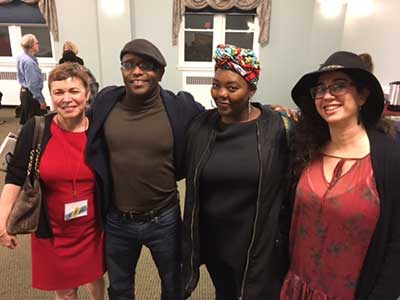 L-R: Kim Bridgford (Director), Tyehimba Jess (Spotlight Reader,
Pulitzer Prize Winner), Mahogany Browne (Faculty Member),
and Alice Mizrachi (Artist-in-Residence) at Poetry by the Sea 2017.
When WCU English professor Kim Bridgford announced in the winter of 2014 that it was "time for something new," she knew of what she spoke. In just three short years, Poetry by the Sea: A Global Conference has emerged as an indispensable venue for the celebration of poetry in all of its diverse forms and a much-anticipated fixture on the early summer calendar. Since its founding in 2015, the nonprofit poetry and arts conference has taken place each May at Mercy by the Sea, a spa-like retreat in Madison, Connecticut that offers spectacular ocean views.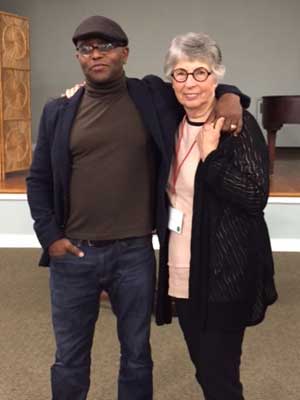 L-R: Tyehimba Jess and Alice Friman at Poetry
by the Sea 2017.
For the event's 2018 edition, scheduled for May 22-25, conference organizers are excited to welcome the legendary Rita Dove as the keynote speaker. (Past keynote addresses have been given by Marilyn Hacker, Kimiko Hahn, and Kevin Young.) The 2018 conference will also feature spotlight readers Barbara Crooker, Carmen Gimenez Smith, Ishion Hutchinson, and Adrian Matejka.
The conference's core mission is to recognize poetic excellence at all levels and to celebrate diversity in gender, race, age, and ethnicity. As Bridgford puts it, "At the great table of excellence there is always room for one more chair."
This mission of inclusion and excellence is evident in the sterling roster of notables who have appeared at the conference over the last three years: Jill Bialosky, Jeff Brown, Mahogany Browne, Rafael Campo, Dick Davis, Erica Dawson, Jehanne Dubrow, Alice Friman, Tyehimba Jess, Joshua Mehigan, Alice Mizrachi, Molly Peacock, Patrick Phillips, Rowan Ricardo Phillips, Robert Polito, Spencer Reece, Patricia Smith, A. E. Stallings, Timothy Steele, and Afaa Michael Weaver.
Bridgford's efforts to celebrate poetry have also extended beyond the conference. Over the past year, Poetry by the Sea has partnered with two Philadelphia institutions to bring quality artistic programming to Center City:
The Pennsylvania Academy of the Fine Arts, led by CEO David Brigham, has honored the global diversity of Poetry by the Sea's programming through the PAFA After Dark program, which has featured Poetry by the Sea participants such as Dolores Hayden, Cyriaco Lopes, Joshua Mehigan, Kamiliah Aisha Moon, Micheal O'Siadhail, Molly Peacock, and Terri Witek. Poetry by the Sea has also celebrated the achievements of PA State Poetry Out Loud winner Madalina Richardson by co-hosting a Teen Poetry Night at PAFA.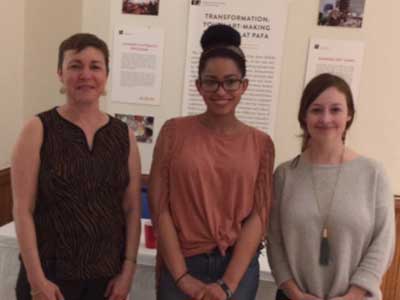 Poetry by the Sea director Kim Bridgford with Maddy
Richardson (center), winner of Pennsylvania Poetry Out
Loud 2017, and Elizabeth Hamilton, director of special
programs at the Pennsylvania Academy of the Fine Arts
(PAFA). Poetry by the Sea co-hosted a Teen Poetry
Night at PAFA on April 19, 2017.
In addition, Bridgford has partnered with Philadelphia's historic 30th Street Station and Amtrak to create two performance series—one musical and one poetic—that, in Bridgford's words, "bring art and poetry to the public space, in one of America's iconic locations." The musical series has featured such artists as the renowned harpist Mindy Cutcher and traditional Irish musicians Tom and Marian Gittelman, while the poetry reading series has showcased writers Kay Cosgrove, Anna Evans, Lynn Levin, April Lindner, Luke Stromberg, J.C. Todd, and James Matthew Wilson.
For more information on upcoming events, please contact Dr. Kim Bridgford or visit Poetry by the Sea on Facebook.