Tyler Bradway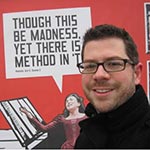 Class of 2006
Assistant Professor of English, State University of New York, Cortland
Higher Education
What is the difference between a poem and a recipe? The answer has eluded me for nearly twelve years, ever since I began my English major at West Chester University. In my first semester, I took Dr. Carolyn Sorisio's "Conventions of Reading." On the first day, we read Emily Dickinson's "recipe" for black cake. Is this text a recipe, the professor asked, or is it a poem? The class chuckled at the absurdity of her question. At this point in our education, we were confident that readers could easily know what a text is. But the professor challenged us to read more closely. Note, for example, that the recipe exaggerates its proportions—it is an impossible recipe. Indeed, Dickinson fans have created endless emendations to the recipe, each proclaiming that they have captured its true spirit. Was Dickinson merely careless, failing to consider the proper mathematics of baking? What if, instead, this text is not a recipe? What if this recipe is literature in drag, dressed up in the genre of a "recipe" to comment on domestic labor, women's work, and the ideas of white femininity that Dickinson faced in nineteenth-century America?
The point of the assignment—and of the English major—is not to decide the answer, once and for all. Rather, it is to glimpse interpretative complexity—to see that interpretations are not mutually exclusive, to see that the world is, in fact, joyfully and frustratingly open to re-reading.
I cannot understate how radically this insight changed my life. To be sure, the English Department at West Chester University enabled me to become a more nuanced thinker, reader, and writer. But it also taught me to see interpretation as a process that must be undertaken with care and precision to do justice to the multiplicity of meaning in a social world. The program's combination of literary history, aesthetics, and critical theory opened my world, giving me tools to engage with the most urgent questions in my life. When the Iraq War began in my first year of college, for example, my English professors encouraged us to find connections within canonical literary texts—from the gendered language of nationalism in Melville to the narratives of colonialism in Forster. Similarly, when I began to grapple with my own sexual and gender identities, courses such as "Lesbian Studies" and "Queer Theory" provided the opportunity for a rich engagement with forms of cultural expression that, until very recently, have been marginalized from the university. These courses enabled me to perceive the deep history behind my contemporary world and, more importantly, they pushed me to see how literature is complexly entwined with our personal, social, and political contexts.
But, as we so often wonder, what can you do with these insights—what can you really do with an English major? What I appreciate most about the Department is that it gave me countless opportunities to ask, and answer, this question during my education. When I considered a career in publishing, I worked for the Alumni Magazine, the Poetry Center, and our student newspaper. When I pondered a career as a creative writer, I wrote poems and worked for the literary magazine. When I considered becoming a lawyer, a professor helped me get a part-time job in a local law office. Finally, when I considered teaching English, I tutored reading and writing in the Learning Assistance Resource Center, the Volunteer English Association, and the English Department's Writing Center. The latter experience confirmed my desire to become an English professor - I loved engaging with the diverse student population at West Chester, helping them craft sharper arguments and refine their written expression. But it was the support of my professors that helped me consider and succeed in each of these opportunities. Their mentorship enabled me to answer what I wanted to do with my English major. While my job may seem like a traditional route, I always felt prepared to market myself for any number of careers, precisely because the skills of professional communication, critical reading and writing, and aesthetic knowledge are so highly valued in the marketplace.
To be sure, the debate over whether a text is a poem or a recipe will strike many people as speculative nonsense, detached from the social and professional pressures of the contemporary world. But that same interpretative ambiguity can be a lifeline for those who yearn to, in the words of Whitman, "re-examine all you have been told at school or church or in any book." The English major at West Chester University helped me begin to re-examine my world and, in the process, to read it otherwise.
Back to top of page.