Vanessa Cozza, Ph.D.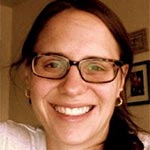 Class of 2003 (B.A.) and 2005 (M.A.)
Assistant Professor of English, Washington State University Tri-cities
Higher Education
I graduated from West Chester University in 2003 with my B.A. in Literature and in 2005 with my M.A. in Literary Studies, specializing in Rhetoric and Composition. My English education at WCU paved the way for me to gain valuable teaching experience and to later pursue an advanced degree. Majoring in English as an undergraduate strengthened my ability to read critically and analyze source material, communicate effectively, and conduct research. Continuing my English studies exposed me to rhetorical and pedagogical theories and prepared me for the opportunity to teach writing at the college level. After graduating with my M.A., I secured teaching positions as an adjunct for two years, and later pursued my doctorate in Rhetoric & Composition at Bowling Green State University. More importantly, the English professors at WCU greatly contributed to my success in all of my undergraduate and graduate courses. They guided me through my coursework, provided me with professional development opportunities, and kept in touch with me after leaving WCU. Their efforts inspired me to become the professor that I am today.
Back to top of page.