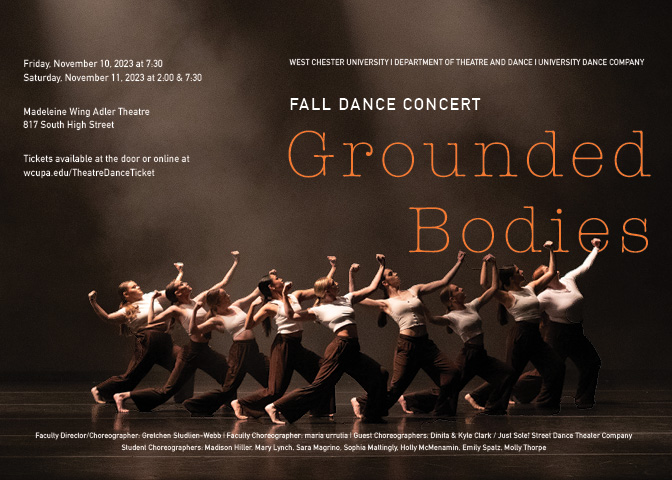 West Chester University of Pennsylvania, Department of Theatre and Dance, University Dance Company Presents
Grounded Bodies
Friday, November 10, 2023 at 7:30 p.m.
Saturday, November 11, 2023 at 2 p.m.
Saturday, November 11, 2023 at 7:30 p.m.
Madeleine Wing Adler Theatre, Swope Music Building
The focus of the UDC is to promote dance as an art form at West Chester University and to provide students with interests in arts administration, choreography, design, performance, and stage management the opportunity to create and shape their voice within this art form. As a member of this organization, students will receive a complete understanding of the workings of a dance company as well as the aspects of being involved in a University organization. UDC has two concerts every season; the fall concert focuses on faculty and guest artist work, while the spring concert mainly presents student choreography and design. Students work with both faculty and guest artists in the creation and management of new choreography and design. Community outreach and service is a component of membership to this organization as it currently is for all professional arts organizations. UDC also offers students the opportunities to attend, present and perform at various conferences annually to add to their dance and movement education. The University Dance Company is an SSI-sponsored organization.
Land Acknowledgement
"The land upon which we gather is part of the traditional territory of the Lenni-Lenape, called "Lenapehoking." The Lenape People lived in harmony with one another upon this territory for thousands of years. During the colonial era and early federal period, many were removed west and north, but some also remain among the continuing historical tribal communities of the region: The Nanticoke Lenni-Lenape Tribal Nation; the Ramapough Lenape Nation; and the Powhatan Renape Nation, The Nanticoke of Millsboro Delaware, and the Lenape of Cheswold Delaware. We acknowledge the Lenni-Lenape as the original people of this land and their continuing relationship with their territory. In our acknowledgment of the continued presence of Lenape people in their homeland, we affirm the aspiration of the great Lenape Chief Tamanend, that there be harmony between the indigenous people of this land and the descendants of the immigrants to this land, "as long as the rivers and creeks flow, and the sun, moon, and stars shine."
From the Nanticoke Lenni- Lenape Tribal Nation website (nlltribe.com)
BIOS
FACULTY AND GUEST ARTISTS
Gretchen-Studlien-Webb
Gretchen Studlien-Webb, Director, Choreographer, is the coordinator for the dance minor program in the Department of Theatre and Dance at West Chester University. She holds an M.F.A. from Temple University and a B.F.A. from The Ohio State University's Department of Dance. As the advisor for the University Dance Company, she has directed over 35 full-length concerts and choreographed over 50 dances. Studlien-Webb has taught and presented work internationally at the Ladek Zdroj International Dance Festival in Poland (2008 and 2013) and Claremont Project in London, England (2014). Her scholarly research for the past fifteen years often focuses on environmental sustainability which translates into her choreographic compositions; E.A.R.T.H. (Evolution Arises Revealing True Humanity) (2007), Shared Ignorance (2011), Re[F]use (2013), Continuous Cycle (2015), and Environmental Intervention (2016), Carnival of Ruin (2021), a multi-disciplinary, collaborative, full-length installation performance with set and costumes created entirely out of post-consumer waste, and (re)Surge (2022) . Privately Studlien-Webb also enjoys teaching and practicing yoga.
maria urrutia
maria urrutia, Faculty, Choreographer, Cuban Born, maria urrutia, holds an MFA in Interdisciplinary Arts from Goddard College, an EdM from Temple University and a BFA in Dance from The University of the Arts. She is an Associate Professor at West Chester University. Ms. urrutia is a company member with Cardell Dance Theater, which is directed by Guggenheim fellow Silvana Cardell. In addition to this work, she continues to collaborate with a variety of artist in addition to creating and presenting her own work. Her choreographic and scholarship practice focuses on Cuban Rumba and has been presented in London, Montreal, Trondheim, Miami, Ladek, Angers, São Carlos, Paris, New York, and Edinburgh.
Dinita and Kyle Clark
Dinita and Kyle Clark, Guest Artists, Kyle "JustSole" Clark and Dinita "Queen Di" Clark are both award-winning dancers, choreographers, educators, street dance competitors, and cultural organizers who have dedicated over 20+ years to the cultivation, transmission, and preservation of Hip Hop/Street dance forms. They've toured nationally and internationally with Rennie Harris Puremovement for nine years as Principals & Rehearsal Directors. They represented the U.S.A. as Cultural Ambassadors three times via The Obama Administration and Next Level USA. They've performed, taught, and competed internationally in over a dozen countries. They've judged and won national and international street dance competitions including Juste Debout USA and House Dance Forever. Over 10+ years, they've developed multiple entities that have done work across the country. They created Just Sole! Street Dance Theater Company (Performance), Funky Sole Fundamentals (Education), Groove Factory (Intensive), SoleFull (Party), and The Sole Open (Battle). Some of their honors include both winning UArts President's Distinguished Teaching Award, Philly Rocky Award, Pew Grant and Fellowship Award and Leeway Transformation Award. After teaching at UArts, Temple, Drexel, and Swarthmore as adjuncts for 10 years, Both Kyle and Dinita earned their MFA's from UArts. Kyle is a VA Professor at Swarthmore College and Dinita is an Associate Professor at UArts.
Nate Hart
Nate Hart, Lighting Designer, is a 2018 WCU graduate with a BA in Theatre. As a lighting designer, he has designed for several productions in the West Chester, Downingtown, and Philadelphia areas. Nate is also a performing arts technician at Longwood Gardens, working as the Lead Performance Technician for the Main Fountain Garden display. A huge thank you to Gretchen, UDC, and the Department of Theatre and Dance for inviting me back again as a guest designer!

STUDENT CHOREOGRAPHERS AND OFFICERS AND STAGE MANAGER
Sara Magrino
Sara Magrino, President, Choreographer, is a senior Early Grades Preparation PreK-4 major with a Special Education minor. She is currently in the Year-Long Student Teaching Program, placed at Fern Hill Elementary in 4th grade, and loving every second of it! This is her 5th time performing with the University Dance Company and she has adored serving as the President for the 2023-2024 academic year so far. Sara is thankful that she found her passion at such a young age and thanks her incredible family, friends, teachers, and professors for always supporting her dreams! Sara is beyond excited for everyone to see what UDC has been working hard for all semester and share the stage with her incredible UDC family! Enjoy the show!
Madison Hiller
Madison Hiller, Vice President, Choreographer, is a senior majoring in Middle School Preparation with a double minor in dance and mathematics. She was a competitive dancer growing up and has experience dancing for the Philadelphia 76ers and attending the Radio City Rockette's Summer Intensive. This is her fourth and final year dancing with UDC, and she is beyond grateful for the opportunities this company has brought her. This is her first-year choreographing, and she is bringing a small group, Broadway Jazz to the stage. She thanks her family, friends, company members, and faculty/staff for their endless support!
Molly Thorpe
Molly Thorpe, Treasurer, Choreographer, is a senior media and culture major with a concentration in media production. She is also earning minors in dance and psychology. Molly has been dancing for the past 20 years during which time she has studied a variety of styles including ballet, jazz, modern, hoofing, and acrobatics. This performance marks her first as a choreographer and executive for the company and is her fifth as a company member. Molly thanks Gretchen, Liz, and maria for their ongoing passion and guidance, as well as her family, friends, and loved ones for all of their love and support.
Mary Lynch
Mary Lynch, Secretary, Choreographer, is a senior psychology major and dance minor at West Chester University. This is Mary's seventh semester with UDC and fourth time choreographing. She has been dancing for ten years, and although she found her love of dance later in life, Mary has trained in all dance principles at the Diane Matthews School of Dance Arts and has performed with several groups of West Chester Dance Works (WCDW). Currently, Mary is still with WCDW as she directs the Junior Performers, the company's youngest performing group, and is also a member of Signature & Training Company, a semi-professional modern program. Mary thanks her family, friends, teachers, and professors for their continuous encouragement and support. Congratulations to the entire cast and crew of Grounded Bodies!
Brianna Breschard
Brianna Breschard, Historian, is a senior majoring in Communication Sciences and Disorders Accelerated Program of Speech Language Pathology with minors in dance and American Sign Language. This is her seventh semester being a part of UDC. She is beyond grateful to be Historian this year and being able to share all her love for the company. Big thanks to Gretchen, Maria, and Liz for letting her imagination come to life these past four years. She also thanks her mom, dad, brother, friends, and the University Dance Company that supported her along her journey.
Laura Whittaker
Laura Whittaker, Social Chair, is a junior majoring in communications and minoring in dance. She has been dancing for 17 years, and this is her third year performing with the company. She has enjoyed serving on the executive board so far this year. She applauds the cast for an exemplary performance this semester. She thanks her awesome family and friends for their ongoing love and support. She would not be where she is today without them!
Sophia Mattingly
Sophia Mattingly, Choreographer, is a senior at West Chester University with a double major in Business Management and Business Marketing with a Digital Marketing minor. This is her sixth semester with the company and first piece. Sophia has danced with the Lady Hoofers Professional Tap Company as a youth company member/apprentice. She started student teaching and choreographing as a junior in high school at her studio and accepted a teaching position in 2020 upon graduating high school. She feels teaching dance gives her the opportunity to be a role model for her students and share her passion for dance! Sophia is grateful for the endless support she has received from her friends, family, teachers, and students throughout her dance career!
Holly McMenamin
Holly McMenamin, Choreographer, is a senior at West Chester University majoring in Early Childhood Education with minors in Dance and American Sign Language. She has been passionate about dancing since the age of two when she began her training at Premiere Dance Studio. Currently, in her seventh semester with the University Dance Company, and choreographing her third piece. She is also a second-year captain of the national-winning WCU Dance Team. Holly attributes her love for dancing to her departed father, John, who loved watching her dance. She is thankful to her family, friends, and instructors for their unwavering support and congratulates her fellow dancers on their impressive accomplishments this semester.
Emily Spatz
Emily Spatz, Choreographer, is a junior with an early education major and dance minor. She has been dancing for 17 years. This is her second semester performing with the company and first year choreographing. Emily is also part of SPSEA, an organization for emerging teachers. Emily enjoys teaching young inspiring dancers as well as visiting her mom in England. She thanks Gretchen for giving her the opportunity to show her work and her friends and family for all their love and support.
Sloane Duzy
Sloane Duzy, Stage Manager, is a senior at West Chester University double majoring in Communication and Theatre. She is the current University Theatre president as well as Vice President/Secretary of Alpha Psi Omega, Theatre Honors Fraternity. Her previous credits at WCU include Stage Manager of The Student Written One Acts (2023), Assistant Stage Manager/Fly Master/Intimacy Captain of Kiss Me, Kate! (2023), Assistant Stage Manager of Charlotte's Web (2023), Assistant Stage Manager/Fly Master of the Fall Dance Concert (2022), and Assistant Director/Intimacy Captain of Spring Awakening (2022). She has such a deep love and respect for UDC and is so happy to finally be stage managing for them!
Griffyn Kresovich
Griffyn Kresovich, Assistant Stage Manager,
is a second-year student at West Chester University majoring in Media and Culture, with a minor in Theatre Arts. This semester, Griffyn is also involved with Kiss Me Kate! (Assistant Stage Manager), Rocky Horror (Choreographer/Assistant Director), and the 24th Annual AIDS Benefit. Griffyn has always loved the Dance Concerts and is so excited to be working on this show!
Alivia Bentley
Alivia Bentley, Assistant Stage Manager, is a third-year student at West Chester University majoring in Theatre Arts with a concentration in Musical Theatre and a Dance Minor. This is Alivia's first time with UDC on the production team, and she is thankful to have this opportunity. Alivia is also involved in West Chester University Theatre as the current Parliamentarian. She thanks her friends and family for always supporting her and the dancers and crew for an amazing experience!
Tindall
Tindall, Assistant Lighting Designer, is a fourth-year theatre major at West Chester University. He was the stage manager for the University Dance Company concert f22 and sp23. He is currently the master electrician for f23 dance concert. He has been in a few productions as an actor with the theatre department, including Pride and Prejudice (Fall 2021) and Winter's Tale (Spring 2022).
SHCHOLARSHIP DONATIONS
The WCU Dance program in the Department of Theatre and Dance currently offers two scholarships:
The Barbara J. Lappano '67, M'73 Dance Scholarship
The Emerging Dance Minor Scholarship
Donations received would increase the amount of the funds awarded to students each year. Contact the WCU Foundation at 610-436-2868 for more information or mail a check to:
WCU Foundation
Dance Program Endowment Fund 2475-852
P.O. Box 541
West Chester, PA 19381
Please include Dance Program Endowment Fund 2475-852 on the memo line.