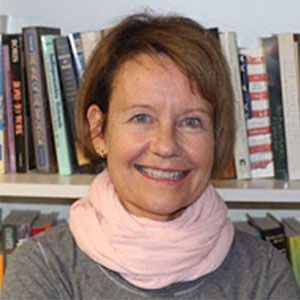 Anne E. Krulikowski
Associate Professor of History
714 Wayne
610-436-2255
Courses Taught
HIS 152: History of the United States II
HIS 344: History of Pennsylvania
HIS 364: American Urban History
HIS 399: Gilded Age America
HIS 399: America in the 1920s
HIS 399: Introduction to Public History
HIS 555: Emergence of Modern America, 1877-1929
HIS 559: American Urban History
About Me
Dr. Krulikowski earned her Ph.D in American History from the University of Delaware, with a focus in material culture and historic preservation. She also has M.A.'s in American History and British & American literature from Villanova University. She worked for five years at Rockwood Museum, a Victorian house in Wilmington, Delaware, where her responsibilities included overseeing house and school tours and developing public programs and special tours for children and adults. She has served on the Board of the Friends of Rockwood and contributed to several re-interpretive projects of kitchen spaces, and domestic technology and labor.
Dr. Krulikowski was Visiting Professor of Twentieth-Century America at Dickinson College, Carlisle, Pennsylvania, and has taught upper level and graduate classes at several local universities, most frequently at the University of Delaware, where she lectured in and contributed to the planning of the introductory colloquium for the Material Culture Studies Minor.
Prof. Krulikowski's dissertation focused on ethnically and racially mixed working class neighborhoods in Southwest Philadelphia and the Eastwick Redevelopment Project in that vicinity. She has given numerous conference and public talks and published articles on Eastwick, oral history, grocery stores and urban food distribution, urban real estate, Building and Loan Associations, and housing.
Back to top of page.