Students
History students do much more than memorize obscure historical facts: our department is home to well-rounded individuals who apply themselves inside and outside the classroom, creating opportunities to engage with the past and the present. Meet some of our students and hear about their adventures in history. See our Undergraduate Handbook to explore what it means to be a History major at WCU. And get involved!
The West Chester History Club consists of students from all majors interested in learning and discussing aspects of our country's, as well as the world's, history. History Club meet every Wednesday at 8:00 pm in 252 Sykes to share knowledge, get more involved in the community, and plan fun trips to local historical places in the area. Join us!
History Club has planned trips to Eastern State Penitentiary's Terror Behind the Walls and to Washington DC, and is sponsoring a Fall 2015 trip Pennhurst Haunted Asylum. Stay tuned for more events!
Follow History Club on Instagram and Follow History Club on Orgsync.
Phi Alpha Theta (ΦΑΘ) is an American honor society for undergraduate and graduate students and professors of history. A professional society, Phi Alpha Theta promotes the study of history by encouraging excellence in research, teaching, publication and exchange among historians. It fosters a sense of community while assisting in the research, teaching and publication of its members.
The Nu Sigma chapter of Phi Alpha Theta's mission is to encourage scholastic excellence while fostering a sense of community among West Chester University's history faculty and students, past and present.
On April 9, 2016, West Chester University will host the regional conference of Phi Alpha Theta.
Chapter advisors are faculty members Dr. Steve Gimber and Dr. Robert J. Kodosky.
Student Projects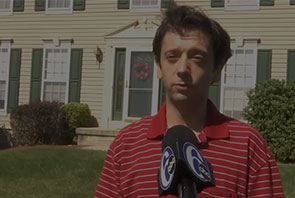 Alum Joe Felice's research on local WW1 Vet Featured on ABC 6 News
Two years ago, West Chester University alumni Joe Felice became interested in the life of WWI U.S. Army veteran and Coatesville native Cpl. Wellington Sahler. Felice noticed Sahler's VFW banner along Main Street in Coatesville one summer day in 2019 and was intrigued that it was the only banner to feature a local veteran from that war. Claresa Whitfield, Post Chaplain of VFW Post 287, invited Felice to speak at the Post's Centennial celebration upon learning of his interest in their namesake. Felice researched records from the National Archives, the Chester County Archives and Chester County Historical Society. Watch the full story on ABC 6 Action News.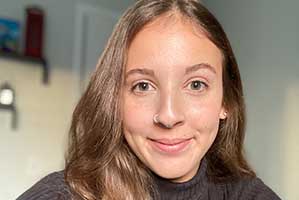 Anna R. Waverka completes a ten-lesson plan unit on the history of Westtown township for use by local teachers
Anna R. Waverka (WCU history '20) completed a ten-lesson plan unit on the history of Westtown township for use by local teachers. Lessons focus on the township's rich history that includes the Battle of the Brandywine and a Civil War Parole Camp. In collaboration with the Westtown Historical Commission, Waverka's lessons encourage students to explore local histories of the Lenape, the Quakers and the African American Methodist Episcopal Church. After graduating, Anna joined the Unionville School District where she completed her student teaching. Her story is featured in the Westtown Gazette .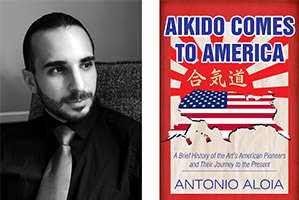 Alum Antonio Aloia publishes book on the history of Aikido in the U.S.
Antonio Aloia's (BA'17, MA '19) Aikido Comes to America places several early US practitioners in the context of the art's arrival and dissemination amidst American popular culture, spanning from the Beat Movement of the 1950s to the Japanese film craze of the 1980s and early 1990s. This book discusses aikido pioneers including Rodney Grantham, Thomas "Doc" Walker, Sam Combes, Steven Seagal, Lisa Tomoleoni, and George Kennedy among others. Aikido Comes to America also compares additional prominent American martial artists of the time, including Jujitsu's George Kirby, American Kenpo Karate founder Edmund Parker, Bruce Lee, and Robert Trias of Shuri-ryu Karate, giving a broader picture of how martial arts were developing during the time frame.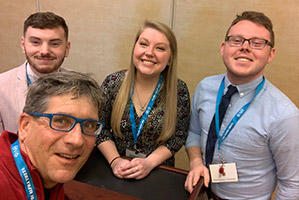 Students present at national meeting of Phi Alpha Theta
WCU history students Benjamin Popp, Kelsey Bastien and Bryce Evans attended the Phi Alpha Theta (history honors) conference with Dr. Kodosky in January 2020. The conference convened in San Antonio, Texas. Ben, Kelsey, and Bryce contributed to the proceedings by presenting their research projects while Kelsey also served in the capacity of an official delegate of WCU history.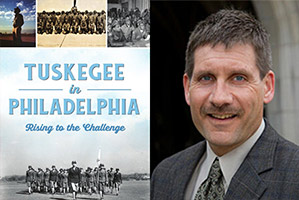 History students contribute to Tuskegee in Philadelphia
With contributions from six WCU history students, Steven James Zaharick II, Michael J. Weiss, Michael Kowalski, Jeffrey Markland, Brandon Ray Langston and Matthew Rothfuss, Dr. Kodosky collaborated with the Philadelphia chapter of Tuskegee Airmen to publish Tuskegee in Philadelphia: Rising to the Challenge (History Press, 2020). All proceeds benefit the Philadelphia chapter's scholarship fund. Dr. Kodosky recently appeared on PA Books to discuss the project.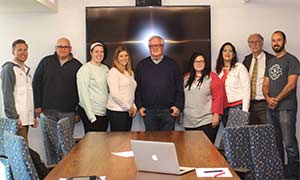 Weldon class Spring 2018
A member of the House Armed Services Committee during his 20 years in Congress (1987-2007), Curt Weldon was a firm believer in Congress's oversight role in U.S. foreign relations. In 2015, Weldon, who graduated from WCU in 1969, donated his extensive archive to his alma mater and began an oral history project with Professor Charles Hardy that now includes 52 interviews. In Spring 2018, graduate students in HIS 650/651, the department of history's capstone research seminar, worked with the Weldon oral history interview collection and archives—and with the Congressman himself-- to produce original studies on U.S. relations with Libya and North Korea, the abuse of consular immunity, the bombing of the USS Cole, conspiracy theories in the hunt for Bin Laden, a case study of a whistleblower book gone wrong, and the FBI's role in preventing Weldon's re-election in 2006.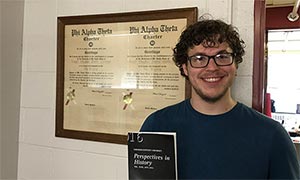 Patrick Hughes publishes journal article
Senior Patrick Hughes published his "Black Holes in the Sky: Pink Floyd, Progressive Rock, and the Collapse of the Psychedelic Dream" as the leading article in Perspectives in History, volume XXI, published by Northern Kentucky University. It is a revised version of the paper he delivered last January in Orlando at the national Phi Alpha Theta conference.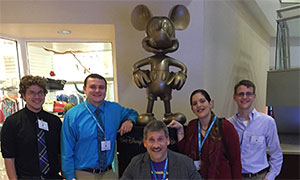 Students present at Phi Alpha Theta National Conference in Orlando
In January 2016, Professor Robert Kodosky and four undergraduate students attended the Phi Alpha Theta Biennial Convention held in Orlando, Florida. Undergraduate history majors Patrick Hughes, Aaron Lockard, Heather Williams, and Tom Petrozzo won a departmental paper competition to receive a free trip to the conference, where each presented their scholarship. The department's Drayer endowment provided funds for this opportunity.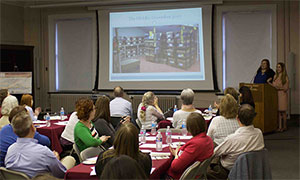 Students present at the Historical Society of Pennsylvania
MA graduate Amanda Tuttle and current student Kelly McGwire presented "The End of Archival Adventures in Small Repositories," at Historical Society of Pennsylvania's Hidden Collective Initiatives for Small Archival Repositories wrap up event, April 20, 2016.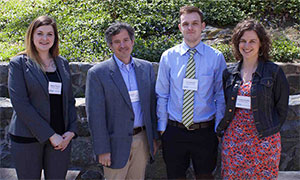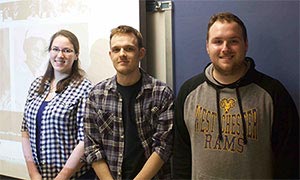 Three 2016 Grads accepted to Temple University's Public History MA Program
WCU has long produced outstanding students, many of whom lead careers in secondary education. This year, we have a bumper crop of students graduating who hope to pursue careers in Public History. Three of our graduates--Kaitlyn Sheeran, John Smith III, and Derek Duquette--were accepted into Temple University's premier MA program in Public History.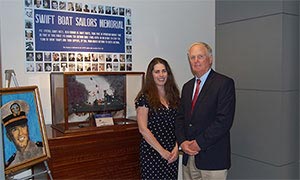 Suzanne Irvin
Graduate student Suzanne Irvin has curated a physical exhibit at the Virginia War Memorial dedicated to the 50 Patrol Craft Fast (PCF) sailors killed during the Vietnam War. The exhibit consists of pictures of the men, a model Swift Boat, and a mahogany wood monument etched with the names of the fallen and a short description of the boats' length, speed, number of crew members and armament. The heart of the exhibit is the Swift Boats Sailors Memorial Digital Repository, featuring a collection of primary sources from the swift boat sailors themselves. The Swift Boats Sailors Memorial website created by Irvin, contains 11 Virtual exhibits, 15 personal collections, over 2000 photos, and over 60 minutes of film.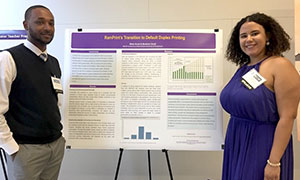 Default Duplex Printing
In fall 2017, WCU rolled out campus-wide implementation of Default Duplex Printing, an initiative begun by students in HON 355/HIS 399 Climate Change and Environmental Stewardship, and completed by History Major Shila Scott and History minor Breahon Scott.