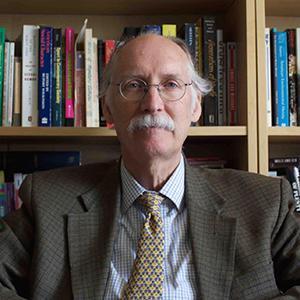 Charles Hardy
Professor
706 Wayne
610-436-3329
Courses Taught
HIS 152: History of United States II
HIS 300: Varieties of History
HIS 344: History of Pennsylvania
HIS 356: U. S. Environmental History
HIS 400: Research Seminar
HON 382: Symposium in Social and Behavioral Science
HON 451/HIS 399: Climate Change and Sustainability
HON 453/HIS 399/AMS 399: Immigration and Digital Storytelling
HIS 500: Methods and Materials of Historical Research
HIS 650: Research Seminar
About Me
The senior member of the department of history, Professor Hardy joined the West Chester University faculty in 1990, after a decade working as a documentary producer and historical consultant. The producer of public radio, video, and web-based documentaries and historical websites, his awards include West Chester University's Lindback Distinguished Teaching Award (2019) and E. Riley Holman Memorial Faculty Award (2015) for innovative teaching techniques that foster student creativity, the American Historical Association's Roy Rosenzweig Prize for Innovation in Digital History (2016), and Oral History Association's Nonprint Format Award (2015) and Biennial Nonprint Media Award (1999).
Supervising Historian for ExplorePAhistory.com since 2003, Professor Hardy has served as president of the Oral History Association (2008-2009), on the Advisory Board of Oral History in the Digital Age (2009-2012), as a member of the Advisory Board of the Pennsylvania Bureau for Historic Preservation (2004-2010); and as a project advisor for "Pennsylvania History Coalition Honoring People with Disability," a multi-institutional archival and documentary project on the history of people with intellectual and developmental disabilities (2014-present).
Dr. Hardy also serves as the Internship Coordinator for the Department and as a member of the WCU Honors College faculty.
Back to top of page.