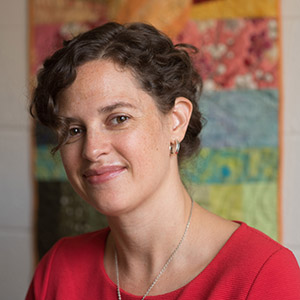 Janneken Smucker
Courses Taught
AMS 200: American Civilization
HIS 100: Global History since 1900 (fully distanced delivered)
HIS 300: Varieties of History
HIS/AMS 365: American Popular Culture
HIS 390: History on the Web
HIS/AMS 367: American Material Culture
HIS 400: Seminar - Globalization
HIS 480: Digital History
HIS 601: Topics in United States History - Digital History
HIS 650/651/652: Graduate Seminar - Cultural History
About Me
Janneken Smucker specializes in digital history, public history, and material culture. She authored Amish Quilts: Crafting an American Icon (Johns Hopkins University Press, 2013), and lectures and writes widely about quilts for both popular and scholarly audiences. Janneken volunteers with the national non-profit, Quilt Alliance, dedicated to documenting, preserving, and sharing the stories of quilts and quiltmakers. She led content development for World Quilts: The American Story, a digital project of the International Quilt Study Center & Museum at the University of Nebraska—Lincoln. Her current research investigates the role of quilts in New Deal governmental programs.
In the classroom, she integrates technology and the humanities, working with her students to create websites, blogs, podcasts, digital archives, and online exhibitions. With Professor Charles Hardy and students in HIS 601 and HON 452, she created Goin' North: Stories from the First Great Migration to Philadelphia, which won the Oral History Association's 2015 award for best non-print project and the 2016 American Historical Association's Roy Rosenzweig Award for Innovation in Digital History. She and Dr. Hardy also were co-recipients of WCU's 2015 Holman Award for innovation in teaching. Their latest classroom/archival partnership, Philadelphia Immigration
Janneken is an avid yogi, gardener, pizza chef, and quiltmaker. She is also the mother of a 9-year old girl, and enjoys seeing the world through her eyes as she makes connections and discovers new things. She loves thinking—and traveling—beyond national borders, and is glad to be a global citizen.