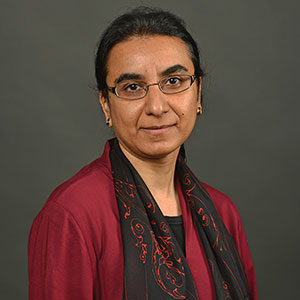 Tabassum Fahim Ruby
Assistant Professor of History and Women's and Gender Studies
113 Main Hall
610-436-2355
Courses Taught
WOS 225: Introduction to Women's and Gender Studies
WOS 315: Women of the Global South
WOS 410: Special Topics: Feminist Research Methodologies
About Me
Dr. Ruby obtained a Ph.D. in Women's Studies (now Gender, Feminist and Women's Studies) at York University (Canada) in 2010. She also earned undergraduate and graduate degrees in Philosophy and Women's Studies. Prior to joining West Chester in 2016, Dr. Ruby held a postdoctoral faculty position in the Department of Gender and Women's Studies at Western Michigan University, and an instructor position in the Departments of American Culture Studies and Women's, Gender, and Sexuality Studies at Bowling Green State University.
Dr. Ruby's research focuses on Islam and gender discourses. Postcolonial, anti-racist, and transnational feminist studies are her areas of research. Currently, she is completing a draft of her first book, Muslim Women's Rights: Contesting Liberal-Secular Sensibilities in Canada. The book examines how liberal-secular normative values have shaped and informed the question of Muslim women's rights. She has published numerous articles, book chapters, and book reviews.
Islam, Gender, Modernity, and Secularism
Postcolonial and Critical Race Studies
Transnational/Global Feminisms
Qualitative Methods
Back to top of page.