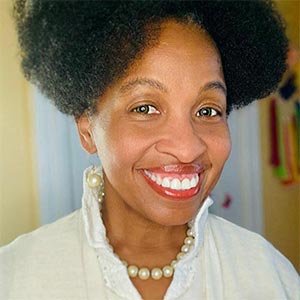 tonya thames-taylor
Associate Professor of History
725 Wayne
610-436-2970
Courses Taught
HIS 150: American Experience
HIS 152: American History from 1877
HIS 358: Economic History of the United States
HIS 362: Violence in America
HIS 366: Turbulent 1960s
HIS 399: Social Movements
HIS 376: History at the Movies
HIS 373: African American History
HIS 520: Topics: Race, Bigotry, and Prejudice
HIS 555: Emergence Of Modern America: 1876-1923
About Me
tonya thames-taylor is an Associate Professor of History (American), founding director of the African American Studies Program, and member of the Executive Committee of the Frederick Douglass Institute. She is a specialist in the 19th and 20th centuries. Her research focuses on gender, race, human rights, and Southern histories. She has received numerous fellowships and grants. She is a National Endowment for the Humanities(NEH) Summer Institute Fellow (Summer 2014, Jackson State University) and the Christian R. and Mary F. Lindback Foundation Recipient (2006—2008). She served as a Pennsylvania Live and Learn Scholar for the Pennsylvania Humanities Council.
Mississippi native and granddaughter of former sharecroppers, she is a Trustee for the Friends Publishing Corporation (publishers of Friends Journal and QuakerSpeak ), Board of Directors for the Friends Historical Association (publisher of Quaker History), and a member of the Governance Committee of the American Friends Service Committee (AFSC). She is also an active member in women organizations such as the Association of Black Women Historians, American Association of American University (AAUW), National Council of Negro Women, Women In the National Association for the Advancement of Colored People (WIN), Order of Eastern Stars, and Junior League of Philadelphia (Sustainer).
A native of the coastal town of Gulfport, Mississippi, dr. thames taylor is a magna cum laude graduate of Tougaloo College, a Historically Black College and University (HBCU), in Tougaloo, Mississippi (MS). She earned her Master of Arts in history and a Ph.D. in American History from The University of Mississippi (Ole Miss) in Oxford, MS. She has life memberships in both alumni associations.
During a TEDx, in October 2016, she discussed "Admiring Failure." She is an environmentalist and some of her most sought-after public lectures deal with the environment.
She is currently writing her first book which is collection of her public lectures. Also, she is writing a book article about the 1968 Memphis Sanitation Strike.
Selected Reflections/Presentations