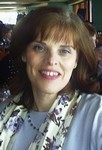 Andrea Varricchio
Professor of Languages
Ph.D., Temple University
M.A., Middlebury College
B.A., Chestnut Hill College
Research Interests
Applied Spanish linguistics, discourse analysis, foreign language methodology (service-learning and technology in foreign language instruction), theoretical Spanish linguistics
Recent Publications/Activities
Selected Publications
The Language of Wit and Ambiguity in Traditional Hispanic Riddles, The Edwin Mellen Press, forthcoming.
Music reviews on Flamenco árabe, Editus, Orozco, Ruben Blades, Andrea Bocelli, Enrique Iglesias, Laura Pausini, Vicente Fernández, Maná, 2007-2010, National Capital Language Resource Center
"Teaching Communications, Cultures, Connections, Comparisons, and Communities with Multimedia: A University-Middle School Service-Learning Project." Letras, Universidad Nacional, Heredia, Costa Rica, 44 (July-Dec. 2008): 149-165.
"Spanish for Professionals Syllabus with Civic Engagement/Service-Learning Project," Philadelphia Higher Education Network for Neighborhood Development, Resources, Spring 2008
"Service-Learning at all Levels: from Fieldtrips to Internships." Hispania 89.1 (March 2006): 161-163.
"Bridging the Language and Cultural Gap with Service Learning in Spanish: Two Case Studies." The Creative Teaching Journal, University of Nevada Las Vegas (Spring 2005): 112-118.
"Improving Proficiency in Spanish through Service Learning." Proceedings from the First Annual Best Practices in Higher Education Conference: Assessing the Impact of Service Learning on Student Development. The Community College of Philadelphia, Nov. 2004:45-47.
Teaching Awards and in-print Recognition
Dr. Andrea Varricchio has received the Upper Merion Area Education Association's PEPPER Award. This award stands for "Public Education Partner and Promoter." Dr. Varricchio was recognized for her commitment to service-learning through the Upper Merion Area bilingual internship program in which WCU Spanish majors and minors serve as in-class tutors for English Language Learners at Upper Merion Area Middle and High Schools. The award was presented at the Annual ESL Family Night at the Middle School on October 20, 2011.
Service-learning projects included in WCU Carnegie Classification for Community Engagement, 2011.
"Bilingual Internees from WCU Support Ells," News from the ESL Corner, Upper Merion Area School District, Vol.4, Issue 5, (Jan. 2011): 1.
Untours Award of Rose Tree Media School District for contributions to the Penncrest High School Spanish program, April 28, 2010.
"West Chester University Students Give Back though Mentor Project," King of Prussia Courier (29 April 2009): 4-A. Recognition of service-learning project with Upper Merion Area Middle School.
"Language Professor Leads Service-Learning Projects." Daily Local News, Chester County Edition (30 March 2009): A-3.
CAPC Best Practices in Pedagogy: Student Success Transformations Award, January 2009.
"Welcoming a Bilingual Internee from West Chester University," News from the ESL Corner, Upper Merion Area School District, Vol.2, Issue 3 (Nov. 2008):1.
Grants
WCU College of Arts and Sciences Support and Development (CASSDA) Award, "The Language of Wit and Ambiguity in Traditional Spanish-Language Riddles-book manuscript" Spring 2011.
Office of Service-Learning and Volunteer Programs Grant, "Demystifying Higher Education for Middle School Immigrant Students at Upper Merion Area Middle School: A Civic Engagement Problem-Based Service-Learning Project with West Chester University Students of the Spanish for Professionals Course," February 2008.
Courses Regularly Taught
LAN 425/525 Language Internship
SPA 512 Applied Spanish Linguistics
SPA 365 Spanish Phonetics
SPA 310 - Business Topics in Spanish, writing emphasis
SPA 304 Spanish Language Topics in the Community
SPA 301/302 Advanced Grammar, Conversation ,Composition I and II
SPA 202 Intermediate Spanish II
Back to top of page.