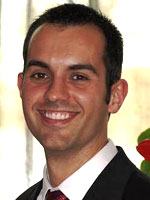 Israel Sanz-Sánchez
Associate Professor of Languages
Ph.D., University of California, Berkeley
M.A., San Diego State University
B.A., Universidad de Valladolid
Research Interests
Spanish linguistics, historical dialectology, sociolinguistics, Spanish in the United States, documentary evidence of the Spanish presence in the US Southwest, language ideologies.
Recent Publications/Activities
Books
Jerry R. Craddock. Palabra de rey: Selección de estudios sobre legislación alfonsina. Salamanca: Seminario de Estudios Medievales y Renacentistas, 2008. Co-editor and co-translator, with Heather Bamford. I.S.B.N. 978-84-934697-0-2
Papers in peer-reviewed journals and volumes
Back to top of page.