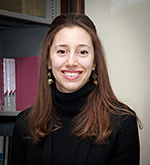 Megan Corbin
Assistant Professor of Languages
M.A., Ph.D., University of Minnesota – Twin Cities
B.A., University of Minnesota – Twin Cities
Research Interests
Contemporary Latin American Literature and Culture; Southern Cone Narrative and Cultural Production; Testimonio; Human Rights; Memory Studies; Trauma Theory; Object-Oriented Philosophy; Material Culture Studies; Spectral Theory; Women's Writing; Feminist Theory.
Recent Publications/Activities
Publications
"Confronting History: Global South Perspectives and the Narration of Postdictatorial Urban Spaces of Memory" The Global South. Special Issue: Narrating Global South Cities, forthcoming Fall 2015.
"The Museum of Memory: Spectral Presences and Metaphoric Re-memberings" Specters: Ghostly Hauntings and the Talking Dead in Contemporary Latin American and Iberian Narratives. Eds. Amanda Peterson and Alberto Rivas, forthcoming.
"Controlling Contagion: The Threat of the Madman from Outer Space." Writing Monsters: Essays on Iberian and Latin American Cultures. Eds. Adriana Gordillo and Nicholas Spadaccini. Hispanic Issues On Line 15 (Spring 2014): 200–20. Web. url: http://hispanicissues.umn.edu/assets/doc/11_Corbin.pdf
"Archiveras anarquistas: Corporal Testimony in the Work of Diamela Eltit." Catedral Tomada, 1:1 (2013) 1-17.
"Neutralizing Consent: The Maternal Look and the Returned Gaze in El infarto del alma." Lucero 22 (2012)
Martín Estudillo, Luis and Megan Corbin. "One Last Fight: Telling the Stories of the Anti-Francoist Guerrilla in Twenty-First Century Spain." Armed Resistance: Cultural Representations of the Anti-Francoist Guerrilla. Ed. Antonio Gómez López-Quiñones and Carmen Moreno-Nuño. Hispanic Issues On Line (Fall 2012): 232–240. Web. url: http://hispanicissues.umn.edu/assets/doc/12_AFTERWORD_002.pdf
Co-author, Co-editor (with Luis Martín-Estudillo) "Exile, Intellectuals, and the Memory Wars." Hispanic Issues On Line Debates. Summer 2012 url: http://hispanicissues.umn.edu/online_main.html
Conferences
"(Extra)Ordinary Things: Material Objects and Mental Self-Care in Uruguayan Political Prisons." Latin American Studies Association. Chicago, Illinois, May 2014.
"Jóvenes pasados, presentes y futuros: Ideología, género, y lo material de la cultura urbana en La edad de oro de José Martí." XVIII Congreso de la Asociación Internacional de Hispanistas. Buenos Aires, Argentina. July 2013.
"Haunted Objects: Spectral Testimony in the Latin American Post-dictatorship." Special Session: "Mapping Hauntings in Hispanic Literatures" at the American Comparative Literature Association. Toronto, Canada. April 2013.
"The Ship of Exile: Exposing Control Through Erotic Coding in the Poetry of Cristina Peri Rossi." South Atlantic Modern Language Association. Atlanta, Georgia, November 2011.
Awards
2012-2013 Doctoral Dissertation Fellow, University of Minnesota – Twin Cities
Research Activities
Associate Editor, Hispanic Issues and Hispanic Issues On Line
Classes Regularly Taught
SPA301 Advanced Grammar and Composition
SPA315 Spanish Readings
SPA320 Cultures of Spain
SPA330 Survey of Spanish Literature
SPA415 Spanish Cinema
ESP319 Cultures of Spain (English)
ESP305 Spanish Cinema (English)
Back to top of page.