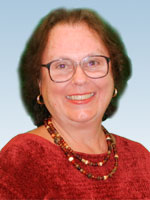 Rebecca M. Pauly
Professor of Languages
D.M.L., Middlebury College
M.A., University of California, Berkeley
B.A., Smith College
Research Interests
French and Italian film studies, 19th and 20th century French literature, text and image theory
Recent Publications/Activities
Origin-ality: Sources and Adaptations of Francophone Voices." AATF Annual Meeting, Philadelphia, 2010; First Linguistic Origins conference, Towson, MD, 2011.
Articles on Children on French Film, Baudelaire translating E.A. Poe.
Classes Regularly Taught
EFR 350 French Civlization on Feature Film, "Bonjour les enfants"
FRE 350 and FRE 550, French Cinema, "Bonjour les enfants"
FRE 304 and FRE 504, French and Francophone literature
EIT 360 Italian Film, ITA 360 Italian Cinema
FRE 440 and FRE 540, Writing French Children's Stories, online
Back to top of page.