Stacey Schlau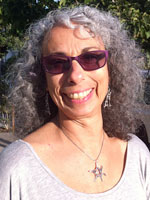 Stacey Schlau
Professor of Languages
Ph.D., City University of New York
B.A., M.A., Queen's College
Research Interests
Seventeenth and twentieth century Spanish American women writers (especially narrative), seventeenth century Spanish women writers, Spanish American literature (colonial and contemporary), Women's Studies, Latin@ Studies, Transatlantic Studies, literary theory (especially narrative genres), Caribbean literature, early modern Spanish literature, autobiography.
Recent Publications/Activities
Gendered Crime and Punishment: Women And/in the Hispanic Inquisitions. Leiden: Brill, 2012.
Untold Sisters: Hispanic Nuns in Their Own Works (with Electa Arenal). Revised second edition, University of New Mexico Press, 2010.
Mujeres alborotadas: Early Modern and Colonial Women's Cultural Production. (A Festschrift in Honor of Electa Arenal.) Co-edited with Amanda Powell. Letras femeninas (2009).
"'[T]antas las energumenas': Una endemoniada monja visionaria del Perú provincial colonial." Los cinco sentidos del convento: Europa y el Nuevo Mundo. Ed. Josefina López. Universidad Católica Andrés Bello, 2010. "¿Mujeres alborotadas o amas de casa espirituales?: Dos beatas en la urbe andina colonial." Poéticas de lo criollo. Eds. David M. Solodkow and Juan M. Vitulli. Editorial Corregidor, 2009. 167-92.
"A Judaizing 'Old Christian' Woman and the Mexican Inquisition: The 'Unusual' Case of María de Zárate." Gender and Religion in the Atlantic World (1600-1850). Eds. Dana Kostroun and Lisa Vollendorf. University of Toronto Press, 2009. 223-51.
"María de san Alberto: Spanish Popular Poetic Traditions Made Sacred." "En desagravio de las damas": Early Modern Women Poets of Spain. Ed. Julián Olivares. Tamesis, 2009. 218-32.
"Teaching Untold Sisters: Hispanic Nuns In Their Own Works" (with Electa Arenal). Letras femeninas 35.1 (2009): 171-89. "Sor Juana Oversees the Subversion of Gendered State Power: Feminist Gestures in De noche vienes, Esmeralda." Representaciones modernas de Sor Juana. Ed. Mario A. Ortiz. Spec. issue of Cuadernos de música, artes visuales y artes escénicas, 2008-2009. 235-62.
"El cuerpo femenino y la Inquisición colonial: Dos casos ejemplares." PROHAL MONOGRAFICO, Sección VITRAL Monográfico, 2008. http://www.filo.uba.ar/contenidos/investigacion/institutos/ravignani/prohal/dossierhere.html
"From Alienation to Consolation in Madre Castillo's Su Vida." Women's Voices and the Politics of the Spanish Empire: From Convent Cell to Imperial Court. Eds. Jennifer Eich, Jeanne Gillespie, and Lucia Guzzi Harrison. University Press of the South, 2008. 31-54.
Classes Regularly Taught
SPA 202, 330, 331, 403, 413.
ESP 311, 324, 333.
WOS 315, 405.
Back to top of page.