Current Students
Linguistics Society
The Linguistics Society is an exciting venue that brings together students from a variety of programs to talk linguistics in a relaxed atmosphere. Events include movies, debates, day trips, guest speakers, and more! The Club is open to minors and non-minors alike.
You can follow the Linguistics Society's activities on RamConnect. For questions about the Linguistics Club, contact the advisor, Israel Sanz.
Student Spotlight
Some testimonials from current and past students:
Ariana Ciamaricone, BSEd in English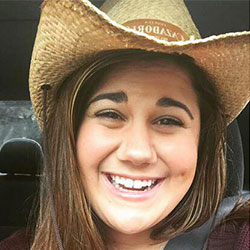 Being an English Education: Literature major, I am constantly asked how linguistics will help me teach one day. It gives me a deeper understanding of my English Language Learners (ELLs), and it provides me with an insight into African American Vernacular English (AAVE). These might seem like burdens to traditional English teachers, but to me, they present exciting new ways to celebrate my students. I want my future students to view language as a tool, and they're prior knowledge of another language is just another tool in their tool belt. Linguistics showed me that language can be so much more than a means of communication. It can shape how we view the world around us. If it weren't for this minor, I would not have grown as much as I have over these past three years. I have challenged myself to comprehend topics that go against the basics of my major. I have forced myself to dive into complicated texts for the sake of an essay, and I have learned how to take pride in my work. This minor has shown me a new perspective on my major and my life.



Kelsey Czachor, BSEd in English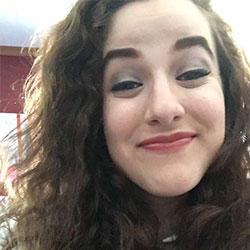 As an English Literature Secondary Education major, language is an integral part of how I understand the materials that I will be teaching. Besides that, I have been interested in the way language works since reading The Lord of the Rings in middle school. Tolkien's languages and work as a linguist piqued my curiosity and made me want to be an etymologist. When I got to West Chester and saw that we had a linguistics minor program, I jumped on the chance to add it to my major, even though it would keep me in school for more than four years. I have absolutely not regretted that decision. I've loved learning about language and through West Chester's programs, I've become increasingly interested in sociolinguistics in addition to etymology and historical linguistics. I cannot wait to continue to learn about different aspects of linguistics through the classes I will take in the future here at WCU!




Caitlin Seaman, BA in Anthropology
Linguistics is concerned with the scientific study of language and communication. A minor in Linguistics benefited my studies by complementing the skills of my major of anthropology. My coursework explores into the nature of language variation, language change over time, how language is processed and stored in the brain, and how it is acquired by young children. Language seems to shape one's view and thoughts of the world. Language learning encompasses so much more than mere memorization and pronunciation, it teaches meaning.







Emily Zborowski, BA in Communication Sciences and Disorders (Class 2016)
Adding a minor in linguistics enriched my time at West Chester University not only academically but socially as well. I learned an entirely new subject and was able to connect my knowledge back to my Communication Sciences and Disorders Major. I also learned about the role linguistics plays throughout culture and the impact language and communication has on society. Overall, the minor helped to enrich my time at West Chester University by giving me a more well-rounded outlook on the many functions of language and communication. As a future Speech Language Pathologist the experiences and knowledge I gained throughout the minor will help me to be a more culturally competent and educated clinician.