ANNUAL PRE-COLLEGIATE


PIANO COMPETITION

The West Chester University Annual Pre-Collegiate Piano Competition, now it its 34th year, strives to provide students ages 9-18 with performing opportunities and raise the standard of excellence of young pianists. This is a national competition with no geographic restrictions. There are three age groups with up to five cash prizes awarded in each group. Information regarding repertoire requirements, competition guidelines, awards, and how to apply is found below.

This year's competition will take place on Saturday, April 13, 2024 in Swope Music Building on our beautiful West Chester University Campus. The Wells School of Music shares co-sponsorship of this event with Jacobs Music.

A Recital & Awards Presentation will be held on Sunday, April 21, 2024 from 3:00 pm - 4:30 pm in the Ware Family Recital Hall. The recital will include performances by the first, second, and third place winner in each group and must be attended by all Honorable Mention winners. Absences in either category will result in cancellation of the award.

Preceding the Recital will be a Masterclass in Ware Family Recital Hall from 12:30 pm - 2:30 pm. The Masterclass will be conducted by our esteemed Wells School of Music Associate Professor of Piano, Dr. Carl Cramner. Both Masterclass and Winner's Recital are open to the public.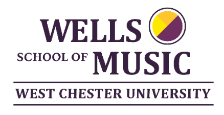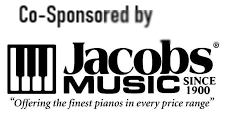 2024 Pre-Collegiate Piano Competition
Two pieces from the standard solo literature (Baroque, Classical, Romantic, 20th or 21st Century)
The two pieces must be from different periods and contrasting in style. A single movement from a sonata or a suite is acceptable.
Beginner level pieces, arrangements of pop songs and piano duets, and simplified arrangements of classical compositions will NOT be acceptable.
Transcriptions composed by known classical composers from the four periods listed above are acceptable.
Pieces requiring anything to be put inside the piano or on the strings are not acceptable.
In the 16 -18 age group, a third piece may be added to meet the minimum 20 minute playing time. A third piece must follow the guidelines in 1 - 5 above.
Age
16-18
13-15
9-12

Time Requirement

Minimum 20 Minutes




Maximum 30 Minutes

Maximum 17 minutes

Maximum 12 minutes
Students are advised that the judges may stop anyone who exceeds the maximum playing time, and may stop any student whose skill level is sufficiently demonstrated before the conclusion of a piece.
Competition time assignments will be sent to all applicants the week of March 25, 2024.
A $100 non-refundable entry fee is required
Music must be performed from memory
1st Prize Winners from the previous years may compete only in the next older age group
Previous entrants may reapply, but not with the same pieces
No audition recordings required
Applicants must supply one publisher's copy of each of their pieces for the judges
No photocopies allowed for the judges
Applicants must be within the given age ranges as of April 13, 2024, and may not be in college
16-18 Years Old
1st Place - $2,000
2nd Place - $700
3rd Place - $300
Honorable Mention - $100
13-15 Years Old
1st Place - $1,000
2nd Place - $350
3rd Place - $200
Honorable Mention - $75
9-12 Years Old
1st Place - $500
2nd Place - $250
3rd Place - $150
Honorable Mention - $50
*Up to two Honorable Mention Awards in each age group will be given at the discretion of the judges
2023 Pre-Collegiate Piano Competition Award Winners
16-18 Years Old
1st Place: Alyssa Gabrilovich
2nd Place: Jedidiah Yang
3rd Place: Christopher Shin
Honorable Mention 1: Christian Wienckoski
Honorable Mention 2: Ryan Zhang
13-15 Years Old
1st Place: Samuel Cronk
2nd Place: Sarah Li
3rd Place: Athena Liu
Honorable Mention 1: Alexander Yu
Honorable Mention 2: David Sun
9-12 Years Old
1st Place: Evelyn Liu
2nd Place: Natalie Qian
3rd Place: Aavi Sircar
Honorable Mention 1: Calla Jin
Honorable Mention 2: Elizabeth Guo
How to Apply
Register online and pay with a credit card (Registration closes on March 4, 2024 at midnight).
For additional information regarding registration or competition guidelines, please contact Joan Stalford, Administrative Assistant for the Departments of Ensembles & Conducting, Instrumental Music, and Vocal & Keyboard Music, at jstalford@wcupa.edu | 610-436-2921