The Learning Assistance and Resource Center proudly embraces the values of West Chester University and remains committed to treating all members of our community with respect and dignity. Read the full WCU Values statement.
Welcome Back Golden Rams! All LARC Services are virtual for the Spring 2021 semester.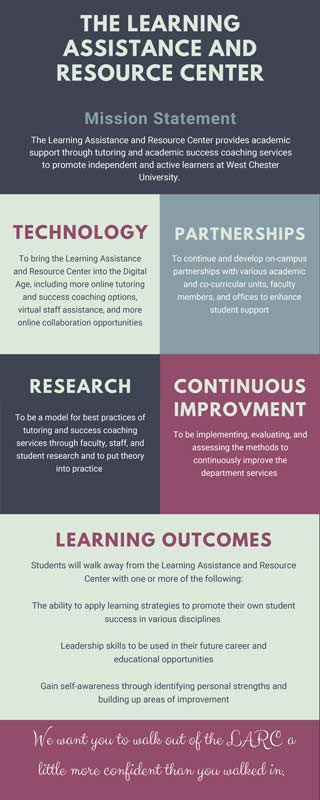 Mission Statement
THE LEARNING ASSISTANCE AND RESOURCE CENTER
Mission Statement
The Learning Assistance and Resource Center provides academic support through tutoring and academic success coaching services to promote independent and active learners at West Chester University.
TECHNOLOGY
To bring the Learning Assistance and Resource Center into the Digital Age, including more online tutoring and success coaching options, virtual staff assistance, and more online collaboration opportunities
PARTNERSHIPS
To continue and develop on-campus partnerships with various academic and co-curricular units, faculty members, and offices to enhance student support
RESEARCH
To be a model for best practices of tutoring and success coaching services through faculty, staff, and student research and to put theory into practice
CONTINUOUS IMPROVEMENT
To be implementing, evaluating, and assessing the methods to continuously improve the department services
LEARNING OUTCOMES
Students will walk away from the Learning Assistance and Resource Center with one or more of the following:
The ability to apply learning strategies to promote their own student success in various disciplines
Leadership skills to be used in their future career and educational opportunities
Gain self-awareness through identifying personal strengths and building up areas of improvement
We want you to walk out of the LARC a little more confident than you walked in.
Upcoming Events/News
NEED HELP AFTER HOURS? Contact our Peer Tutor Coordinators (PTC), who work Monday-Thursdays 4pm-9pm; Fridays 1pm-4pm; and Sundays 6pm-9pm. They are available for appointments via email or zoom. Click here to see the schedule and contact the right PTC.
Tutor Registration for SPRING is now open. Register for a tutor here: https://wcupa.mywconline.net/
The LARC will offer virtual tutoring (via Zoom) for many 100 and 200 level courses during Winter 2020.
Tutor Zoom Links are located in the BIO on WC Online and you can access them here.
Success Coaching will be available for SPRING and all sessions will be held via Zoom. Success Coaches help with organization, time management, and other skills necessary needed for success in college.
Any question regards to tutoring should be directed to Kaitlyn Crouse-Machcinski at KMACHCINSKI@WCUPA.EDU.
Any question regards to success coaching or Academic Success Workshops should be directed to Rita Patel Eng at RPATELENG@wcupa.edu
The professional staff will be available Monday-Friday 8am-4pm to answer your questions. Peer Tutor Coordinators are available Monday-Thursday 4pm-9pm & Sunday 6pm-9pm to answer your questions.
There is no tutoring or success coaching during Spring Break.
Back to top of page.