The Learning Assistance and Resource Center proudly embraces the values of West Chester University and remains committed to treating all members of our community with respect and dignity. Read the full WCU Values statement.
Registration for weekly tutoring will be virtual for Spring 2022.
success coaching and tutoring will be virtual until february 7, 2022.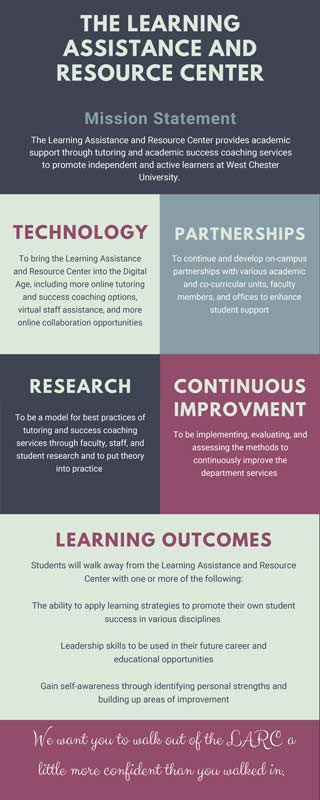 Mission Statement
THE LEARNING ASSISTANCE AND RESOURCE CENTER
Mission Statement
The Learning Assistance and Resource Center provides academic support through tutoring and academic success coaching services to promote independent and active learners at West Chester University.
TECHNOLOGY
To bring the Learning Assistance and Resource Center into the Digital Age, including more online tutoring and success coaching options, virtual staff assistance, and more online collaboration opportunities
PARTNERSHIPS
To continue and develop on-campus partnerships with various academic and co-curricular units, faculty members, and offices to enhance student support
RESEARCH
To be a model for best practices of tutoring and success coaching services through faculty, staff, and student research and to put theory into practice
CONTINUOUS IMPROVEMENT
To be implementing, evaluating, and assessing the methods to continuously improve the department services
LEARNING OUTCOMES
Students will walk away from the Learning Assistance and Resource Center with one or more of the following:
The ability to apply learning strategies to promote their own student success in various disciplines
Leadership skills to be used in their future career and educational opportunities
Gain self-awareness through identifying personal strengths and building up areas of improvement
We want you to walk out of the LARC a little more confident than you walked in.
---
Important LARC Information
---
Announcements
The LARC will offer VIRTUAL tutor registration for weekly tutoring appointments for Spring 2022. Our virtual tutor registration room will open on Tuesday, January 25, 2022 at 7:30am. You will provide your number and a LARC staff member will text you when it is your turn.
The LARC is offering VIRTUAL winter tutoring for ACC 201/202, CSC 110/141, ECO 111/112/251/351, HIS 100/150/ MAT Q20/Q30/102/103/113/121/131/143, PHI 180, PSY 100, & SPK 208/230. Students are able to make individual appointments for winter tutoring on WC Online.
The first day of winter tutoring is Monday, January 3rd.
The professional staff will be available Monday-Friday 8am-4:30pm to answer your questions.
The professional staff will be working virtually from Monday, December 20th- Friday, January 14th.
The LARC will be closed and professional staff will not be available starting Friday, December 24th (they will reopen on Monday, January 3rd).
There is no tutoring and the LARC is closed on Monday, January 17th. Content
The LARC will offer both in-person and virtual tutoring sessions for Spring 2022. If you chose an in-person session, masks must be worn at all times.
All in-person sessions will take place in 224 Lawrence (except Music, which will be in Swope Music Library).
Tutor Registration for Weekly, Recurring Sessions will open on Tuesday, January 25th. Success Coaching will be available in-person or online starting Monday, January 24th.
Any question regards to tutoring should be directed to Kaitlyn Crouse-Machcinski at KMACHCINSKI@WCUPA.EDU.
Any question regards to success coaching or Academic Success Workshops should be directed to Dr. Jocelyn Manigo at JMANIGO@WCUPA.EDU.
Students are responsible for canceling their own appointments. All students can cancel an individual appointment by logging onto WC Online.
Students can cancel up to 30-minutes in advance. Anything less than 30-minute notice will be considered a "no-show."
If a student has three "no-shows" (aka three missed appointments), there WC Online account will be locked. As long as they are not in the same course, a LARC staff member will notify the student and unlock the account.
If a student misses three sessions of the SAME COURSE (e.g. three BIO 110 sessions), the rest of the schedule will be cancelled and a students account will remain locked.
We at the LARC try to provide flexibility to students by allowing cancellations up to 30-minutes in advance. We prefer that students stay home if they are feeling ill. If an emergency arises (e.g. illness that required a doctor's visit, car accident, funeral, etc.), please reach out to LARC staff and discuss having the appointment cancelled after the fact.
What are students saying about our tutors?
"Clara is good at explaining the concepts in a different manner that makes them easier to understand and remember."
"[Niajah] she knows what she is talking about. She is able to demonstrate lessons and how things work in [biology] on the whiteboard, and high makes it easier to understand."
"[Lindsay's] strengths [are] being able to explain step by step how to complete chem math equations. She was great and I was able to be successful in the course due to her."
"[Samantha] is great with connecting the Spanish language to relate to our life today which makes it a lot more relatable and easy to understand ."
"Kelsey's greatest strengths include patience and being an easy person to communicate with; overall, someone who knows how to "teach" / make sense of a problem in a simpler way."
"[Austin] is always willing to help, and is very flexible. Also, he helped me receive a better grade in the class by teaching the material and breaking it down."
"Liz listens very well and aids in any math problem and makes it easy to learn."
"[Ethan's] greatest strength [is] giving real life examples and making complex topics so much easier to comprehend. We covered a lot of good information"
*All quotes taken from Fall 2021 anonymous tutor evaluation surveys.
Back to top of page.