What does "first-generation" mean?
Did you know that approximately 30% of our students are first generation (first-gen) college students? We celebrate you! West Chester University considers you first-gen if none of your parents/guardians completed a Bachelor's degree. Participate in West Chester's First events to meet other first-gens, improve your skills to become a more successful student, and connect yourself and your family to the campus!
You are part of a proud tradition. You are one of West Chester's First.
UPCOMING EVENTS
NATIONAL FIRST GENERATION CELEBRATION DAY IS NOVEMBER 8! Join us as we celebrate our first-gen students, faculty and staff all week long

ALL WEEK

Celebrate our thousands of first-gens on your social media!
Displays honoring first-gens in offices all around campus
Show your first-gen pride by using a West Chester's First Zoom background
Tell the campus what you love about being first-gen! Post a note on the message walls in Sykes Student Union and Lawrence

Monday, November 8 at 9:45 am and 1:45 pm: Wear your WC First t-shirt and join us for a group picture by the Rammy statue!
Tuesday, November 9, 11 am - 4 pm, Tyson Hall: Table with campus resources, candy & t-shirts
Wednesday, November 10 at 8 pm, Library 613: "Terms to Know Bingo," sponsored by Tri-Alpha Honor Society
Thursday, November 11: First-Gen Scavenger Hunt with prizes! Watch this site for more details
Friday, November 12 amd Saturday, November 13, 7:30 pm & 10:30 pm (both nights), Sykes Theater: Wear your WC First t-shirt to get FREE admission to "A Quiet Place Part II," sponsored by Student Activities Council
Friday, Saturday - First-gens will be recognized at the volleyball and football games. Giveaway at the volleyball game!
Plus giveaways, goodie bags and more at Goshen, Brandywine, Allegheny, Schmidt, U Hall, Commonwealth, Killinger, College Arms and on South Campus throughout the week!

Student Government Association (SGA) First Generation Senator position is still available! Attend an SGA general meeting (held every Tuesday at 7:15 pm in Sykes 115) to become eligible to run. Represent WCU first-gen students by making your voice heard through SGA.
Stay updated on events and connect with other students with these resources:
Why participate in West Chester's First programs?
We encourage first-generation students to participate in our programs to:
· gain a sense of belonging and establish your identity on our campus
· improve your skills to become a successful student
· helping increase awareness surrounding you and your family's needs as first-generation student
West Chester's First Powerpoint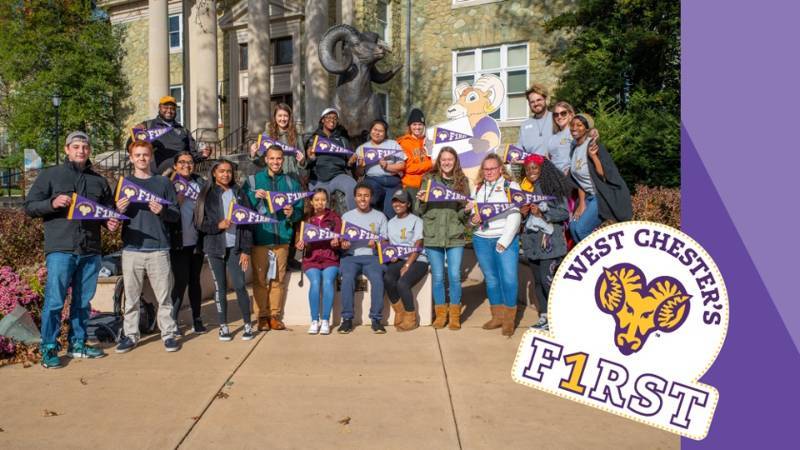 FIRST GEN RESOURCES
First Gen Family Resource Guide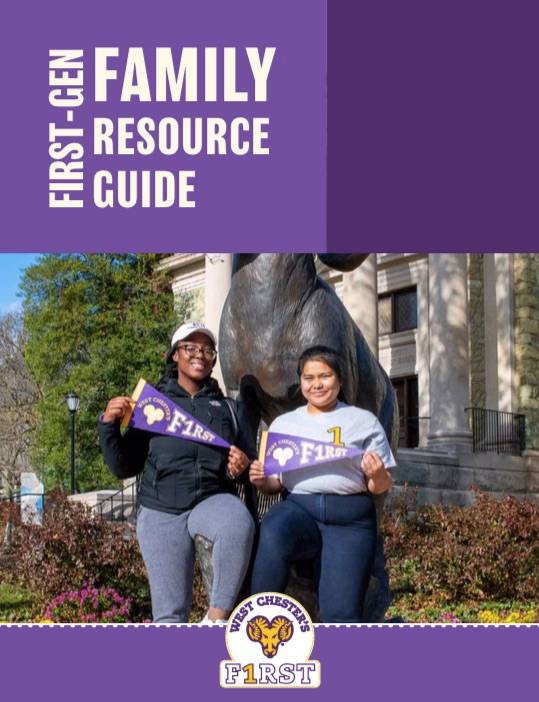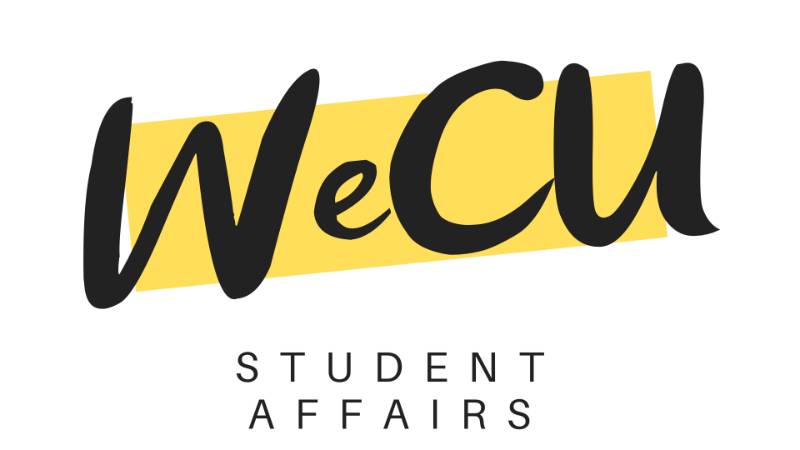 The Division of Student Affairs is committed to see you through the transition to alternative modes of instruction and a number of departments are prepared to continue engaging with our first-generation students through programs and resources to encourage you to reach your full potential. Please visit the WeCU website to learn more about current and incoming avenues of support, engagement, and involvement. Please continue to check your emails for announcements on first-generation targeted events and resources!
Back to top of page.