My WCU Story
Alumni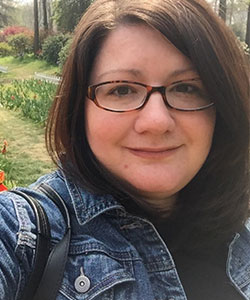 Shannon
M.A. Teaching English as a Second Language, Class of 2015
"The university overall is respected and because it has a strong reputation as a teacher's college, the degree I earned carries a lot of credibility. Having an MA from WCUPA has opened doors that I never considered knocking on."
When she started looking for graduate programs, Shannon was adamant she was going to attend a university in the city, but a friend of hers insisted that she look at WCU. Shannon reluctantly agreed to attend an open house just so that she could say WCU wasn't for her, but by the time she left, she was already signed up for a class. Shannon fell in love with the campus and surrounding community, was impressed by the faculty, and was comfortable with the tuition costs. Shannon admits that she was nervous to return to the classroom 18 years after completing her undergraduate degree, but the diverse students and faculty members truly caught her interest. The students include practicing teachers, which is great for not only networking, but also for sharing ideas and faculty have many different interests and areas of research. Since her graduation in 2015, Shannon has taught composition and speaking courses at both a 4-year and a community college, and is currently teaching English in a training center in Nanjing, China. When she returns from abroad, Shannon plans to apply for Ph.D. programs.
---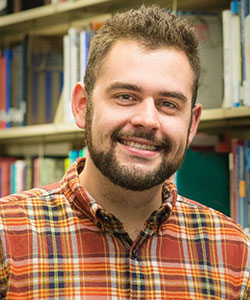 Sean
M.A. English, Creative Writing Track, Class of 2017
"My favorite part of the program has been the friends I've made in my classes and at the Writing Center. These are lifelong friendships rooted in a love of literature and learning."
After graduating from Kutztown with his Bachelor of Arts in English, Sean was considering his graduate degree options. He signed up for a course at WCU while he was home for the summer and was so impressed that he enrolled full time. Sean is currently a graduate assistant in the Writing Center which he credits with helping him pay for school, improving his writing skills along with those of his peers, and with making connections with students across campus. Sean has also had the opportunity to present his original research on a panel at The Society for the History of Authorship, Reading and Publishing Annual Book Conference and at Lehigh University. Sean has also joined the executive board of the Mid-Atlantic Writing Centers Association. Next up? Sean is planning to pursue either an MFA in creative writing or his Ph.D.
---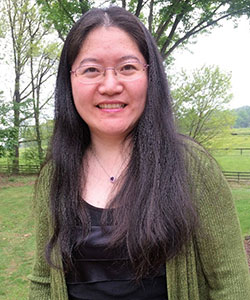 Xiaojuan (Cathy) Yu
M.S. Applied and Computational Mathematics, Class of 2018
"Applied and Computational Mathematics prepares students like me for math modeling and data analysis in scientific research and math modeling in industry. I had some wonderful professors in this program, and appreciated the opportunity to work on real data with help from experts."
Cathy came to WCU as an undergraduate student after hearing about positive experiences at the University from her friends and family members who attended. After graduating with a degree in math education in 2015, Cathy decided to stay at WCU for her graduate study. Cathy believes that her graduate program will help her design new things and improve the lives of others. Cathy is currently interning at Stroud Water Research Center, where she is learning how to analyze the data from White Clay Creek with a mathematical model – One-Dimensional Transport with Inflow and Storage (OTIS) and the software Statistical Analysis System (SAS). Cathy credits her courses at WCU for teaching her several different mathematical models in her math courses and for teaching her SAS in a statistical course. Cathy is confident that her experience at Stroud will help her find a position data analysis upon graduation.
Current Students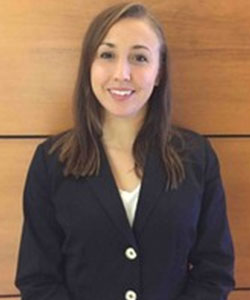 Rebekah
M.S. Clinical Mental Health Counseling
"West Chester University originally caught my eye because I liked the location and the idea of a cohort styled program. As I looked further into the program, I was equally impressed with what the CMHC program had to offer. Having the opportunity to sit down with the faculty, and finding out that the program was CACREP accredited made my decision easy."
Rebekah joined the WCU community in Fall 2018. In addition to pursuing her studies, she is currently a Graduate Assistant in the Graduate Admissions office. Graduate Assistants earn a tuition waiver and stipend.
---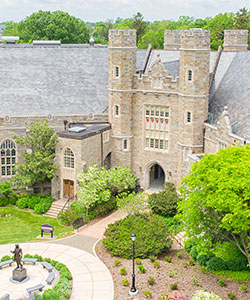 Jessa
Psy.D. Clinical Psychology
"The most valuable part of my WCU experience has been the practicum/externship experiences. I've had the opportunity to complete two years of practicum in community mental health settings, and I am currently off-site at a hospital in Philadelphia, PA. One of the ways that I've grown professionally since the start of my degree is through case presentations. Presenting in front of peers and faculty has allowed me to receive valuable feedback and hone my skills."
---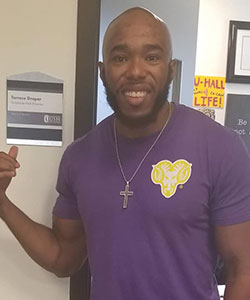 Terrece
M.S. Higher Education Counseling
"I love West Chester University because of the opportunities it has given me to advance as a professional. My degree program has taught me many things about myself which in turn has strengthened my ability to help any present and future students I come across! As a current and future student affairs professional, WCU has shown me how to bring the best out of others and make a lasting impact on their lives. This is one of the many reasons I am so grateful to have the experience I've had here."
In addition to his studies, Terrece is also a Graduate Assistant.
Back to top of page.