Police: General
DPS employs 24 full time commissioned police officers who have received their primary training under the Pennsylvania Municipal Police Officers Education and Training Act (PA Act 120). This is the same required training that all municipal police officers throughout Pennsylvania receive. Police Officers on campus participate in annual in-service update police training pursuant to PA Act 180.
West Chester University Police Officers:
Receive their police powers from the Governor of Pennsylvania under Pennsylvania Title 71 P.S. 646.1 and PA Act 188 of 1982.
Have full power of arrest for any violation of law on campus property and on select highways that traverse or abut campus property pursuant to Senate Bill 678 of 2015
Enforce all State and Local laws
Enforce the rules and regulations of the University
Respond to fire and medical emergencies on campus
Investigate fire, burglar, mechanical, and panic alarms
Investigate all reports of criminal activity on campus
Patrol campus with vehicles, bicycles, ATV's, and on foot
Coordinate with external law enforcement agencies as needed
Provide and maintain a safe and orderly learning environment for the University community and
Participate in crime prevention services and programming
Assist in select specialty roles as part of the West Chester Regional Emergency Response Team
West Chester University Police have primary law enforcement jurisdiction on all areas of our campus regardless of municipality. For incidents that occur in our campus buildings, parking lots and parking garages, and all other on campus locations, there is no reason to call outside local law enforcement. They will only refer the call back to us.

K9 Officer Remi
Remi is a 7 year old black lab trained and certified in narcotics detection, tracking of subjects and lost people/children, and providing area / article searches. Remi is certified with the North American Working Dog Association and the United States Police Canine Association in Narcotics Detection. Remi joined the WCU Public Safety force in August 2016.
Remi is readily available 24/7 to provide support to WCU officers, along with other police agencies in the county that may require his service.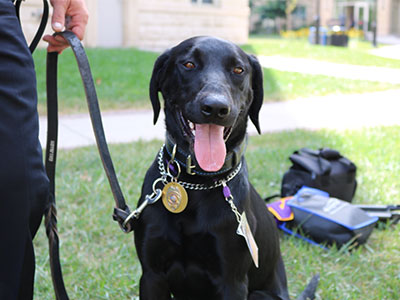 Back to top of page.