Gordon Natural Area
Upcoming/Recent Events & Ongoing Work
Invasive Species Early Detection and Response
As a suburban forest fragment with a significant amount of edge, the Gordon is extremely vulnerable to invasive species. Currently, 200 non-native plants are known to occur at the Gordon! Sixty-four of these are on the Department of Conservation and Natural Resources (DCNR) 'Invasive Plant List,' or fully half of the 132 species on the list.
Given the large number of non-native plants known for the Gordon, the ability of many of these species to quickly colonize areas, and the significant acreage that some of these species (e.g., Garlic Mustard, Japanese Stiltgrass, and Lesser Celandine) currently dominate, approaches for controlling these species are problematic. An increasingly favored strategy at the Gordon is to focus on the early detection and treatment of invasives. Through this approach, we can hopefully eliminate, or at least control, recently established species before they become too widespread and/or abundant at the site.
One recently observed non-native is Teasel (Dipsacum fullonum; Dipsacaceae). A native to Europe that was brought to the U.S. in the mid-1700's, this species is not listed as an invasive plant by Pennsylvania. However, it is well adapted to wet conditions along roadsides and it appears that the national interstate highway system has facilitated its spread during the last half-century. The seed heads of Teasel are quite distinctive (see second photo below) and can be easily observed along roadsides in the West Chester area.
Although many sources categorize Teasel as being a biennial, it is more properly categorized as a 'macrocarpic perennial,' i.e., a plant that grows in a rosette form until it has accumulated sufficient resources to flower and set seed, after which the plant dies. Under some conditions, flowering could occur by the second year (in which case, it would be functioning like a biennial), while under other conditions it can spend a longer time in rosette form.
The plant is also noteworthy for its perfoliate leaves: oppositely arrayed leaves that are fused around the stem, and which appear to have been 'pierced' by the stem (see third photo below). On larger stems, the lower pairs of leaves curve upwards forming a cup that can accumulate rainwater. We've observed numerous drowned invertebrates in these 'cups.'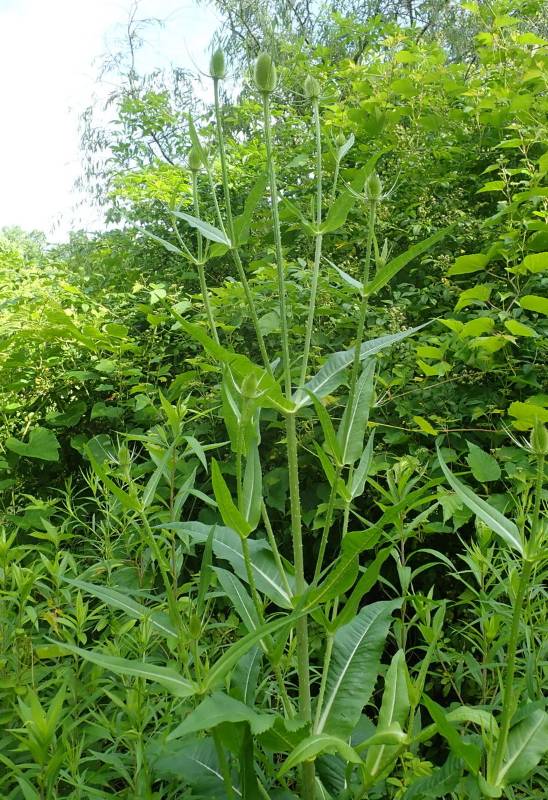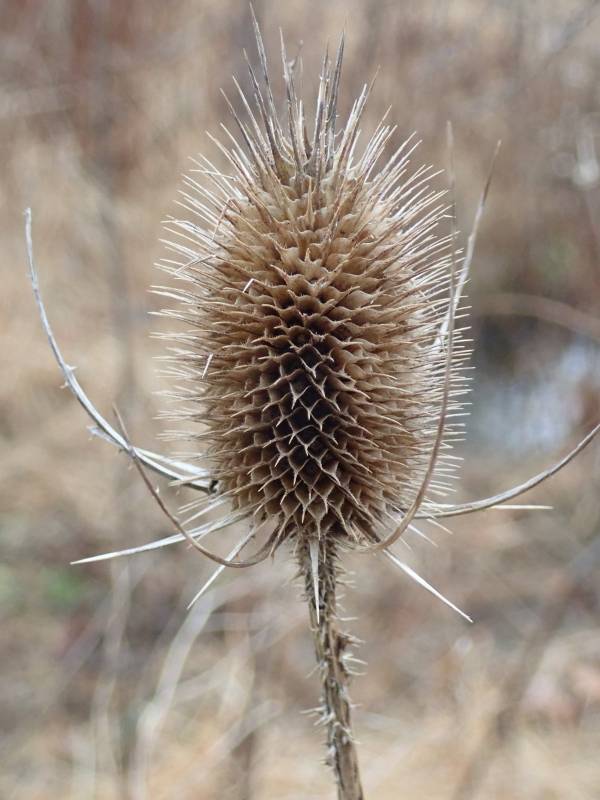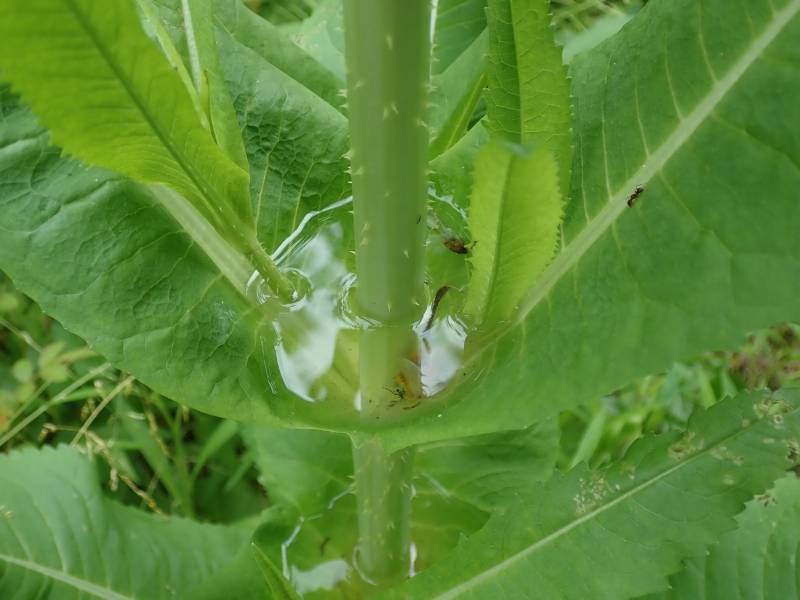 Teasel was first observed in 2019 in the wet meadow at the eastern end of the GNA. A single clump of ca. five individuals just south of Stadium Road was noted at that time. This portion of the meadow borders the ramp for Route 202, and there are a number of non-native species in this area that have likely been introduced through the road. Initially, we had hoped to begin control efforts in 2020, however, due to time limitations, we decided to postpone that work until 2021. During 2020 surveys for Teasel, we found many individuals upslope from the original observation. During surveying in 2021, we found numerous additional occurrences, including many plants on the other (northern) side of Stadium Road.
During the first week of June, we initiated effort to remove Teasel from the meadow. GNA Student Interns Maeve Dowd and Noah Long removed 173 Teasel plants from the meadow. It should be noted that all our searches for this species have entailed only looking for the flowering (or, soon to be flowering) stems. There are likely many more plants that were in rosette form at the time of the surveys and which weren't detected. Nevertheless, as Teasel is said to average around 3,000 seeds per plant, Noah and Maeve's efforts have eliminated more than half a million Teasel seeds from the meadow. The actual number of potential seeds likely far exceeds this estimate, as a single flowering head is said to average 850 seeds and some plants are said to have upwards of 34,000 seeds. We plan to continue with these efforts next year and hopefully we'll be able to search for Teasel rosettes in the early spring and will be able to remove these plants at that time.
"Everybody needs beauty as well as bread, places to play in and pray in, where Nature may heal and cheer and give strength to body and soul alike."
— John Muir
---
Welcome to the Robert B. Gordon Natural Area for Environmental Studies website.
The Gordon Natural Area (also referred to as 'the Gordon' and 'the GNA') occupies approximately 126 acres (51 hectares) along the southeastern corner of West Chester University's campus and is administered in collaboration with the University's Office of Sustainability. Established as a protected area in 1971, the GNA has since served as a refuge for local wildlife and native plants, and as a multi-use setting for researchers, nature lovers, runners, dog walkers, and people looking to reconnect with the natural world.


The Gordon Natural Area's mission has two primary objectives:
To preserve the land in an undeveloped state
To serve as a natural 'classroom' for environmental studies
Objective 1. Preservation of the Land
Initially, it was thought that management could essentially be done in a 'hands-off' manner (other than any small-scale maintenance that might be required by Stadium Road and the trail system). However, over time it has become increasingly evident that the land requires a very active level of directed management. This is because the integrity of the GNA is threatened by a variety of forces: e.g., invasive plants, overgrazing (by deer), invasive insects and insect-borne pathogens, non-native earthworms, fragmentation, etc. In order to begin addressing these issues, the GNA Staff, along with numerous student volunteers, have undertaken fairly extensive reforestation and afforestation efforts in the GNA.
Objective 2. Be a Natural Classroom for Environmental Studies
Since before its designation as a protected area, the lands comprising the GNA were the site for a limited number of Natural Science classes, as well as being the location for field research by a few faculty members. After receiving protection, the GNA has received extensive use as an outdoor classroom, with more than 30 courses having utilized the land. In addition to use by numerous classes in the Department of Biology, courses from a broad range of other departments (e.g., Art & Design, Business, Earth & Space Science, English, and Social Work, among others) have also taken advantage of this amazing resource.
In
the early 1970's, the University's Administration was considering plans to develop the land that is now the Gordon Natural Area. However, two undergraduate students—David Fluri and Brad Gottfried—initiated a movement to preserve the area. Fluri and Gottfried were Biology majors and were both members of the Biology Club, and they recognized the land's value for scientific study and its intrinsic value as a relatively mature forest in an increasingly developed landscape.
In 1971, the property was afforded protection. The protected land was named the Robert B. Gordon Natural Area for Environmental Studies in commemoration of Prof. Gordon, a science faculty member at West Chester University for 25 years. For the past 45+ years, WCU students and staff, as well as local residents (and their dogs), have continued to benefit from this decision.
A Rough Timeline of the Establishment of the Gordon Natural Area:
1969/1970 — Two students, Bradley Gottfried and Dave Fluri, work to convince the WCU Board of Trustees to establish a natural area.
December 1971 — The WCU Board of Trustees decides to set aside some land to preserve the existing forest. This was WCU's contribution to the Earth Day movement.
November 1973 — Dr. William R. Overlease, long-time Professor of Biology at WCU, formally dedicates the property.
The largest portion of the Gordon is situated between S. High Street and S. New Street (see image below). The land contains large blocks of mature forest, along with areas of secondary forest, seasonally-inundated floodplain, upland meadow, and maintained (i.e., mown) 'grassland.'
In the image below, the lands that are officially designated as the Gordon Natural Area are shown with pale green hatching. Additionally, the are in solid white in the lower right-hand corner of the image are 'unofficially' part of the GNA. However, despite it's not having been formerly dedicated as part of the GNA, this area is commonly used for research and teaching, and a number of trails in the GNA trail system pass through this area.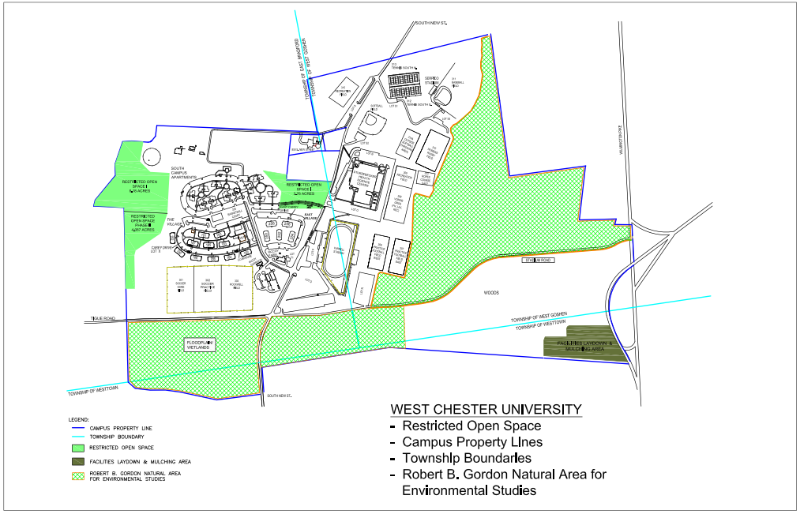 As was noted above, the GNA is a multi-use preserve, and we encourage WCU students and staff, as well as local residents, to come enjoy this great resource.
How To Get There
Located in West Goshen Township (Chester County, PA), about two miles south of downtown West Chester, the main entrance to the Gordon is at the southeastern corner of the R Lot, behind WCU's Farrell Stadium (see map below).
On Foot or by Bike
The entrance to the GNA is about 1.2 miles from Sykes Student Union, a leisurely 20-minute walk or a 7-minute bike ride away. Use your own bicycle to see the GNA.
Shuttle Buses
The WCU All Stops Shuttle Bus will take you to R Lot, if you let the driver know that you want to go there. And the Q Lot Express stops in Q Lot (naturally), about 300 yards from the main entrance to the GNA.
Driving
Four parking spaces are available specifically for the GNA (no WCU parking permit required).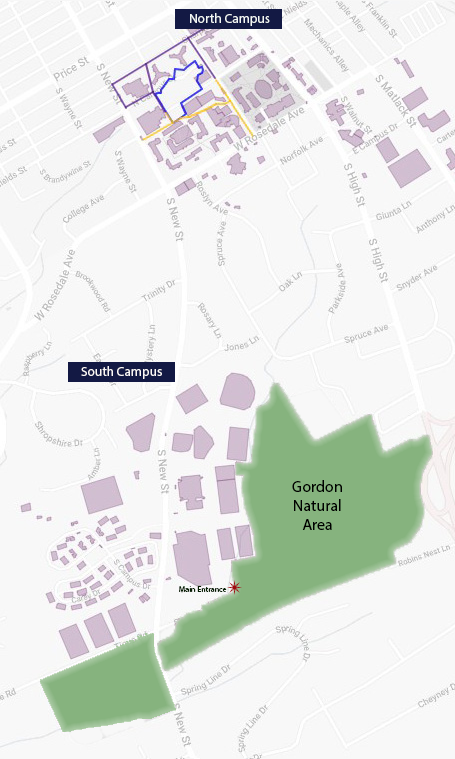 Once You're There
To promote access to the GNA, the University maintains a network of trails throughout the preserve: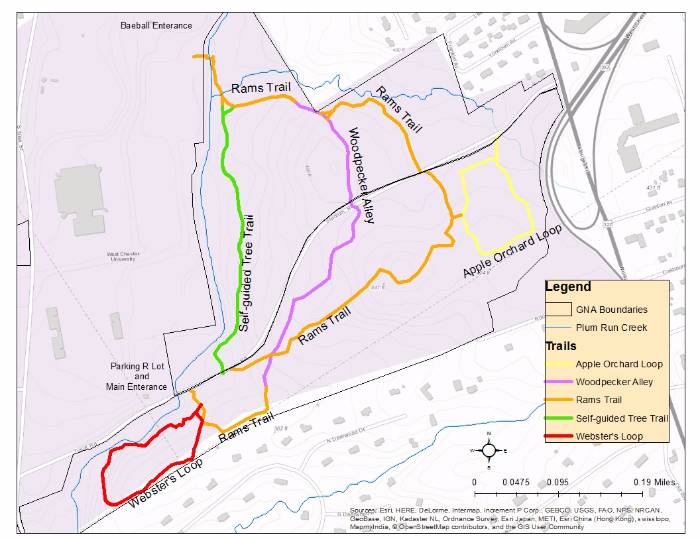 A pdf version of the map is available here .
Visitor Etiquette
In order to help maintain the GNA in the best possible condition, to protect the GNA's wildlife and plant life, and to minimize disruption to ongoing research, visitors are asked to observe the following regulations:
The GNA is open only from dawn to dusk
Please stay on marked trails only
Pets

must

be on a leash (6 ft., or shorter, please)
Please clean up after your pet and put the waste in the trash receptacle
No fires (including smoking)
No camping
No fishing or hunting
No moving, damaging, or collecting plants, animals, or natural objects
No bikes or motorized vehicles
No littering
No alcoholic beverages
Thank you for respecting the Gordon by following these regulations.
If you have any questions or comments, please contact us.
Beginning in the winter of 2015-16, long-time student intern and GNA Assistant Stewardship Manager, Kendra McMillin placed a 'Visitor's Log' at the kiosk at the main entrance. We love to read people's comments, and we also maintain a photo archive of the entries.

Below, are some of our favorite comments with a transcription of the comment in the adjoining column. Note: You can click on the image to see a larger version.
Back to top of page.