News
Weekly Announcements for Students, Faculty, and Staff
May 7, 2021
April 30, 2021
April 23, 2021
April 16, 2021
April 9, 2021
April 2, 2021


News
6ABC Action News Features Campus Ribbon Cutting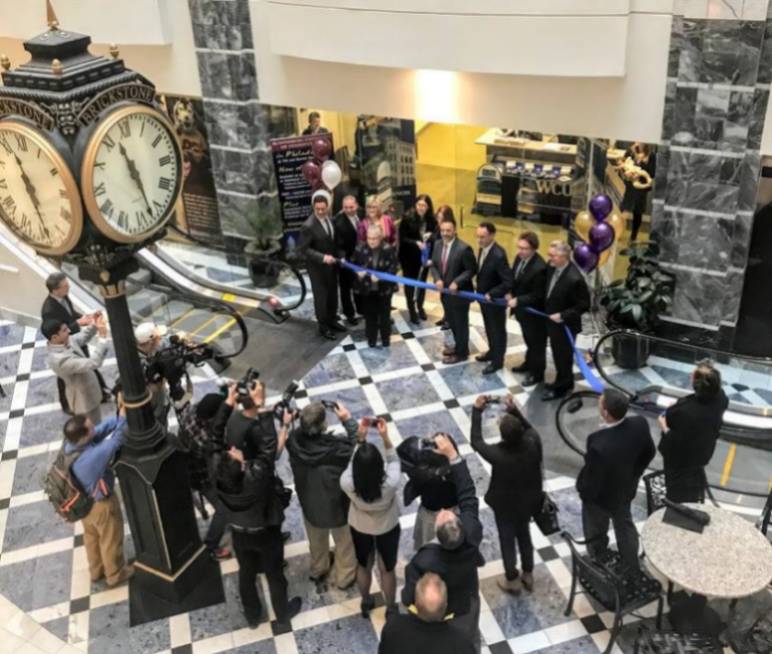 The ribbon cutting ceremony for the WCU in Philadelphia campus, Pennsylvania's State System of Higher Education (PASSHE) at Center City, was featured on 6ABC Action News. Watch the segment via the Facebook page of PASSHE Center City here.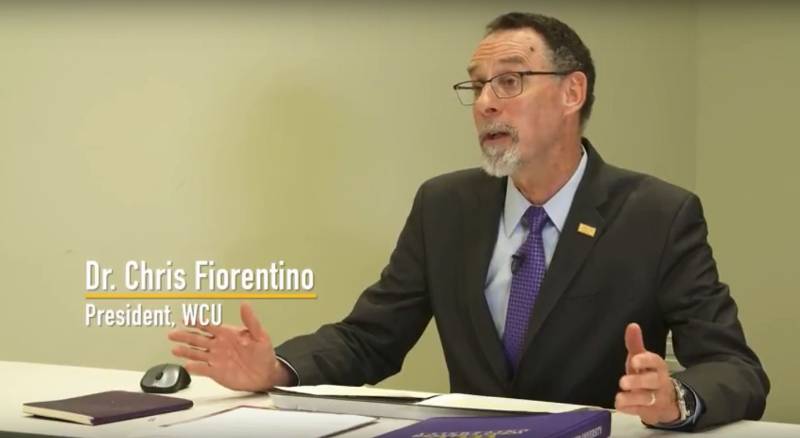 WCU in Philadelphia was featured in University President Chris Fiorentino's #FirstFridayVideo for April 2018. The video included interviews with students, faculty, and staff. Watch the video here.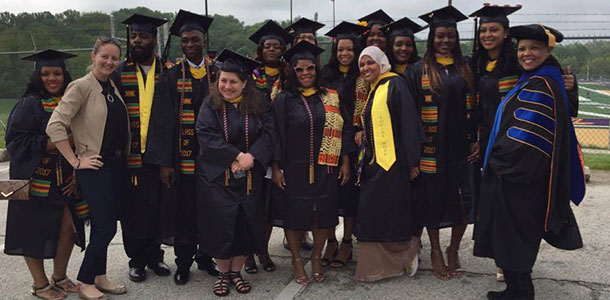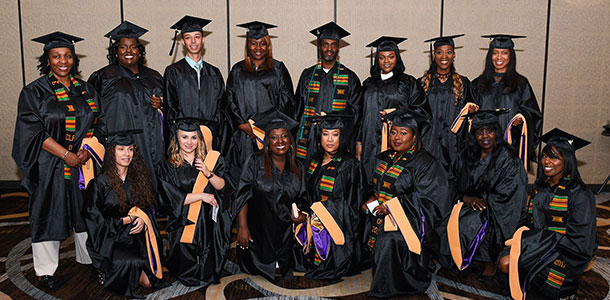 West Chester University in Philadelphia congratulates the Class of 2017. Spring commencement ceremonies were a memorable experience as students received their degrees on May 13th and 14th in West Chester, and on May 15th in Philadelphia.
In West Chester, the BSW, BSCJ, and RN-BSN ceremonies were held at Farrell Stadium on May 14th, while the MSCJ and MSW commencements took place in Hollinger Fieldhouse on May 13th. In Philadelphia, the commencement celebration for MSW graduates took place on May 15th in the beautiful Ormandy Ballroom at DoubleTree by Hilton.
Several graduates were honored for their academic achievements and leadership in Philadelphia. At an awards ceremony for BSW graduates and their families, Adama Tholley, Saida Heywood, Rolando Liyim, Elvira Rivera,' Nikki Cooper, Yasmin Townsend, and Abubakarr Sillah received awards for their outstanding academic work and field placement service. At the Philadelphia celebration, MSW students Angelica Vedol, Kenneth Johnson, and Toneh Williams received awards for their advocacy, leadership, and human rights work.
WCU in Philadelphia is proud to recognize all of our graduates and looks forward to the future accomplishments and noteworthy achievements of our students.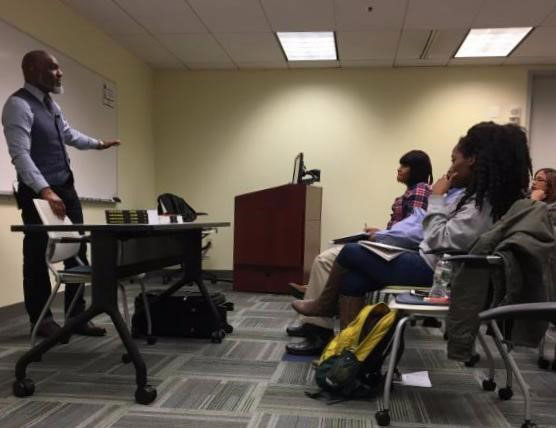 The BSW and MSW Programs, as well as the Office for Diversity, Equity and Inclusion, recently welcomed activist and poet Ewuare Osayande to WCU in Philadelphia for a discussion of racial dynamics and the electoral process. More than 75 students, faculty, and staff attended the event, listening to Mr. Osayande speak and respond to questions at the heart of our nation's post-election climate.
In his presentation, "Trumped: Electoral Politics and the Clash of Race and Class," Mr. Osayande argued that President-elect Trump's campaign language ignored the ways that class and race have been co-constructed for political and economic means. Mr. Osayande urged social workers to remember their role as advocates who must recognize and respond to institutionalized racism that creates and normalizes economic conditions.
Born in Camden, NJ, Osayande cites the 1990 police shooting of Phillip Pannell Jr. as the catalyst for his work as an activist engaged in educating people about the history and reality of oppression. He previously worked as Anti-Oppression Coordinator at the Mennonite Central Committee (MCC), before joining the American Friends Service Committee (AFSC) as Chief Diversity Officer. Osayande is the author of 14 books, including his collection of poetry Blood Luxury, for which Amiri Baraka wrote the introduction. More recently, Osayande edited the collection Stand Our Ground: Poems for Trayvon Martin and Marissa Alexander, which raised funds for each victim's family and called a generation to stand against oppression.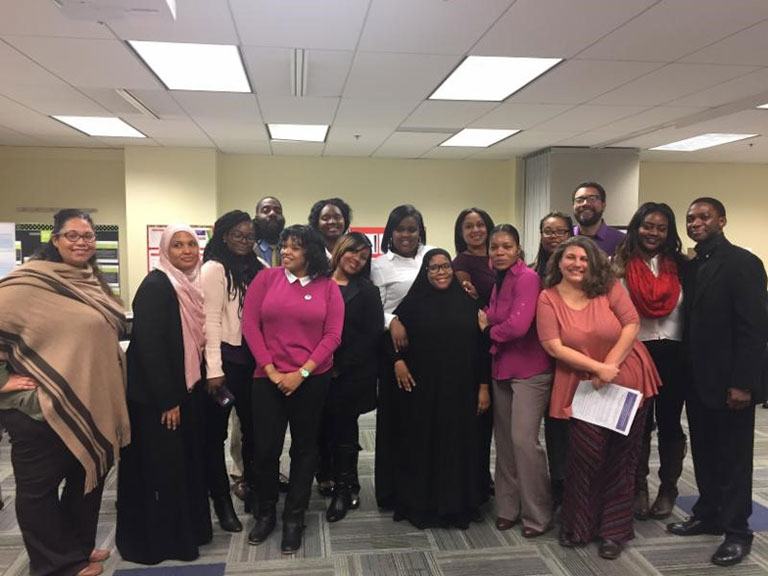 On December 12th, WCU in Philadelphia hosted a special event which showcased the research of seniors in the BSW program. Supported by faculty, staff, peers, and community members, senior seminar students shared research during a poster presentation, which, as part of their ongoing Senior Integrative Projects (SIP), demonstrates their ability to apply and integrate the knowledge, values, and skills of beginning generalist social work practice.
The SIP is a culminating experience for BSW students. For the class of 2017, this means that these poster presentations are one step in a year-long project that will continue in the spring with bound research papers and oral presentations before social work faculty. Here at WCU in Philadelphia, Dr. Christa Gilliam and Professor Mary McCormick, LCSW, supervise the senior integrative projects and work with students in the classroom component, SWO-495.
As a result, guided by WCU in Philadelphia faculty, each student's project links classroom theory and literature with their individual practicum experience, which provides 480 hours of service in the community. By integrating field practice and classroom experiences, the SIP represents a practical capstone which challenges students to consider their identity and clarify their commitment to the social work profession.
WCU in Philadelphia is proud to honor the ongoing work of the following BSW seniors who presented research (and note field placement partners): La'neesha Cameron — Coping with Mental Illness While Living Independently (COMHAR); Saida Heywood — An Integrated Overview of the Young Child Clinic at CHOP; Tiffany Edwards — A Better Way to Die (Neighborhood Hospice); Henry L. Owens — Pennsylvania Recovery Organization - Achieving Community Together (PRO-ACT); Raquel Richardson — An Integrated Overview of the Girl Scouts Beyond Bars Program (Girl Scouts of America); Abubakarr S. Sillah — Targeted Case Management (COMHAR); Tonia Spivey — Pennsylvania Recovery Organization - Achieving Community Together (PRO-ACT); Adama Tholley — A Life on Dialysis (HUP); Teniquwa Cooper — Emerging Adult, Homeless, and LGBTQ (La Casa); Bryony Grant — A Bridge Between MDT and CUA (DHS); Tashna Harriot — Caring for the Aging (Renaissance Healthcare); Rolando Liyim — Mentoring Men of Color in the Setting of Community College (CCP); Elvira Rivera — Young African American Men Living with HIV (La Casa); Denise Smith — Providing Prenatal and Postpartum Services from a Community Based Approach (Maternity Care Coalition); Yasmin Townsend — Our Elderly, Our Concern (Renaissance Healthcare).Thank you all for sharing your work! Poster Presentation Information and Abstracts .
WCU in Philadelphia's first end-of-semester forum asked students to consider the following questions:
How do you see yourself in relation to the larger West Chester University community?
What does it mean to be a member of the Philadelphia campus?
What is the climate we envision on the Philadelphia campus?
The open forums were imagined as spaces of conversation where the WCU community could look back on the semester and come together to celebrate inclusion, free speech, and civility, and the conversation at WCU in Philadelphia. Titled "Time to connect: Celebrating WCU values through community dialogue," the forum asked participants to consider our campus climate, culture, and identity in relation to the university's larger community.
More than 50 students attended the forum facilitated by faculty and staff. Attendees talked about the strengths of our campus and the challenges of its accelerating growth. Administration from the West Chester campus, as well as WCU in Philadelphia alumni, were on hand to listen to students speak.
The tone of the forum was constructive– students celebrated the authentic, driven culture at WCU in Philadelphia and expressed their desire to be a more visible part of the larger West Chester community and calling for more collaborative dialogue between students, faculty, staff, and administration in West Chester and Philadelphia.
Back to top of page.