West Chester University Purchasing Office
The Purchasing Office
supports West Chester University's roles of education, research and public service by acquiring and managing goods and services which provide the University the greatest value, use of best business practices, and by ensuring the University's compliance with applicable laws, rules and regulations. We are committed to providing exceptional service to all customers, clients and stakeholders, and to maintaining the public's confidence in our stewardship of resources.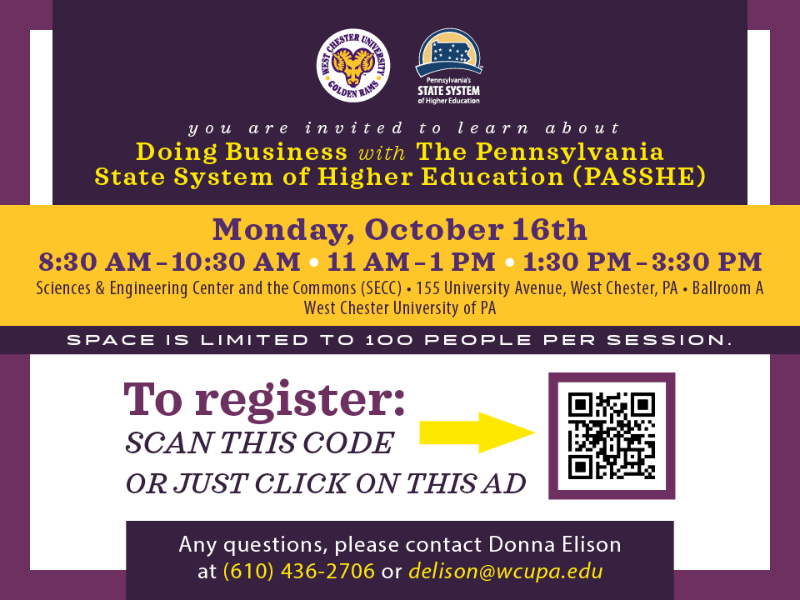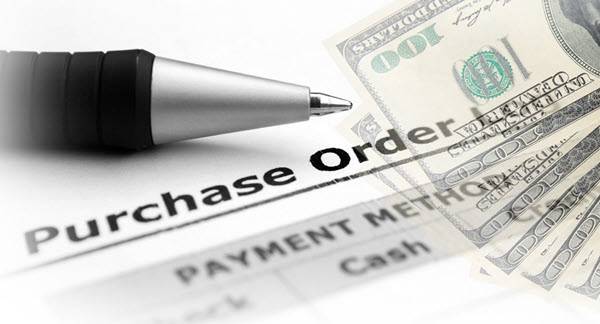 Doing Business with West Chester University
West Chester University of Pennsylvania is a member institution of the State System of Higher Education. As an instrumentality of the Commonwealth of Pennsylvania, its procurement practices are governed by the Commonwealth Procurement Code (Act 57 and amendments) and other related statutes, rules, regulations and policies.
All businesses are invited to deal with West Chester University. Minority and women owned businesses are encouraged to apply. For more information about doing business with West Chester University, visit the Vendor Information page.
The Purchasing Office has primary responsibility for the purchase of all goods and non-construction services on campus.
This includes all categories of supplies, equipment and furnishings.
Products and services commonly procured include scientific equipment, office supplies and furnishings, chemicals, repair and service agreements, construction projects, library holdings, art supplies, maintenance parts, automotive supplies, custodial supplies, fuels, and many other educational and plant support items.
Service contracts and other forms of contracts from this office include, but are not limited to: the provision of Food Service, Interpreter Services, Elevator Service, Library Acquisitions, Maintenance Agreements, Scientific Equipment Service, Consultant Services, Cash Transport, Refuge Collection and Disposal, Specialty Mailing Services, Pest Control, Turf Maintenance, Specialty Software, Graphics & Printing Services and Copier Acquisition/Services, etc.
Additional Resources
Bidding Requirements
As a public entity and a member of the Pennsylvania State System of Higher Education (PASSHE) certain bidding requirements are either mandated or have been adopted by West Chester University as good business practice. The Commonwealth Procurement Code commonly known as ACT 57, requires that bids be solicited for all purchases equal to or exceeding the defined bid threshold with a few specific exceptions.
The Bid Threshold as of January 1, 2023 is $22,500.
Any exception to the competitive bidding requirement must be approved in advance by Business Services.
While this external requirement is closely followed, internal guidelines suggest that bids should be sought at varying levels under the bidding threshold. This action is dependent upon the dollar value involved, the desires of requesting party(ies), and the purchasing staff's abilities to add value to the purchasing process by reducing the cost of the item to the department.
The West Chester University Policy Library includes the Purchasing policies related to purchases above and below the bid threshold.
For more information about doing business with West Chester University, visit the Vendor Information page.
Commodity and Service Purchases
Any tangible object is considered to be a commodity and acquired with a Purchase Order (PO).
Services are considered to be an intangible product and are procured through a Service Purchase Contract. Services include but are not limited to services provided by speakers, conference/workshop site providers, repairs to equipment, etc.
Contracting Process
Under Pennsylvania law, the President of the University has the sole and exclusive authority to enter into contracts, agreements, or memoranda of understanding on behalf of West Chester University.
The West Chester University Policy Library includes the Contracting policies.
Payment Request Form
The Payment Request Form can be used to request a one-time payment for which a Purchase Order is not required.
Sales Tax
West Chester University of Pennsylvania is exempt from all Excise Taxes. This also applies to Pennsylvania Sales Tax, however, any contractor/supplier doing business with the University remains liable for the payment of Sales and Use Tax on all materials and fixtures he/she purchases or uses for the purpose of fulfilling his/her contract, even though the work is being performed for a governmental instrumentality.
Additional information regarding State System Tax Procedures for University Operations is also available.