Conferences & Events
2021 Fall Kente Graduation Celebration
Friday, December 17, 2021 | Celebration Begins at 7 PM | Doors open at 6 PM | Masks Required | Tickets Required for Entry
Hollinger Fieldhouse (150 University Ave, West Chester, PA 19383)
The Dowdy Multicultural Center is excited to sponsor the 24th Annual Fall Kente Graduation Celebration. The Dowdy Multicultural Center's Kente Graduation Celebration, known affectionately by students and alumni as "Kente" is an event that was created in the fall of 1992 to "honor and celebrate the achievements of multicultural students". Kente has become a "true West Chester University tradition". To date, more than 2,500 West Chester University graduates have participated in this celebration. As the student body at West Chester University has grown in its cultural diversity, so has the event itself. Today, Kente is an event that affirms and celebrates the cultural identity of students who identify as: Alaskan Native, Asian American, Black or African American, Caribbean American, Desi American, Latina/o/x, Native American, Hawaiian/Pacific Islander and Multiracial.
LIVE STEAM:
We are excited to share that the 2021 Fall Kente Graduation Celebration will be live streamed! The live stream link will be available the day of the event at this website: https://www.wcupa.edu/Commencement/default.aspx.
KENTE IS A TICKETED EVENT. PLEASE SEE DETAILS BELOW:
Off-Campus Visitors reserve and download tickets here: https://wcupatix.com/other-campus-events
PARKING:
General Parking
During the Kente Graduation Celebration, parking is free in the Sharpless Street Parking Garage (15 Sharpless St., West Chester, PA 19383) and the New Street Parking Garage (704 S. New St., West Chester, PA 19383). Students and their guests are strongly encouraged to park in the Sharpless Parking Garage first for easier access to Hollinger Field House.
Accessible Parking
Hollinger Accessible Parking - Guests with a university or state issued handicap placard can park on Church Street via Sharpless Street. You make a left off of High Street onto Sharpless Street and then another left onto Church Street. There will be parking officers present to assist with this. If those spots are full, you can drop off at Church Street and University Avenue (as close to the building as possible) and then park in one of the garages.

Once you are parked or dropped off, please follow signs to ADA Seating. You will need to go around Hollinger Fieldhouse and use the ground level entrance. Golf carts will be there to assists guests who have ambulatory issues.
You may also choose to park in either of those garages and we will have golf carts running between the garages and Hollinger Fieldhouse.
GRADUATE INFORMATION FOR EVENT:
All graduates need to arrive at Hollinger Fieldhouse, 150 University Ave, West Chester, PA 19383 no later than 5:30 p.m. to check-in, receive hood prep assistance if needed, and to line up for the celebration. We will begin the event promptly at 7:00 p.m.
Please bring/wear your graduation gown and the purple and gold hood. You will not need your graduation cap. Be sure to view the YouTube video to be familiar with the proper way to wear your hood. You can view this here: Commencement | How to Properly Wear Your Graduation Gown. We have faculty and staff to assist with making sure you hood is worn correctly if needed.
If you have not done so, please stop by the Ram Card Office to pick-up your guest tickets. Off-campus visitors must get their tickets at: http://www.wcupatix.com/Other-Campus-Events. WCU faculty, staff and students attending Kente can also pick-up tickets from the Ram Card Office. All tickets will be available until Wednesday, December 16 at 4:30 PM.

If you have any questions regarding the program, please contact our office at (610) 436-3273, or email us at Multicultural@wcupa.edu.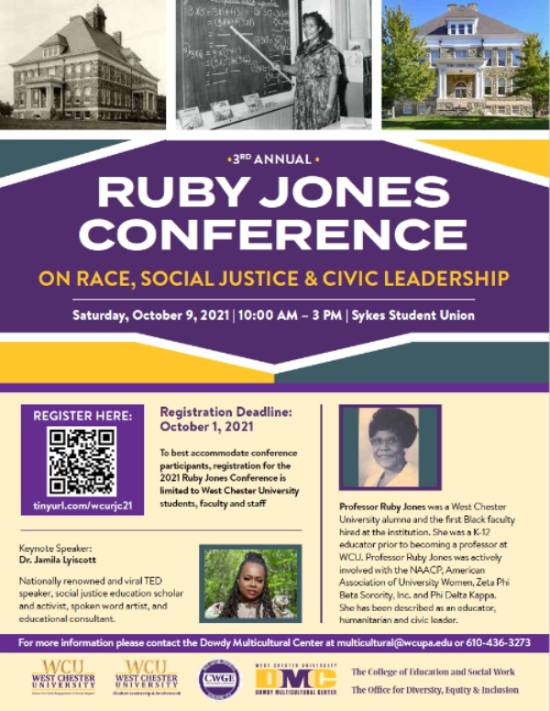 The 3rd Annual Ruby Jones Conference on Race, Social Justice and Civic Leadership will take place on Saturday, October 9, 2021 from 10 AM to 3 PM in Sykes Student Union.
The goal of this conference is to create an educational environment where students can engage in learning that will raise awareness and promote action-oriented dialogue about racial, cultural and social issues that impact how students experience life on campus, in communities and in society.
The conference is named in honor of Professor Ruby Jones. Professor Jones was a West Chester University alumna and the first Black faculty hired at the institution. She was a K-12 educator prior to becoming a professor at WCU. Professor Ruby Jones was actively involved with the NAACP, American Association of University Women, Zeta Phi Beta Sorority, Inc. and Phi Delta Kappa. She has been described as an educator, humanitarian and civic leader.
The keynote speaker for the 2021 Ruby Jones conference is Dr. Jamila Lyiscott, an aspiring way-maker, community-engaged scholar, nationally renowned speaker, and the author of Black Appetite. White Food: Issues of Race, Voice, and Justice Within and Beyond the Classroom. She currently serves as an Assistant Professor of Social Justice Education at the University of Massachusetts Amherst, where she is the co-founder and co-director of the Center of Racial Justice and Youth Engaged Research. Dr. J is most well known for being featured on TED.com where her video, '3 Ways to Speak English,' has been viewed over 4.8 million times, and for her commissioned TED Talk, '2053' in response to the inauguration of the 45th occupant of the white house. She has delivered keynotes and workshops at hundreds of institutions throughout the nation where she works closely with youth, educators, and communities towards racial healing, equity, and justice. Dr. Lyiscott serves as co-editor of the journal of Equity & Excellence in Education, and holds faculty fellowships at the University of Notre Dame, and Teachers College, Columbia University. She is the recipient of the 2019 AERA Outstanding Public Communication of Education Research Award and the 2019 Scholar-Activist & Community Advocacy Award.
To best accommodate conference participants, registration for the 2021 Ruby Jones Conference is limited to West Chester University students, faculty and staff.
5th Annual Brothers of Excellence Conference 2021
Theme: Strength in Numbers | Virtual Conference
Week 5: Thursday, February 25 | 10am-4:15pm
Join us virtually to connect and learn with other Men of Color!
*Men of Color includes men who identify as Asian American, Black or African American, Desi American, Indigenous, Latinx, Mixed heritage, Native American, and Pacific Islander
---
Registration
Register on RamConnect (link below) by Sunday, February 21
http://cglink.me/r945424
---
Conference Schedule
10am-11am
Introduction & Keynote Conversation: Rodney McLeod
https://wcupa.zoom.us/j/92663978855?pwd=R2RNNUFKelRqaE5TTld5Q0x4UFZ0dz09
Meeting ID: 926 6397 8855
Passcode: 614911

11:15am-12pm
Workshop 1: No More Excuses- Giving (and getting) Our Best in Relationships Facilitated by Mike Burwell
https://wcupa.zoom.us/j/7899050614?pwd=bm9OcWN2d0Iza3JhVFFyVWpCd1VFUT09
Meeting ID: 789 905 0614
Passcode: 838701

1pm-1:45pm
Workshop 2: Facing Expectations & Achieving Reality Facilitated by Patrick Robinson
https://wcupa.zoom.us/j/7899050614?pwd=bm9OcWN2d0Iza3JhVFFyVWpCd1VFUT09
Meeting ID: 789 905 0614
Passcode: 838701

3pm-4:15pm
Mental Wellness Journey Panel & Closing
https://wcupa.zoom.us/j/96611380240?pwd=T2hWNWVTYllWTEtPOTFOb01zZjhpQT09
Meeting ID: 966 1138 0240
Passcode: 519955
---
Conference Mission
The Brothers of Excellence Conference will provide college Men of Color with the knowledge and community connections to:
-identify a social issue that impacts Men of Color.
-explore their civic leadership roles in connection with their multiple identities.
-recognize resources and individuals to create a sense of community of support on campus.

Theme: Strength in Numbers
This year's 5th Annual Brothers of Excellence Conference, "Strength in Numbers" will focus on the importance of love and unity among the community of Men of Color. United we stand, divided we fall. It is in fact, the strength in numbers that empowers us as individuals and in creating change for our communities.

For questions email multicultural@wcupa.edu

Cultural Heritage Months
Back to top of page.