Initial WCU Form I-20
Congratulations on your admission to West Chester University! We look forward to personally welcoming you to our university community. We are sure you have a lot of questions and hope to answer them in this section of the website.
You will receive a formal admission packet either by mail or email. In addition to your acceptance letter, this package will include the documents you must complete and submit to us before we can issue the Initial WCU I-20., you must submit the Application for the Issuance of the Form I-20 along with supporting documents.
The F-1 visa is the most common student visa type and is issued to students who have been admitted to a full-time academic or language program at a U.S. institution. In order to apply for the F-1 visa, students need an I-20. The I-20 is a three-page form with a WCU official's signature. Whether you are an undergraduate or graduate level student, all new international students will receive their Initial WCU I-20 from the CIP once they have been admitted. International students who will be transferring their SEVIS records to WCU will also receive their WCU I-20 from the CIP.
Shipment of I-20 or DS-2019
UPDATED POLICY GUIDANCE ON THE SHIPMENT OF IMMIGRATION DOCUMENTS
Due to the COVID-19 pandemic, all Form I-20s will be electronically signed and emailed to the student's West Chester University email account. SEVP allows this accommodation, and the emailed Form I-20 is the official immigration document for all purposes.
All Form DS-2019 documents cannot be sent via email. J-1 students and scholars must arrange with the CIP to receive a physical Form DS-2019.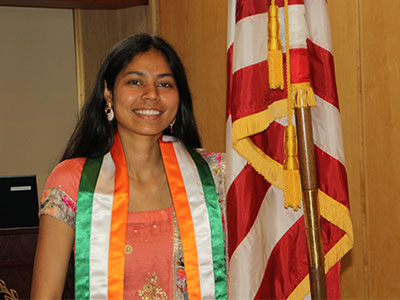 Ship my Form I-20 Express Mail
Express Mail Services
All immigration documents are mailed First Class Foreign Air Mail. This delivery option takes approximately 2 - 3 weeks. If you require your documents sooner, we use an express mailing service that will allow you to receive the documents through DHL or FedEx in 3 - 5 days. Please follow the instructions below for sending and receiving your documents.
Instructions for Express Mail Service
The Center for International Programs can send your WCU I-20 or DS-2019 document by express mail. Requesting documents through express mail is at your expense and your credit card will be charged upon requesting this service. If you choose this option, follow the instructions below. You will need your WCUID number, email address, phone number, mailing address and a valid credit card (Visa, Mastercard or Discover cards only).
Access the secure eShipGlobal website
Create an account.
Select West Chester University of Pennsylvania as your school.
Enter your mailing address.
Enter your payment information.
Review your address and payment information. Errors in the information submitted will delay the shipping of your I-20 or DS-2019.
Place your order.
If you have questions about how to use this service, please
e-mail University Express Mail Services support.
E-mail questions regarding Initial WCU I-20
Back to top of page.