Bicycling and Walking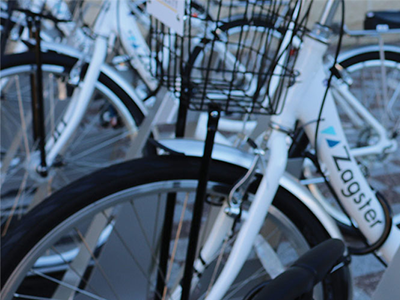 WalkWorks ChesCo!
Commuting on foot is a great way to get from place to place on campus and to get some fresh air and exercise too. To promote walking and healthier lifestyles, Chester County has created the WalkWorks ChesCo initiative with a goal of participants taking 5 billion steps for 2018. Help them reach their goal by signing up on the WalkWorks Chesco website and tracking your steps. You can represent West Chester in friendly countywide competitions, view routes and join walking groups. West Chester is currently leading the way in total steps in the County! #walkworks
WCU Bikeshare
Don't own a bike? No problem! Three bikeshare stations are located on campus at Allegheny Hall by D Lot, Swope Music Building by M Lot, and along South New Street by the Sturzebecker Health Sciences Center. Annual subscriptions are just $10 with the code "bikewcu" for anyone with a wcupa.edu email address and can be purchased through WCU Zagster.
WCU RideAmigos and Commuting on Foot and by Bike
WCU's new smartphone- and desktop computer-compatible app, WCU RideAmigos, provides up-to-the minute detailed information on biking and walking routes that connect your home to campus (and driving, carpooling, and transit options too!). Registration is free and exclusive to WCU's community of students, faculty, and staff. Every time you walk or bike to or from campus, log those miles on WCU RideAmigos and track calories burned, money saved, co2 reduction achieved, and earn badges and participate in friendly competitions with your peers!
Sustainability Advisory Council's Transportation Committee
Interested in advocating for better walking and biking options on, to, and from campus? Anyone – student, faculty member, employee, or community member – is welcome to attend and become active in the efforts of the SAC Transportation Committee to make sustainable transportation easier, more convenient, and affordable to all of the WCU community. See the calendar on the homepage of WCU's Office of Sustainability for meeting dates and times or write to
sustainability@wcupa.edu
to be added to the weekly email bulletin distribution list to learn about this and other opportunities.
Bicycle Fix-It Stations
WCU has two bicycle fix-it stations, fully equipped for basic bike repairs and to add air to tires. They're located at the South Campus Clubhouse (within the South Campus Apts. complex) and on the Residential Quad outside University Hall on North Campus.