Transportation and Parking Services
NOTE: Please see "Transportation and Parking News" below for important updates as the University navigates the challenges posed by COVID-19.
On this website you'll find up-to-date information about campus parking services, carpooling, regional transit, WCU's shuttle bus system (including connections to the community via the Uptown Loop and Exton Shuttle), as well as walking and bicycling choices. Please take the time to explore the tabs above; you may be surprised to find a new mode of transit may be possible for you!
Transportation and Parking News
University Shuttle Bus Service continues to be available for the Summer I and II sessions. You can find up to date information on all University Shuttle Bus Summer schedules on the University's Shuttle Bus webpage. All passengers must wear a mask or face covering to ride.
As of Monday, June 7th, the SEPTA 104 bus route at West Chester University has changed. The stop at the Swope Performing Arts Center has been discontinued. All passengers are now to board at Church Street and University Avenue.
Septa has information available on how to return to riding safely as restrictions are being lifted across their service area. See their Recovery Toolkit page.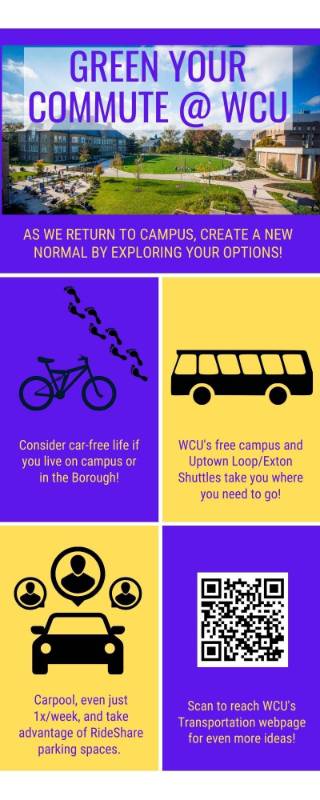 Back to top of page.