Being an Orientation Leader
Hello, Golden Ram!
We're so glad you're interested in becoming a WCU Orientation Leader. Being an Orientation Leader is a GOLDEN OPPORTUNITY to:
- Grow your leadership skills
- Build your resume
- Have a lasting impact on the next class of Golden Rams and have fun while doing it!
Read the information below to learn more about the position, and don't hesitate to reach out if you have any questions! Applications for the 2022 team have closed; however, if you are interested in a position for summer 2022, please reach out to orientation@wcupa.edu.
Please note: The information on this page is subject to change as we finalize plans for the 2022 orientation season. Please check back regularly for updates!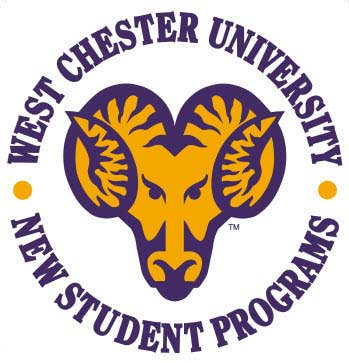 Announcements & Reminders
We're happy to connect you with a current orientation leader who can tell you what it's like to be a member of the O-Team. Just reach out to orientation@wcupa.edu.
WCU's Orientation Leaders (OLs) are key student leaders who welcome new students, families and guests to WCU and help new Golden Rams learn to navigate life on campus. OLs also enrich their own undergraduate careers through the many opportunities they experience for personal and professional growth as part of the team.
2022 OLs will participate in:
Orientation Leader Training in June
On-campus first-year orientations in June and July
On-campus transfer orientations and virtual orientation in August
Welcome Week in August
January 2023 orientation
OLs also participate in additional programs such as adult learner orientation and campus-wide events like Homecoming, Ram Fam Weekend and the Involvement Fair.
OLs are expected to:
Possess a sincere desire to help new Golden Rams and serve as a role model as they make their transition to WCU
Demonstrate effective communication and leadership skills
Support the University's diversity and inclusion efforts
Embrace new opportunities
Compensation:
Hourly pay rate of $8.50
Optional traditional housing during summer training and first-year orientations
New Student Programs uniform
OL swag and gear
In order to serve as an Orientation Leader, you must meet the following requirements:
Be a full-time, degree-seeking undergraduate student at WCU who is currently enrolled in classes and enrolling in classes for the fall 2022 semester (graduating seniors must be enrolled for spring 2022 classes and available to work through August 2022).
Possess and maintain a minimum cumulative GPA of 2.5 or better
Be in and remain in good judicial standing and comply with the University's Student Code of Conduct throughout the employment period
What will I do as an OL?
As an OL, you'll lead small groups of new students and/or families and guests throughout the orientation day and provide all the information they need to become successful members of the Ram Fam. You'll also help with the logistics of running an orientation day such as set up, check in, signage, parking and seating. You'll also be an integral part of new students' Welcome Week experience.
What is the time commitment for an OL?
We are currently finalizing the summer 2022 schedule and will make the full schedule available as soon possible. Here is a general outline of what you can expect:

JUNE
- Weekday training June 13-June 21 (schedule TBD)
- On-campus first-year orientations June 22, 23, 24, 29, 30

JULY
- On-campus first-year orientations July 1, 14, 15, 21, 22

AUGUST
- Training August 13-16
- On-campus transfer orientations August 16, 17, 18
- Virtual orientation August 19
- Adult Learner orientation August 19 (evening)
- Welcome Week August 24-28

FALL SEMESTER (OLs typically sign up for shifts based on their availability)
-Involvement Fair (TBD)
-Ram Fam Weekend September 23-25
-Homecoming October 7-9
-Other opportunities as they arise

JANUARY 2023
-Virtual and on-campus orientations for spring admits (dates TBD)


What if I have to miss an orientation session over the summer?
OLs are expected to work all mandatory trainings and orientation programs; however, we know conflicts sometimes arise. If you know something may conflict with training or a summer orientation program, please contact us at orientation@wcupa.edu so we can discuss the issue before you apply.
Can I be an OL for more than one summer?
Yes, we love returning orientation leaders, or ROLs as we affectionately call them! Offers to return to the orientation team are based on satisfactory job performance throughout the prior contract period. As a potential ROL, you may be asked to complete an ROL application and/or participate in a brief ROL interview.
What are you looking for in Orientation Leader candidates?
We're looking for students who are willing to learn and grow as student leaders and and who are committed to helping new students make a seamless transition to WCU. OLs should be passionate about WCU and proud to be part of the Ram Fam!
Do I have to be a first-year student to apply?
No, any student registered for at least 12 credits can apply, and we frequently have sophomores, juniors and seniors apply for the team.
I graduate in May. Can I still apply?
Yes! In order to be eligible, you must be available to work through August 2022.
Can I live off campus during the summer?
You aren't required to live on campus, but we highly recommend staying in the traditional housing that's offered during training and summer orientations unless you live in or very near West Chester.
Can I take summer classes?
Please discuss taking summer classes with us before registering.
Can I have another job in addition to being an OL?
If hired, you are committing to working all mandatory trainings and orientation programs. Depending on the final schedule, these commitments may total up to 40 hours per week, so we strongly recommend that any outside employment be limited to 10 hours per week or less during training and summer orientation periods.
Can I study abroad in the summer?
That will depend on whether the timing of the study abroad conflicts with the summer training and orientation dates, so please reach out to orientation@wcupa.edu to discuss this before moving forward with study abroad planning.
Can I be a Resident Assistant (RA) and an Orientation Leader at the same time?
Yes, however August scheduling can be a challenge. New Student Programs works closely with Residence Life to manage overlapping OL/RA work commitments to try to minimize conflicts between the two positions.
I received a Golden Ticket from my OL. Does this mean I'm guaranteed a position?
Your Golden Ticket means your OL saw your leadership potential and wants you to apply for the 2022 O-Team. While it doesn't give you priority over other candidates, your Golden Ticket says your OL thinks you would be a great addition to the team!
Applications for the 2022 orientation team are closed, but if you are interested in inquiring about a position on the 2022 team, please contact orienation@wcupa.edu.
Do I need to submit a resume?
Resumes are optional; however, we highly encourage you to check out the Twardowski Career Development Center website for guidance on resume writing if you do not have one.
Interviews for the summer 2022 orientation team have concluded; however, if you wish to inquire about a position for summer 2022, please email orientation@wcupa.edu.
What does the interview process look like?
OL candidates participate in two interviews: a panel interview with 3-4 current orientation leadership team members and/or returning orientation leaders, and an individual interview with a member of the New Student Programs graduate or professional staff.
Are interviews being conducted in person?
We are planning to conduct in-person interviews, but that is subject to change based on conditions with the ongoing pandemic.
What should I wear for my interview?
Business casual is appropriate, but feel free to wear your WCU gear if you prefer!
How long is the interview?
You can expect each interview to last 30-45 minutes.
How will I schedules my interview?
NSP's staff assistant typically sends out a SignUp Genius for scheduling interviews.
What if I have an issue scheduling an interview time?
If you can't make any of the interview times, let us know and we'll work with you to find an alternate time during regular business hours--Monday-Friday, 8 AM - 4:00 PM.
What happens if I miss the deadline to schedule an interview?
We'll send a reminder before the scheduling deadline, but it's ultimately your responsibility to ensure you meet all deadlines. If you do not select an interview time by the deadline, we'll assume you no longer wish to continue in the application process.
Will I know the interview questions beforehand?
No, you will not receive the questions beforehand. Generally speaking, expect to share why you are interested in being an orientation leader, why you believe you would be a good orientation leader, what some of your strengths and weaknesses are, and how you believe you can support new students, families, and guests as they transition to the WCU community.
Back to top of page.