Sustainability
Who We Are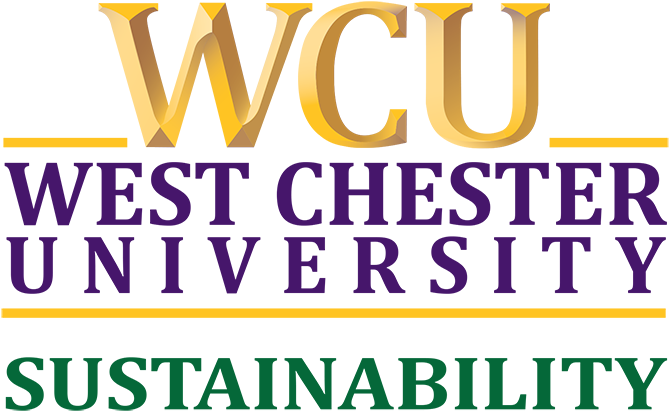 To live and work sustainably means to perpetuate the health and welfare of people, economies, and the environment. Sustainability is about ensuring that all people - today and into the future - can live in healthy communities and participate in productive local economies without sacrificing environmental integrity. It's a simple yet powerful concept that ties together human happiness and well-being with the quality and health of environmental systems. Thus, sustainability issues incorporate such wide-ranging topics as biodiversity loss, climate change, social justice, and more.
West Chester University seeks to be a leader in local, regional, and global sustainability efforts. This website documents the university's efforts in sustainability and provides numerous resources for individuals, organizations, and communities.
Join us as we carry out the single most critical task of the 21st century!
News and Upcoming Events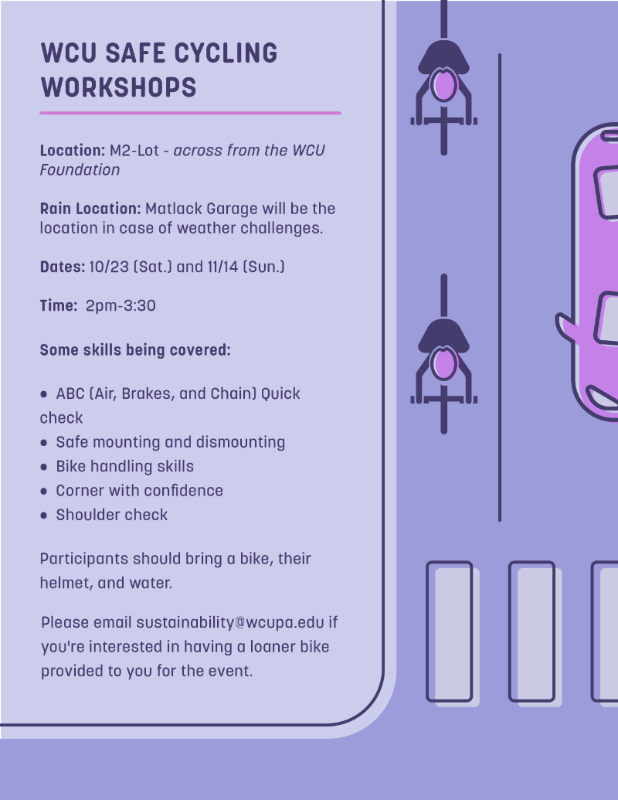 WCU Safe Cycling Workshops
The Office of Sustainability, in collaboration with the Division of University Affairs and Professor Michael Burns (English), is supporting a series of WCU Safe Cycling Workshops for the Fall 2021 semester. Upcoming workshop dates are listed below! Registration is not required to attend. Just meet us in M2 Lot!
Dates: 10/23 Saturday and 11/14 Sunday
Location: M2 Lot (across from the WCU Foundation)
Rain Location: Matlack Garage
Time: 2:00pm to 3:30pm
Skills Covered:
ABC (Air, Brakes, and Chain) Quick Checks
Safe Mounting and Dismounting
Bike Handling Skills
Corner with Confidence
Shoulder Check
Participants should bring a bike, helmet, and water. If you're interested in having a loaner bike provided to you for the workshop, please email sustainability@wcupa.edu.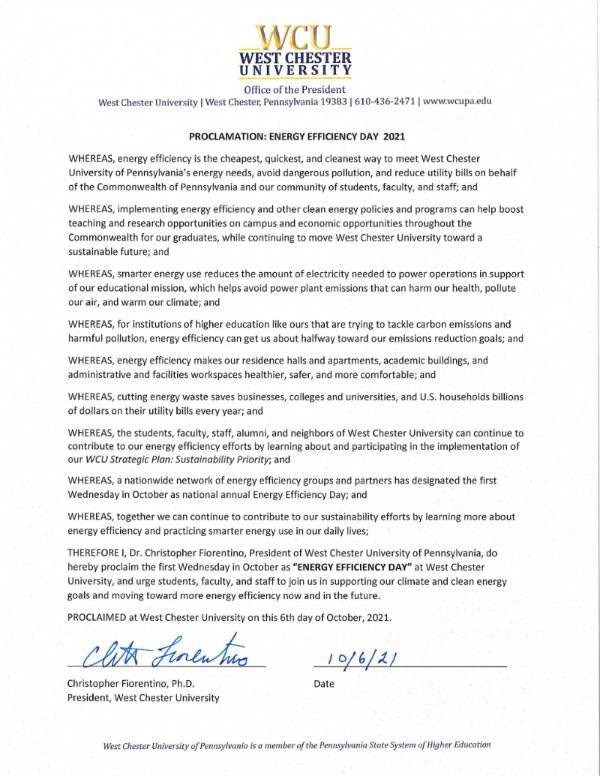 PROCLAMATION: ENERGY EFFICIENCY DAY 2021
WHEREAS, energy efficiency is the cheapest, quickest, and cleanest way to meet West Chester University of Pennsylvania's energy needs, avoid dangerous pollution, and reduce utility bills on behalf of the Commonwealth of Pennsylvania and our community of students, faculty, and staff; and
WHEREAS, implementing energy efficiency and other clean energy policies and programs can help boost teaching and research opportunities on campus and economic opportunities throughout the Commonwealth for our graduates, while continuing to move West Chester University toward a sustainable future; and
WHEREAS, smarter energy use reduces the amount of electricity needed to power operations in support of our educational mission, which helps avoid power plant emissions that can harm our health, pollute our air, and warm our climate; and
WHEREAS, for institutions of higher education like ours that are trying to tackle carbon emissions and harmful pollution, energy efficiency can get us about halfway toward our emissions reduction goals; and
WHEREAS, energy efficiency makes our residence halls and apartments, academic buildings, and administrative and facilities workspaces healthier, safer, and more comfortable; and
WHEREAS, cutting energy waste saves businesses, colleges and universities, and U.S. households billions of dollars on their utility bills every year; and
WHEREAS, the students, faculty, staff, alumni, and neighbors of West Chester University can continue to contribute to our energy efficiency efforts by learning about and participating in the implementation of our WCU Strategic Plan: Sustainability Priority; and
WHEREAS, a nationwide network of energy efficiency groups and partners has designated the first Wednesday in October as national annual Energy Efficiency Day; and
WHEREAS, together we can continue to contribute to our sustainability efforts by learning more about energy efficiency and practicing smarter energy use in our daily lives;
THEREFORE I, Dr. Christopher Fiorentino, President of West Chester University of Pennsylvania, do hereby proclaim the first Wednesday in October as "ENERGY EFFICIENCY DAY" at West Chester University, and urge students, faculty, and staff to join us in supporting our climate and clean energy goals and moving toward more energy efficiency now and in the future.
PROCLAIMED at West Chester University on this 6th day of October, 2021.
Christopher Fiorentino, Ph.D. October 6, 2021
President, West Chester University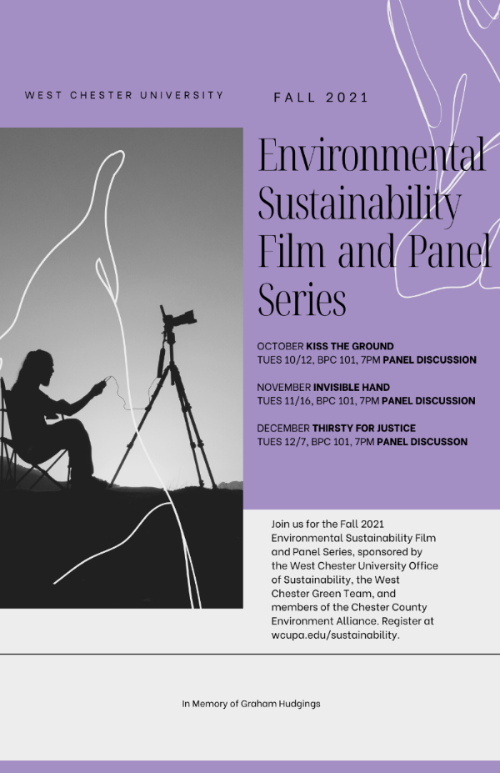 Fall 2021 Environmental Sustainability Film and Panel Series
The Annual Environmental Sustainability Film and Panel Series is back for the Fall 2021 semester! This year, we'll be screening films virtually, then coming together for in-person, post-film panel discussions on the West Chester University campus. We have an exciting lineup of documentaries to offer which will be sure to set the stage for illuminating and engaging conversations. The film titles and dates are listed below. In order to gain access to the films, registration is required. These events are free however, and open to public. Registrants will be emailed the login information for each film prior to the panel discussion, for viewing at a time that works for you. Then, join our panelists in the Business and Public Management Building, Room 101, at 7pm to hear more about the topics covered in the films and local efforts by inspiring environmentalists. The Fall 2021 Environmental Sustainability Film and Panel Series is sponsored by the West Chester University Office of Sustainability, the West Chester Green Team, and members of the Chester County Environment Alliance.
Please note, you must register for each event individually.
In memory of Graham Hudgings
OCTOBER KISS THE GROUND
TUES 10/12, BPC 101, 7PM PANEL DISCUSSION
Healthy Soil, Healthy Planet: Act locally to improve the dirt in your own backyard and help avert climate crisis
Panelists:
Michael Dunn, Brandywine Urban Forest Consulting, West Chester Borough consulting arborist, landscape restoration and design services, storm water management, soil restoration
Nur Ritter, Stewardship Manager, Robert B. Gordon Natural Area for Environmental Studies aka Gordon Woods, West Chester University, botanist, biochar enthusiast, friend of fungi
Joan Welch, Professor, Geography & Planning, West Chester University, Faculty Advisor, Sustainability Council Organic Gardens and Outdoor Native Plant Demonstration Lab, human-environment geography, landscape ecology
Zoom in!
https://wcupa.zoom.us/j/94264550521?pwd=Sm1YOUlaY1hNS0FRMFNqOG03L1hoQT09
NOVEMBER INVISIBLE HAND
TUES 11/16, BPC 101, 7PM PANEL DISCUSSION
DECEMBER THIRSTY FOR JUSTICE
TUES 12/7, BPC 101, 7PM PANEL DISCUSSION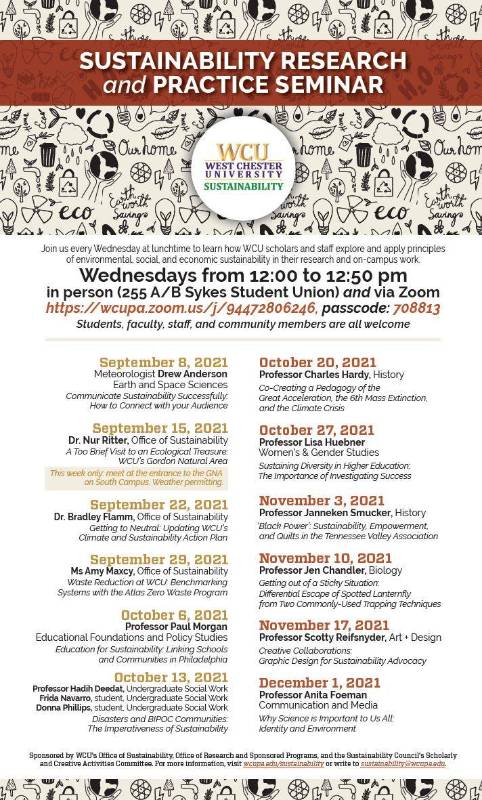 Sustainability Research and Practice Seminar
The Office of Sustainability, the Office for Research and Sponsored Programs, and the Scholarly and Creative Activities Committee of the Sustainability Council are pleased to announce the schedule for the Fall 2021 semester of the WCU Sustainability Research and Practice Seminar. Please join us every Wednesday at noon, in person (255A/B Sykes Student Union) or online via Zoom (link below).
Schedule of Speakers - Fall 2021
9/8 Meteorologist Drew Anderson, Earth and Space Sciences - Communicate Sustainability Successfully: How to Connect with Your Audience View recording
9/15 Dr. Nur Ritter, Office of Sustainability - A Too Brief Visit to an Ecological Treasure: WCU's Gordon Natural Area (This week only: Meet at the entrance to the GNA on South Campus. Weather Permitting.)
9/22 Dr. Bradley Flamm, Office of Sustainability - Getting to Neutral: Updating WCU's Climate and Sustainability Action Plan
9/29 Ms Amy Maxcy, Office of Sustainability - Waste Reduction at WCU: Benchmarking Systems with the Atlas Zero Waste Program
10/6 Professor Hadih Deedat, Undergraduate Social Work - Disasters and BIPOC Communities: The Imperativeness of Sustainability
10/13 Professor Paul Morgan, Educational Foundations and Policy Studies - Education for Sustainability: Linking Schools and Communities in Philadelphia
10/20 Professor Charles Hardy, History - Co-Creating a Pedagogy of the Great Acceleration, the 6th Mass Extinction, and the Climate Crisis

10/27 Professor Lisa Huebner, Women's & Gender Studies - Sustaining Diversity in Higher Education: The Importance of Investigating Success
11/3 Professor Janneken Smucker, History - 'Black Power': Sustainability, Empowerment, and Quilts in the Tennessee Valley Association
11/10 Professor Jen Chandler, Biology - Getting out of a Sticky Situation: Differential Escape of Spotted Lanternfly from Two Commonly-Used Trapping Techniques
11/17 Professor Scotty Reifsnyder, Art + Design - Creative Collaborations: Graphic Design for Sustainability Advocacy
12/1 Professor Anita Foeman, Communication and Media - Why Science is Important to Us All: Identity and Environment
Stream Live via Zoom!
Meeting ID: 944 7280 6246
Passcode: 708813
Certifications and Memberships
Back to top of page.