Sustainability
Who We Are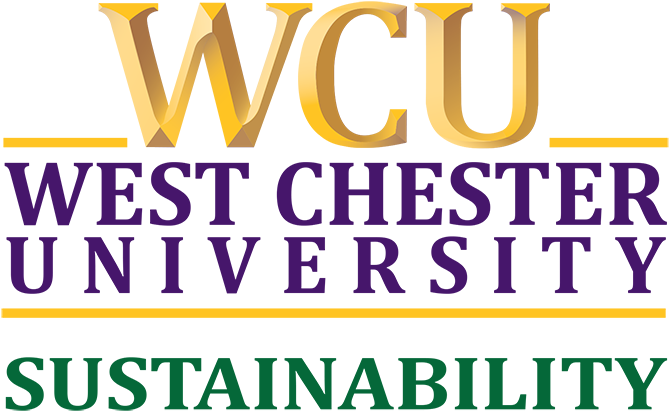 To live and work sustainably means to perpetuate the health and welfare of people, economies, and the environment. Sustainability is about ensuring that all people - today and into the future - can live in healthy communities and participate in productive local economies without sacrificing environmental integrity. It's a simple yet powerful concept that ties together human happiness and well-being with the quality and health of environmental systems. Thus, sustainability issues incorporate such wide-ranging topics as biodiversity loss, climate change, social justice, and more.
West Chester University seeks to be a leader in local, regional, and global sustainability efforts. This website documents the university's efforts in sustainability and provides numerous resources for individuals, organizations, and communities.
Join us as we carry out the single most critical task of the 21st century!
News and Upcoming Events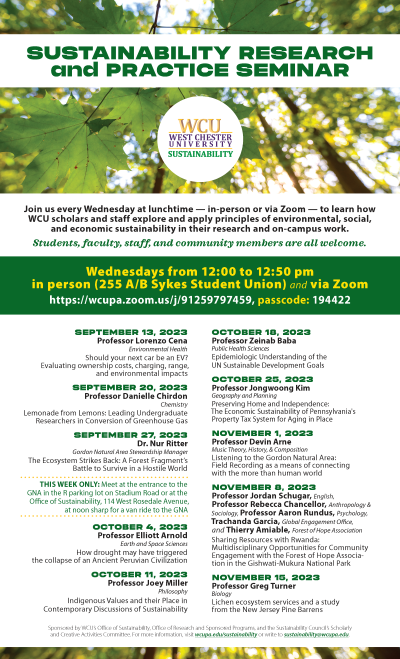 Sustainability Research and Practice Seminar
Please join us every Wednesday at noon between January 31 and May 1, 2024. Join us in person in Sykes Student Union 255 A/B or via Zoom. Many of these presentations will be recorded and archived on our Digital Commons website as have dozens of previous presentations over the past four years. Interested in speaking in a future seminar series -- whether you're a staff member, student, or faculty member -- please reach out to us at sustainability@wcupa.edu so we can add you to the program.
The Office of Sustainability, along with our partners the Office of Research and Sponsored Programs and the Sustainability Council's Scholarly and Creative Activities Committee, will announce the 2024 lineup soon. Thank you to all who contributed to this fall's presentations!
*There will be no Sustainability Research and Practice Seminar on March 13th or April 17th.*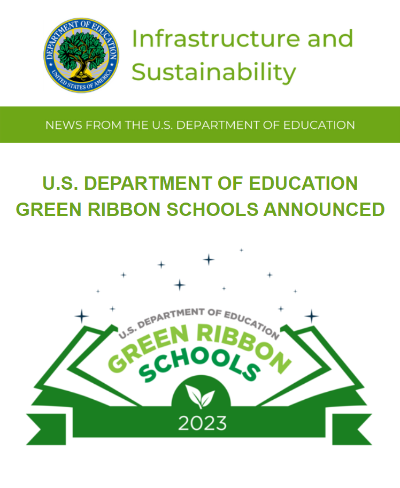 West Chester University Honored as a 2023 Green Ribbon School

The U.S. Department of Education recently named West Chester University a Green Ribbon School for 2023!! This honor was awarded for the university's efforts to reduce environmental impacts, improve health and wellness, and increase sustainability education and you all played a part in making that a reality. You Golden Rams sure look good in green! Read the full story in the WCU Newsroom.
Certifications and Memberships
Back to top of page.