Plan for Carbon Neutrality
Introduction to the Climate Action Plan: Carbon Neutral by 2025
View the Climate Action Plan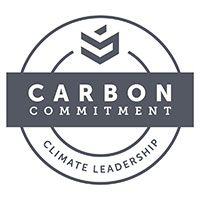 WEST CHESTER UNIVERSITY PRESIDENT GREG WEISENSTEIN signed the American College and University Presidents' Climate Commitment (ACUPCC) in October 2010, pledging the University to a series of actions that will ultimately reduce net greenhouse gas emissions to zero. In doing so we joined more than 600 institutions in expressing our deep concern about global warming. More importantly, we accepted the challenge to provide leadership in our own community by "modeling ways to minimize global warming emissions, and by providing the knowledge and the educated graduates to achieve climate neutrality."
Since 2010 we have completed an inventory of greenhouse gas emissions (GHG), completed a submission for STARS (Sustainability Tracking Assessment and Rating System) and will be including Sustainability as a major theme in the University's next strategic plan.
In March 2011, the President approved the formation of University-wide committee to "guide the development and implementation of the comprehensive plan" required by the ACUPCC, and the Climate Action Planning Team (CAPT) was instituted in September 2011 to develop the University's Climate Action Plan (CAP) (Appendix A: CAPT membership). What follows is the Plan West Chester University has developed for becoming climate neutral, including efforts to make sustainability and climate change part of the educational experience of all WCU students. Much challenging work remains, but West Chester University is proud to join institutions of higher education in this important work.
Energy and Buildings
INTRODUCTION
Scope 1 emissions - those directly controlled by WCU - result from fuels used for WCU Fleet vehicles and to provide heat for space and water. Within Scope 1, coal burned in the steam plant accounts for almost 2/3 of emissions. Excluding fuels for vehicles, WCU consumed 4000 tons of coal, 41,000 gallons of fuel oil, and 69,514,000 cubic feet of natural gas in FY 2012. Scope 2 emissions at WCU resulted from purchased electricity, which was used to provide lighting, energy for equipment and appliances (incl. air conditioning), and to run the geoexchange heating and cooling system (also known as geothermal). Electrical consumption was 35,062,000 kWh in FY 2012.
GOALS
Achieve significant annual reductions in greenhouse emissions associated with energy consumption and production by a) implementing appropriate policies, financing, and planning strategies b) reducing consumption and improving efficiency; c) producing renewable energy; c) buying green power; and d) offsetting the rest.
Read more about Energy and Buildings
Transportation
INTRODUCTION
Based on WCU's GHG inventory, emissions from University vehicles consuming gasoline, compressed natural gas (CNG), and B20 fuel (20% biodiesel; 80% petroleum-derived diesel) make up 3% of Scope 1 emissions. Scope 3 emissions - those over which the University has the least direct control - are dominated by faculty/staff and student commuting (65% and 25%, respectively). All commuters traveled over 29,000,000 car miles. Surveys indicate that student commuters annually travel 21,000,000 miles by car, and employees travel 8,000,000 miles by car and 270,000 miles by bus.
GOALS
Achieve significant annual reductions in greenhouse emissions associated with a) the operation of university vehicles; b) faculty, staff, and student commuting, and c) university-related employee travel.
Read more about Transportation
Purchasing
GOALS
Support and facilitate the purchase of products and materiel that minimize embodied greenhouse gas emissions and other harmful environmental and social effects from their production, transportation, use and disposal.
Educate all West Chester University employees on sustainable purchasing, their role in the process, and opportunities to purchase socially and environmentally preferred goods and services.
Increase purchases of environmentally preferred goods and services consistent with the mission of West Chester University while still remaining cost-effective and in compliance with procurement policy.
Reduce consumption of energy and natural resources.
Increase the use of recycled content products where possible.
Create a model program for successfully purchasing environmentally preferable products that encourages other PASSHE universities and the local community to adopt similar goals.
Solid Waste and Recycling
INTRODUCTION
Based on WCU's 2012 STARS Report, 306 tons of materials were recycled, composted, reused, donated, re-sold or otherwise diverted while 1,417 tons of materials were disposed in a solid waste landfill or incinerator. The next step is for WCU to join other colleges and universities that are striving to become Zero Waste campuses.
GOALS
Achieve significant annual decreases in embodied carbon by reducing solid waste and increasing rates of recycling and composting, with the ultimate goal of becoming a 'Zero Waste' campus where more than 90% of "waste" is diverted from landfills and incinerators through materials education, reduction, re-use, recycling, and composting.
Read more about Solid Waste and Recycling
Dining Services
INTRODUCTION
University food and dining services is one area that can have a significant impact on carbon emissions, the environment, human health, labor and animal welfare. Through the creation, promotion and implementation of sustainable and responsible food procurement, energy and water conservation, waste stream management, and education, West Chester University food service can actively support the American College & University Presidents' Climate commitment through the reduction of greenhouse gas emissionsassociated with current food procurement practices. WCU currently contracts with ARAMARK for dining services. ARAMARK employs a full-time sustainability coordinator at WCU and, as a corporation, is committed to a number of general sustainable food service goals.
GOALS
Reduce greenhouse gas emissions associated with dining services through the creation, promotion, and implementation of sustainable and responsible food procurement, energy and water conservation, waste stream management, and education. Develop solutions, incentives, and resources to lower the environmental burden of the University's food service operations while maintaining and/or improving nutritional quality, product appeal, and the requirements of sustainable food standards.
Read more about Dining Services
Curriculum Integration, Public Engagement, and Research
INTRODUCTION
As an institution of higher education, West Chester University's primary roles in meeting the challenges of sustainability and climate change are to educate, conduct research, and provide public service. Through these efforts we have an opportunity to instill the knowledge and values of sustainability within our campus and community. At West Chester University, we promote the stewardship of an Earth on which life flourishes into a future of increasing prosperity and opportunity, without reducing the capacity of the environment to provide for future generations of humans and other life. Sustainability requires an understanding of the inter-connected relationship of environmental, societal, and economic issues and resources at both the local and global levels. West Chester University graduates will be prepared to transform their understanding of those connections into a life-long commitment to environmental sustainability and responsible local and global citizenship.
GOALS
Curriculum: Ensure that all WCU students develop a deep understanding of sustainability and climate change. We will foster systems thinking through an integrated curriculum that makes connections across colleges and programs. We will provide an experiential education that develops in all students the practical knowledge and skill to address the challenges of sustainability and climate change in their personal, civic, and professional lives.
Co-Curricular Education and Training: Engage the entire West Chester University community in learning about climate change and sustainability. We will involve all students, staff, faculty, and administrators in learning about and creating a sustainable future. We will integrate sustainability into the campus culture by providing WCU students with co-curricular sustainability learning experiences that enable them to deepen and apply what they have learned in the formal curriculum. We will also provide training opportunities for administrators and staff to deepen their understanding of sustainability and support their ability to become sustainability and climate change leaders in their own departments.
Research: Expand research and creative work that address the challenges of climate change and sustainability. We will promote interdisciplinary and multidisciplinary perspectives and collaborations to develop and implement solutions in our local, regional, and global communities.
Public Engagement: Advance sustainability within the larger society. We will fulfill West Chester University's public mission by pursuing, developing, and promoting partnerships that respond to the needs of our community, region, and Commonwealth.
Read more about Curriculum Integration, Public Engagement, and Research
Other Reports