Education
As an institution of higher education, West Chester University's primary roles in meeting the challenges of sustainability and climate change are to educate, conduct research, and provide public service. Through these efforts we have an opportunity to instill the knowledge and values of sustainability within our campus and community. At West Chester University, we promote the stewardship of an Earth on which life flourishes into a future of increasing prosperity and opportunity, without reducing the capacity of the environment to provide for future generations of humans and other life. Sustainability requires an understanding of the inter-connected relationship of environmental, societal, and economic issues and resources at both the local and global levels. West Chester University graduates will be prepared to transform their understanding of those connections into a life-long commitment to environmental sustainability and responsible local and global citizenship.
Sustainability is dependent on nature and humanity co-existing in interdependence. The Hannover Principles below represent the basic doctrine of a sustainable culture.
Hannover Principles
Insist on rights of humanity and nature to co-exist in a healthy, supportive, diverse and sustainable condition.
Recognize interdependence. The elements of human design interact with and depend upon the natural world, with broad and diverse implications at every scale. Expand design considerations to recognizing even distant effects.
Respect relationships between spirit and matter. Consider all aspects of human settlement including community, dwelling, industry and trade in terms of existing and evolving connections between spiritual and material consciousness.
Accept responsibility for the consequences of design decisions upon human well-being, the viability of natural systems and their right to co-exist.
Create safe objects of long-term value. Do not burden future generations with requirements for maintenance or vigilant administration of potential danger due to the careless creation of products, processes or standards.
Eliminate the concept of waste. Evaluate and optimize the full life-cycle of products and processes, to approach the state of natural systems, in which there is no waste.
Rely on natural energy flows. Human designs should, like the living world, derive their creative forces from perpetual solar income. Incorporate this energy efficiently and safely for responsible use.
Understand the limitations of design. No human creation lasts forever and design does not solve all problems. Those who create and plan should practice humility in the face of nature. Treat nature as a model and mentor, not as an inconvenience to be evaded or controlled.
Seek constant improvement by the sharing of knowledge. Encourage direct and open communication between colleagues, patrons, manufacturers and users to link long term sustainable considerations with ethical responsibility, and re-establish the integral relationship between natural processes and human activity.

William McDonough, Michael Braungart "The Hannover Principles Design for Sustainability" (1992)
Read more about WCU sustainability in WCU magazine Summer - 2010 .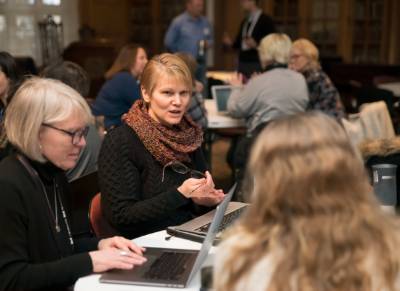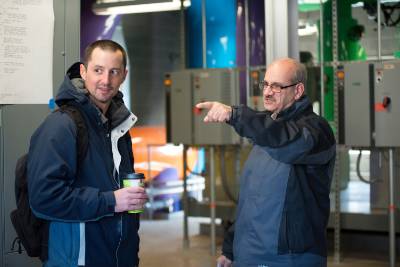 Sustainability Research and Practice Seminar
Join us this Spring 2021 semester as we welcome a new round of scholars and practitioners across a variety of disciplines as they present their research and practical applications of sustainability at this virtual seminar, streaming live weekly, via Zoom. Below you'll find the full schedule of presentations for the Spring series. The Sustainability Research and Practice Seminar is hosted every Wednesday from 12 pm to 12:50 pm during the Fall and Spring semesters. Students, faculty, and community members are welcome. In addition, you can enjoy recorded versions of many of these, and past presentations on the Digital Commons website by following this link.
Schedule of Speakers - Spring 2021
2/3 Liz Carper, Instructor/Counselor WCU Counseling & Psychological Services - Connecting in a Socially Distant World
2/10 Professor Megan Schraedley, Communications and Media - Teaching Transition:
Organizing Sustainably through Service-Learning
2/17 Professor Joan Welch, Geography and Planning, and Michael Dunn, Consulting Municipal Arborist, West Chester Borough - West Chester Borough Urban Forest: An Environmental Benefit For All
2/24 John Lattanze, WCU Energy Project Manager - The Sustainability Impacts of
WCU Building Energy Use Management
3/3 Steve Sassaman, Interim Associate Director for the Center for Civic Engagement & Social Impact, Michael Sofis, Senior Scientist at Advocates for Human Potential, Inc., and Scott Ramsey, Associate Faculty, Prescott College - Effective Climate Change Communication Strategies in the [M]anthropocene
3/10 Professor Gopal Sankaran, Public Health - COVID-19 and Sustainable Development Goals: The Pandemic, Politics, and the Road Ahead
3/24 Professor Martin Helmke, Earth & Space Sciences, Abigail Keebler, B.S. Geoscience 2021, and Patricia Haug, M.S. Geoscience 2020 - WCU's Geoexchange System, Stream Salinization, and Heated Sidewalks: Exercises in Sustainable Connections
3/31 Professor Kathryn (Tina) Alessandria, Counselor Education - Dogs, Stress, and Tests, Oh My! A Wellness Program for Students Taking a High Stakes Test
4/7 Shannon Gillespie, Assistant Director, Center for Civic Engagement & Social Impact, Nick Marcil, M.S. Higher Education Policy & Student Affairs 2022, Maeve Dowd, B.S. Urban & Environmental Planning 2022, and McKenna Kovatch, B.S. Biochemistry 2022 - Creating Community Connections On & Off Campus: RamCorps
4/14 Professor Melanie Vile, Environmental Health - The Impact of Oil Sands Mining on Peatland Ecosystems in Alberta, Canada
4/21 Professor Martha Donkor, History and Women's and Gender Studies - Women, Globalization, Migration, and Work
4/28 Yu-Shien Ni, Post-Landfill Action Network Atlas Program, Andrew James, M.S. Higher Education Policy & Student Affairs 2021, and Grace Bowden, B.A., Communication Studies 2021 - Beyond Recycling: A Progress Report on WCU's Ongoing Zero Waste Assessment
Stream Live via Zoom!
Meeting ID: 948 1214 3774
Passcode: 246583
Back to top of page.