Initiatives
"I am very proud that West Chester University is recognized as a leader in sustainability and has a long history of working to promote sustainable practices throughout the University. In fact, WCU's first sustainability group was formed in 1939. While it's doubtful that they used the word "sustainability" to describe their activities, that's exactly what the conservation-minded Schmucker Society was all about.
Fast-forwarding to more recent University history, when I became WCU president in 2016, our coal-fired power plant was idle, after being de-commissioned two years earlier, and our geothermal system was going strong. This system is the second largest university geothermal system in the nation and is currently used to heat and cool almost half of all campus buildings. The remainder of our academic buildings utilize high-efficiency natural gas boilers. By transitioning from the coal-fired plant to these efficient energy sources, the University has reduced its annual carbon footprint by 7,500 tons of CO2.
Our geothermal system, impressive as it is, is just one component of our success story. To ensure that we continue to make advancements in all areas of sustainability, one of my first actions as president was to establish an Office of Sustainability. The director, Dr. Bradley Flamm, reports directly to the Office of the President, ensuring that sustainability is always a University priority. During the 2017-18 academic year, University leaders and I established sustainability as one of five main areas critical to student success, as detailed in our new strategic plan, Pathways to Student Success.
Updating the University's Climate Action Plan is one of the strategic plan outcomes you can expect to see in the coming year, as well as the development and implementation of Zero Waste Campus guidelines to promote the reduction, reuse, and recycling of material and energy resources. Other new efforts to be implemented in the coming year include a Green Office certification program and a Student Sustainability Peer Education program.
Challenges remain, but West Chester University is committed to connecting our environmental, economic, and social sustainability goals to our core educational mission of student success; to our community engagement work, and to the diversity and inclusiveness of our community of students and employees, alumni and community partners.
I encourage you to get involved in sustainability initiatives at WCU. Take the first step and learn more by signing up for the Office of Sustainability's weekly Sustainability Bulletin."
Sincerely,
Christopher M. Fiorentino, Ph.D.
President, West Chester University
West Chester University has a long and increasingly active commitment to integrating sustainability into curricular initiatives and faculty development.
Since 2008

A number of WCU faculty have attended the Sustainability Across the Curriculum Leadership workshop sponsored by AASHE (Association for the Advancement of Sustainability in Higher Education).

2008

In January of 2008 WCU held its first Sustainability across the Curriculum Workshop, which was facilitated by Dr. Debra Rowe, a well-known expert in education for sustainability.

2009

In February 2009, WCU hosted Dr. Mitch Thomashow, then President of Unity College, who capped off his visit to campus by leading a roundtable discussion on integrating sustainability into the curriculum with a group of WCU faculty.

2010

In October of 2010 WCU became one of nearly 700 colleges and universities that are signatories to the American College and University Presidents' Climate Commitment, which includes a pledge to make "sustainability a part of the educational experience for all students".

In December of 2010 WCU selected its first cadre of five Faculty Sustainability Ambassadors, one from each college: Joy Fritschle (CBPA); Lynn Monahan (CHS); Daria Nikitina (CAS); Patricia Powell (CVPA); and, Carol Smith (COE). The ambassadors functioned as liaisons to their home college where they conducted outreach, recruited participants for sustainability workshops.

2011

WCU's Faculty Sustainability Ambassadors developed and co-led lunchtime sustainability curricular and pedagogical workshops during the Spring 2011 semester. The workshops were targeted to all faculty with the aim of infusing sustainability content into existing courses, promoting pedagogies that foster active engagement in sustainability-related issues, and strategizing ways to ensure that all WCU graduates understand and are able to address the challenge of sustainability.

2012

In February 2012 WCU organized and hosted a regional workshop for faculty titled "Engaging Students by Integrating Sustainability into the Curriculum". The event featured presentations by faculty and students from area colleges and universities, as well as a keynote presentation by Dr. Peter Bardaglio, author Boldly Sustainable: Hope and Opportunity for Higher Education in the Age of Climate Change (2009).

2013

In November 2013 WCU hosted Dr. Neil Weissman, the Provost and Dean of Dickinson College, and Dr. Neil Leary, the Director of Dickinson's Center for Sustainability Education. Their presentation/workshop was titled "Integrating Sustainability into WCU's General Education Program".

2014

In Spring 2014 CAPC adopted a 'Conceptual Framework for General Education Reform at WCU' that included a commitment to "Experiences that focus on sustainable practices and encourage living and thinking sustainably." The document also proposed learning outcomes that included the following: "Make decisions that consider matters of sustainability."

In Fall 2014 WCU recruited its second cadre of Faculty Sustainability Ambassadors: Lisa Calvano (CBPA), Martin Dallago (CVPA), Ashlie Delshad (CBPA), Jackie Hodes (CHS), Melina McConatha (CAS), Lynn Monahan (CHS), Ana Sanchez (CAS), and Kate Stewart (CVPA). The ambassadors organized and led a Faculty Sustainability Resource Fair in October 2015, and helped to plan a two-day faculty curriculum workshop in January 2016 titled the Brandywine Project.

2015

In Fall 2015 WCU invited applicants for the Brandywine Project, a curricular initiative that will allow faculty to interact with others from across the university and share current practices and challenges related to sustainability. During Spring 2016 participants will take part in sessions designed to get them thinking about creative ways they can incorporate sustainability, either as foreground (investigating sustainability directly) or as background (i.e., "hidden curriculum") in their courses.

2017 - 2018

Faculty, Staff, and Students have participated in a number of Brandywine Project Sustainability Workshops aimed at increasing awareness and creating dialogue across campus around sustainability, educating about past and inspiring future initiatives. Brandywine Project Faculty participants are asked to revise pre-existing courses or develop new courses to meet sustainability curricular goals. Brandywine Project Staff participants have helped inspire and form the first ever West Chester University Green Office Certification Planning Committee, aimed at creating the university's first Green Office Certification Program, as well as the Green Event Planning Committee. Students who attended their first Brandywine Project in the Spring of 2018 pushed for a more in depth experience which inspired a part one, intro level workshop in the Fall of 2018, and then three deep dive workshops spread throughout the Spring 2019 semester focusing on the three pillars of sustainability, Environmental, Economic, and Social Justice.
The importance of integrating sustainability into the curriculum and experience of every student at West Chester University is summed up nicely by the Association for the Advancement of Sustainability in Higher Education (AASHE)'s report Sustainability Curriculum in Higher Education: A Call to Action :
"The fundamental problem faced in meeting the goal of education for a healthy and sustainable society for all students is that the existing curriculum in higher education has not been developed to examine how we shape a sustainable world. Much of the curriculum has been developed to provide students with an increasingly narrow understanding of disciplines, professions and jobs and is focused on specific knowledge and skills employed in the given area. What is needed is a curriculum that prepares learners for living sustainably, both professionally and personally, and that explicitly helps the learner deeply understand the interactions, inter-connections, and the consequences of actions and decisions. Regardless of the subject of the curriculum, students must learn and practice holistic systems thinking and be able to apply such thinking to real world situations. Furthermore, students must understand how the systems of which they are a part (social, economic, and ecological) function and are integrated. In order to accomplish this we need a significant segment of the learning opportunities for students to be structured to accomplish these outcomes. To do so will require significant changes in the curriculum and the pedagogy used to deliver that curriculum. These changes will only occur when large numbers of faculty have the knowledge, skills, resources, support, incentives, and disposition to change what and how they teach."
University food and dining services can have a significant impact on carbon emissions, the environment, human health, labor and animal welfare. Through the creation, promotion and implementation of sustainable and responsible food procurement, energy and water conservation, waste stream management, and education, West Chester University food service can actively support the university's sustainability efforts through the reduction of greenhouse gas emissions associated with current food procurement practices.
WCU currently contracts with Aramark Higher Education for dining services. Aramark employs a full-time sustainability coordinator at WCU and, as a corporation, is committed to a number of general sustainable food service goals. Aramark Food Services provides the main dining services in Lawrence Hall. They have instituted some sustainable practices both in the purchasing, preparing, and operation of the dining services offered, including:
Local Purchasing
They provide selected foods that are locally sourced, fairly traded, and some organic products, for example; cage free eggs and fair trade coffee. In fact, $0.64 cents of every dollar spent on products and services last year were purchases from local companies. Some of the local vendors include:
Wawa Dairy Farms
J. Ambrogi Produce (family-owned, New Jersey based distribution center, there are 32 local farms, of which 4 are in PA, the rest are NJ (one NY),however, they purchase their produce from all over the world, so they are not 100% local.
Amoroso Baking Company
Delaware Valley Linen
Delaware County Soda Systems
Albert's Organics
CoreMark Mid-Continent of Wilkes-Barre
Jack and Jill Ice Cream
Stroehman Brothers
Waste Oil Reduction
With the partner, Waste Oil Recyclers, Inc., they have recycled over 3,000 gallons of waste oil, resulting in a CO2 savings equivalent to planting over 7,000 trees.
Food Management Software
Aramark has implemented this technology to keep track of student consumption, allowing for accurately forecasting the amount of food to prepare and resulting in a reduction of the amount of food that gets wasted.
Trayless and Reusable
Using reusable plastic cups, plates, and flatware helps reduce waste, and removing trays reduced water usage as well as reducing wasted food.
Reusable To-Go Containers
Sometimes students may not have the opportunity to sit in Lawrence to eat, so Aramark's "to-go" program enables busy students to bring along their own mug or bag, reducing the amount of disposables produced and wasted. They even offer a discount at many locations as an incentive for bringing your own containers.
Composting
According to the National Resources Defense Council, the cost of wasted food is staggering. It accounts for $165 billion each year, 25% of all freshwater used in the U.S., 4% of U.S. oil consumption, $750 million in disposal costs, and 33 million tons of landfill waste. It decomposes in the landfill and releases methane, a heat-trapping greenhouse gas that is 21 times more potent than carbon dioxide.
WCU Dining Services agreed to participate in a one-year long food waste diversion pilot program for Lawrence Dining Hall from September 2016 to August 2017. This pilot was made possible through a grant funded by the Environmental Protection Agency (EPA) and was secured by Dr. Denise Polk, faculty member in the Department of Communication Studies. The pilot extended and expanded the work of an earlier food waste diversion program and was an important partnership between WCU and the Borough of West Chester. The pilot included 10 different food generators that diverted pre-consumer food waste for a 24-hour period each week over a 12-month period. The diverted food waste was picked up by West Chester Borough's Public Works and delivered to a nearby permitted composting facility. That facility then used the compost as a valuable soil amendment for its grounds, eliminating their reliance on chemical, petroleum-based fertilizers.
It is estimated that during the academic year, Aramark serves approximately 6000 meals each day. That means that at the conclusion of the pilot, WCU diverted food waste from the preparation of 1,620,000 and 2,160,000 meals.
You can read more about Aramark's Sustainability Initiatives at WCU.
Eat a Plant, Save the Planet!
Partner with the Eat a Plant, Save the Planet campus-wide health promotion! Follow the link below to the webpage for more information on plant-based eating including cooking demos, a digital cookbook, and an interactive story map exploring plant-based dining options on and around campus.
Regional and global sustainability is included and embraced within the procurement and business processes at West Chester University. The Environmentally Preferred Purchasing Program (EPPP) links the procurement process to other sustainability efforts on campus, and helps institutionalize more sustainable purchasing practices throughout the campus community. It is a way of adding environmental considerations to the price and performance criteria the university uses to make purchasing (transaction) decisions. More sustainable purchasing practices will help:
Reduce pollution and conserve resources, including water and energy.
Improve the university's environmental footprint on our local community, as well as the global community.
Reduce costs by optimizing the supply chain, avoiding waste and conserving resources.
Reduce the amount of toxic substances disposed or consumed.
Lessen the impact to public health.
To learn more, explore the university's Business Services webpages on the Environmentally Preferred Purchasing Program and the Climate Action Plan's chapter on Purchasing.
West Chester University has an on-going commitment to REDUCE first and foremost (don't use so much stuff!), REUSE (don't buy new stuff!), and RECYCLE (when you can't REDUCE or REUSE stuff).
REDUCE
Waste prevention, or "source reduction," means consuming and throwing away less. It includes:
purchasing durable, long-lasting goods
seeking products and packaging that are as free of toxics as possible
redesigning products to use less raw material in production, have a longer life, or be used again after its original use.
Source reduction actually prevents the generation of waste in the first place, so it is the most preferred method of waste management and goes a long way toward protecting the environment.
There are a number of actions that you can implement whether in your office at home or at work to further sustainability goals:
When you need to print, print double-sided. All computer lab and library printers have this option on campus.
Save and re-use scrap paper. If your academic building, computer lab, apartment, or residence hall doesn't have a place to collect scrap paper for re-use, create one!
Purchase paper and other materials made with recycled content and certified by the Forest Stewardship Council (FSC).
Turn off electronics and lights when not in use.
Educate yourself on expiration dates and proper food storage so you're not wasting money and food by throwing out perfectly good food. Food waste is a huge problem and the number one source of methane emissions in landfills! Try the free FoodKeeper app by the US Department of Agriculture.
If you drive a car, properly maintain your vehicle so you get the best gas mileage and performance possible. See the Fuel Economy site for tips.
REUSE
Reusing items - by repairing them, donating them to charity and community groups, or selling them - also reduces waste. Reusing products, when possible, is even better than recycling because the item does not need to be reprocessed before it can be used again. Each year West Chester University sells hundreds of surplus items on an auction website that are reused by the buyers. Thus, these items get a second life rather than being discarded in a landfill.
Ways to Reuse
Using durable coffee mugs.
Using cloth napkins or towels.
Refilling bottles.
Donating old magazines or surplus equipment.
Reusing boxes.
Turning empty jars into containers for leftover food.
Purchasing refillable pens and pencils.
Participating in a paint collection and reuse program.
RECYCLE
When you can't reduce or reuse something, then it's time to recycle it. While recycling is important, remember that not all materials can be recycled and the natural resources (e.g., land, water, clean air) that went into creating products are not recyclable. So reduce and reuse first! Then when you can't do that, recycle.
When we buy recycled products, we create an economic incentive for recyclable materials to be collected, manufactured, and marketed as new products. Buying recycled has both economic and environmental benefits. Purchasing products made from or packaged in recycled materials saves resources for future generations.
WCU has single-stream ("all-in-one") recycling, which means that all recycling bins on campus are suitable for clean paper, cardboard, glass, plastic, aluminum, metal cans, and now even flexible plastic packaging like chip bags. Non-recyclable items, such as food waste, should be disposed of in waste containers. If you're not sure something is ok for the recycling bin, check out the WCU Recycling FAQ below.
As of 2010, approximately 25% of WCUs greenhouse gas emissions were associated with student, faculty, and staff commuting. The following initiatives detail our efforts to help curtail these emissions. They have the added benefit of reducing congestion and parking difficulties on campus.
Exton Shuttle
One of the highlights of the Sustainability Advisory Council Transportation Committee's work, begun in 2012, is the Exton Train Station Shuttle Bus. This bus, funded through the WCU President's Office via the External Affairs Division and operated by our Facilities Division, runs between main campus and the Exton Train Station and connects to the morning and the evening trains. Beginning in Fall 2016, the university has partnered with Chester County, adding two stops to the morning and afternoon commute to accommodate county riders: the West Chester Transit Center and the Chester County Government Services Building. Read more information on the Exton Shuttle and bus service information to and from campus and between WCU campuses.
Rideshare/carpool parking spots
Display two or more valid WCU parking permits to park in these centrally located spaces. There are seventeen spaces in all. Look for them in the following lots:
Lot A is across Sharpless Street from the Business and Public Management Center
Lot B is between the Business and Public Management Center and 25 University Avenue
Lot G is across High St. from Philips Memorial Building
Lot K is behind Sykes Student Union
Lot L is to the west of Lot K
Lot M is between High and Matlack Streets near the Swope Music Building
Click here for the Campus Map
WCU Bicycle Use Pledge Program
Offered through the Department of Public Safety, sign up to use your bike rather than bringing a car to campus and receive discounts at local bike-related retailers.
Bicycle Fix-It Stations
Fully equipped for repairs, air for tires - located at the South Campus Clubhouse (within the South Campus Apts. complex) and outside University Hall on North Campus.
Motor Pool Initiatives
Compressed natural gas (CNG) refueling centers were installed at WCU in 1998. As of fall 2015, we have 28 fleet vehicles (33%) capable of running on CNG - producing fewer greenhouse gas emissions than gasoline and also fewer air pollutants. WCU also has fleet vehicles that run on biodiesel (B20 = 20% non-fossil fuel based energy source)
Public Transit Ticket and Pass Sales
Public Transit tickets and fares available for purchase on the ground floor of Sykes at the SSI Service Window.
West Chester University has taken significant steps towards energy efficiency. The university has instituted a range of measures that yield significant cost and emissions reductions through its Guaranteed Energy Savings Plan (GSEP) led by Honeywell Building Solutions. It has installed several green roofs and green walls that act to reduce cooling demands in the summer. There are currently three Green Buildings on campus that incorporate numerous features and meet or aspire to LEED (Leadership in Energy and Environmental Design) certification, with a fourth under construction: 25 University Avenue, the Student Recreation Center,the Swope music building, and the new College of Business & Public Affairs building (BPAC). The Swope music building is Silver LEED certified and the new (BPAC) building will seek Gold LEED certification. Above all, WCU is most proud of its ongoing commitment to Geothermal Energy by building one of the largest district geoexchange systems in the world. Though largely hidden from view, the University's investment in geothermal wells is enabling it to significantly reduce carbon emissions while also reducing energy costs. Thanks to the geothermal initiative, 50% of campus buildings are now heated and cooled using geothermal energy and the university was able to decommission its coal-fired boiler plant in 2014.
For more info, see WCU's Facilities Energy & Sustainability website.
How does WCU's geothermal system work? What buildings are heated and cooled by geothermal energy?
WCU's geothermal system offers a wonderful opportunity to learn about green energy.
The campus geothermal system was proposed in 2007 as a means of updating the coal-fired steam plant and electric chillers on-campus. The system currently involves 12 buildings:
Library one and two
25 University Ave.
Mitchell Hall
Recreation Center
Recitation
Ruby Jones
Anderson Hall
Hollinger Field House
and the residence halls Allegheny, Commonwealth, and Brandywine.
The President's House, the Bull Center, and the Village Apartments use a system separate from the main geothermal connections. There are approximately 650 wells currently with an anticipated total of 1,400.
The geothermal system runs by removing excess heat from inside buildings, accumulated by body mass and solar energy, and storing it in below-ground water wells. Due to the high specific heat of water, this heat can be stored as energy so that when heating needs are required on cooler days the automatic, remote computer system will pump the stored heat back into the building. See our Geothermal Poster for more details.
The geothermal system was so efficient that the campus shut down its coal-fired boiler plant in 2014. Fifty percent of the campus is covered by the geothermal system presently, and the other half is heated by high efficiency natural gas boilers. Some more facts:
The completed system will have a capacity of 16.1 MW including 1,400 152 m (500 ft) deep closed-loop geoexchange wells.
The majority of buildings are connected to a district system. Thermal exchange fluid (water) is pumped between buildings and a central well field. Hundreds of 10 to 20 kW heat pumps exchange heat between the district fluid and building airspace. Advantages of this approach include:

Increased peak capacity - buildings require peak heating and cooling during different times of day, reducing the number of required wells (and cost) by 25 percent.
Increased efficiency - heat can be exchanged between buildings.
A centralized wellfield was placed at the perimeter of campus, under parking lots and open fields, in order to minimize disruption to the academic area and not impede future building development in the dense central core of campus.
A redundant system that allows multiple heat pumps, water pumps, wellfield sections, and even buildings to provide heating or cooling in the event of a partial system malfunction.
History of WCU's geothermal initiative
In the summer of 2006, WCU launched a program to replace the eight north campus residence halls (~700,000 ft2) built in the 1960's with new, updated designs that would include geothermal HVAC systems. Since the old residence halls represented more than 35% of the load on the university's more than 50-year-old coal/oil-fired steam heating plant, a study was commissioned to consider cost effective alternatives for the other buildings using this system. In parallel with this initiative, the university had already launched a major energy savings program through a Guaranteed Energy Savings Agreement (GESA) which aimed at overall campus wide energy savings of more than 20%. Therefore, any alternatives to the steam heating system would have to generate savings in addition to those expected from the GESA.
The initial study indicated that it was both feasible and, based on anticipated operational savings exceeding $1M per year, cost effective to convert the other university buildings from steam heating with electric chillers for air conditioning to a geothermal-based HVAC system. Because many of the buildings being considered have HVAC systems that are 25 or more years old, this approach would also provide a path for upgrading obsolete heating systems. A more detailed study was commissioned to develop a conceptual plan addressing each building, as well as to define the size and examine possible locations for the required geothermal well fields to support this approach. By the spring of 2007 a conceptual plan had been produced that answered these questions and showed a very clear beneficial return on the investment required, with expected savings of ~40% for heating and ~20% for cooling. A program to convert more than 25 North Campus buildings over a period of 10-13 years was launched. Among the long term benefits of this program was the expectation that the university could shutdown its central heating plant, eliminating all coal (7000 tons per year) and most fuel oil (200,000 gallons per year) burned on campus, and reducing its emissions by 85 tons of SOx, 54 tons of NOx, and 44 tons of particulate matter that were being emitted from the heating plant every year.
In the spring of 2007, the planned renovation of a 53,000 ft2 academic building at 25 University Avenue (formerly Swope Hall) was altered to include converting its HVAC to geothermal and, with this energy initiative as its basis, a $242K Pennsylvania Energy Harvest Grant was obtained and applied to offset most of the cost to install the 35 geothermal wells needed to support this system. The ongoing GESA was modified to apply the funds planned for HVAC improvements to the 140,000 square foot Francis Harvey Green Library to converting its HVAC system to geothermal (water source heat pumps) which would be supplied from a well field to be installed later (temporary provisions are included to compensate for the lack of the geothermal wells until they are available). Planned GESA HVAC improvements in Ruby Jones Hall (21,000 ft2) were also changed to convert the building to geothermal HVAC.
To become involved or learn more about research initiatives involving our geothermal exchange system, please contact Dr. Martin Helmke in the Earth & Space Sciences Department, the chair of the Geothermal Working Group on campus.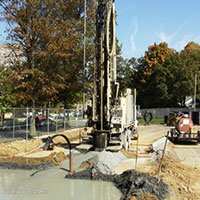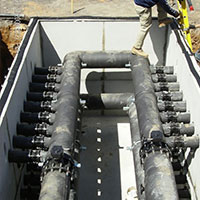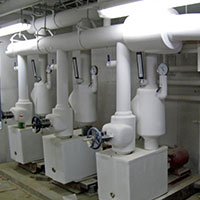 West Chester University is proud to present many sustainable landscaping alternatives on its campus. These initiatives assist the university with its efforts to reduce its use of traditional landscaping practices such as monoculture lawns, non-native plantings, and the use of chemical herbicides and pesticides. Sustainable landscaping also improves water quality and helps to reduce stormwater runoff.
Rain Gardens
Rain gardens on campus help to effectively reduce stormwater runoff and improve water quality. They can be found at the Poetry Center, Outdoor Classroom & Demonstration Garden by the Science Complex, and Human Resources on Carter Drive.
Outdoor Classroom and Demonstration Garden
Dedicated on April 21st, 2009 the learning garden was designed to engage students, faculty and guests in appreciating the native plant and wildlife of Chester County. Plantings such as red chokeberry, joe pye weed, hyssop, berry bushes, and many others draw in songbirds (and squirrels) to the feeder watch site. Art classes use the area for inspiration and environmental studies students are often there as well.
The outdoor classroom was expanded to include a vegetable and herb garden managed by faculty, staff, student interns, and volunteers. Read about How to Create Your Own Native Garden in an essay written by Erika Szonntag, Biology Student at WCU.
South Campus Community Garden
Established in February 2015 by the South Campus Apartments, the community garden is an effort to encourage students to learn where food comes from and how it is grown to better understand the importance of nutrition and health, as well as exploring composting, bee-keeping and cultivation techniques. The garden was built on an under-utilized lawn area and is open to faculty, staff, students, and the community.
Swope Water Retention Basin
This is an on-going project led by several student groups and sponsored by the Provost's Year of Water Grant. Students are creating a rain garden and beginning the naturalization process of the lawn area to reduce water runoff into the community water system.
Merion Science Center & Green Library
These two buildings are host to two green roofs that act to reduce water runoff, beautify campus, and reduce cooling costs.
Robert B. Gordon Natural Area for Environmental Studies
This nature preserve encompasses 73 acres of land belonging to the campus. The mission is to preserve a natural ecosystem and to minimize human disturbance so as to allow the habitat to serve as a laboratory for environmental studies. The legacy of the Gordon Area began with two students, Bradley Gottfried and Dave Fluri, convincing the Board of Trustees to establish a natural area. The preserve was set aside in 1971 and commemorated to a science professor of 25 years, Robert Gordon. In 2012, President Weinstein set aside 12 more acres in 2013.
The area is managed by a Stewardship Manager. It was designated a Wild Plant Sanctuary by PA DCNR and received a research grant from USDA Forest Service. Research on natural succession, Emerald Ash Borer, carbon storage and sequestration, and invasive plant management are some of the many ongoing studies. The natural area includes foot trails for tours and community exploration.
Tree Campus USA and ArbNet Arboretum
The trees on campus provide numerous environmental and aesthetic benefits. In recognition of the diversity of trees on campus and the university's efforts to maintain and enhance this resource, the WCU campus is a Level II ArbNet certified Arboretum and has been recognized as a Tree Campus USA for four years running. Faculty and students in Geography & Planning and Biology work cooperatively with Grounds to maintain a geodatabase of all trees on north and south campus. This geodatabase is used to help Grounds manage this invaluable resource and provides teaching and research opportunities for faculty and students.
Rain Barrels
Student built and managed rain barrels have been installed on campus. Rain barrels help reduce rooftop run off and conserve rain to water campus gardens during dry periods. Learn more by visiting the rain barrels in the Outdoor Classroom and Demonstration Garden next to the Science Complex Link on north campus.
Green Roofs and Green Walls
Green roofs have been installed above the Francis Harvey Green Library link and on Merion Hall. Green roofs conserve water and reduce run off by using otherwise unused roof top space to cultivate drought tolerant species of plants. Plans are underway to bring additional green roofs to WCU in the future. Green walls serve a similar function to green roofs. Currently, the most developed green wall on campus is in the Outdoor Classroom & Demonstration Garden on north campus next to the Science Complex, however a number of green wall trellises have been installed and are in various stages of development. Look for them at the Student Recreation Center and other newer buildings.
Storm Water Management
The WCU Microbiology Club has organized with various faculty and student volunteers to revitalize the rain water basin outside of the Swope Music Building. This has included the construction of swales to divert parking lot run off to decrease water pollution. Corresponding studies into the microbial breakdown of pollutants in the basin have been initiated.
Water Research and Stream Restoration
Plum Run is a small tributary of Brandywine Creek that meanders for approximately three miles towards the southwest from its underground sources on the campus of West Chester University to its confluence with Brandywine Creek just downstream from the Brandywine Picnic Park. Its east branch flows through South Campus and the Robert B. Gordon Natural Area for Environmental Studies. From 2009-2014, Plum Run underwent restoration along several impaired portions of the stream as part of a Watershed Renaissance Initiative awarded by the PA Department of Environmental Protection to the Chester County Conservation District and the Brandywine Valley Association Red Streams Blue program. Plum Run is the focus of many research and service opportunities for West Chester University faculty and students, including in the Departments of Environmental Health, Biology, Geology & Astronomy, and Geography & Planning. For example, water researchers in Environmental Health have been actively monitoring the health of local stream waters within the Gordon Natural Area, including Plum Run. For more info on Plum Run, see The Flow of History along Plum Run. Additional water-related research activities include research projects in the Biology Department on developing bio-electrochemical technologies to convert organic material in wastewater into useful bioenergy, and the ecological impact of artificial ponds.
Water Conservation
University Student Housing (USH) has installed water bottle filling stations around campus to help reduce litter and plastic waste while further conserving water.
Back to top of page.