Campus Diversity Award
The Campus Diversity Award is presented to adjunct or full-time faculty members for their outstanding contributions to the spirit of diversity on the West Chester University campus. This includes individual programs, research programs, and/or long-term contributions through which faculty members assist the community in understanding and appreciating our differences and to create an inclusive and respectful environment. An individual or a group of faculty members working on the same project may apply.
Reimbursement of fees related to a diversity-focused conference (Up to $2,000 reimbursement)
The applicant must be a current adjunct or full-time, tenured or tenure-track West Chester University faculty member at the time of the application and the award presentation.
The applicant must be an active faculty members, not only at the time of the submission of the application, but at the time that he/she will be attending the diversity conference.
Any person who wins this award must wait at least three years to be nominated again.
Applicants may self-nominate or be nominated by members of the WCU faculty or administration.
The application consists of the following:

Cover Sheet
Nomination letter from another faculty member or administrator addressing the evaluation criteria listed below (if self-nominating, skip), or
Application letter from self-nominee addressing the evaluation criteria listed below (if self-nominating).
A letter of support from the nominee/applicant's college dean(s).
A summary of the nominee/applicant's contributions to the campus written by the nominee/applicant (not to exceed 4 double-spaced pages). This summary should specifically address the evaluation criteria listed below.
Curriculum vitae of the nominee/applicant (not to exceed 5 single-spaced pages).
Nomination deadline is February 17, 2023.
Submit the application as a PDF attachment to Ms. Megan Fahey at mfahey@wcupa.edu
Nominations are to be evaluated and recommended by the Academic Recognition Committee and approved by the provost. Applications will be evaluated based on the following criteria:
Demonstration of how the program or body of work has had an institutional impact as it relates to diversity and inclusion on the WCU campus.
Degree of inclusion of other stakeholders on campus (students, other faculty, staff, administration) to the program or body of work.
Other forms of recognition of the quality/impact of the program (awards, demonstrations of support or recognition from any other sources).
The award will be announced in May, and presented at December commencement.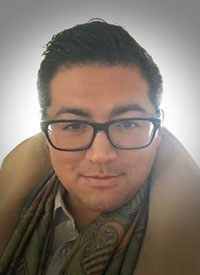 Justin Sprague. Dr. Justin Sprague is an assistant professor in Women's and Gender Studies who is a fierce advocate for justice on campus. Dr. Sprague's scholarship is grounded in racial justice and critical race research, a passion and expertise he gladly shares with his students. His ability to make complex theoretical insights accessible to a wide range of students invites them to think more deeply about justice and what role they might play and advocating for a more just future. Justin draws in students from all identities, but as a queer man of color he serves a particularly important and visible role for queer students and students of color. Students feel seen by him, and in turn begin to see themselves in new and important ways because of his mentorship. Dr. Sprague's contributions as a colleague are not only beneficial but crucial to so many divisions on campus.