Raising an Ad-Hoc Alert
Navigate's ad hoc alerts are used by faculty and staff to share critical information and to create referrals for students between support offices. Use the instructions below to issue an alert and mobilize support for a student.
What: Alerts are a way to draw attention to a student who might be at risk for a variety of reasons, such as losing financial aid, needing tutoring, or intending to withdraw from the institution.
Where: Alerts can be issued throughout the platform, including your staff or professor homepage, a student's profile page, the Advanced Search, and through Progress Reports. Alerts are viewed primarily on the student's profile page, Professor Home, and in the Reporting section of the platform.
Who: Alerts provide staff and faculty with the ability to draw attention to students or prompt a referral with another department using the platform.
Conditions: The ability to create and view Alerts is permission-based by user role.
Click the "Issue an Alert" link in the upper right-hand corner of your home page.
Step 1: Search for the student for whom you'd like to issue an alert (using name or ID).
Step 2: Select the reason(s) you believe the student needs assistance. The reason(s) you choose will connect the student with the appropriate office See more details on the specific alert reasons below.
If the alert is associated with a particular class, fill out that field.
Step 3: Lastly, please provide additional detailed comments. Comments will help the team review alerts to connect the student with the right resources in a timely fashion.
Step 4: Click Submit
Click the "Issue an Alert" link in the upper right-hand corner of your home page.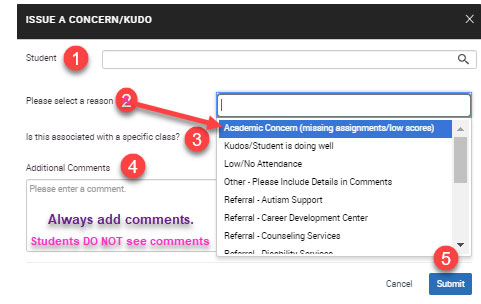 To issue an alert from a list of students, there are multiple ways to access this task. You can access the Advanced Search icon on your left navigation (magnifying glass), or from your My Assigned Students page on your home page. Select a student from the list. Next, select Actions > Issue Alert.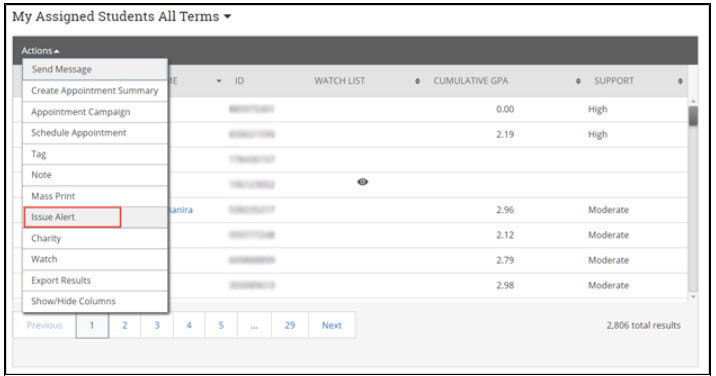 Choose the Alert, add a comment, and click Submit.